What Type of Boat Fits Your Lake Lifestyle?
Posted by Vickie Davies on Monday, September 20, 2021 at 11:55 AM
By Vickie Davies / September 20, 2021
Comment
When moving to the lake many people plan to own their own boat so that they can get out on the water and enjoy it even more. Picking out a boat does not have to be an extensive and stressful process, but it is helpful to know what you plan on using your boat for before going boat shopping and bringing one back to your lake home.
Here are some boat types to consider for your lake home lifestyle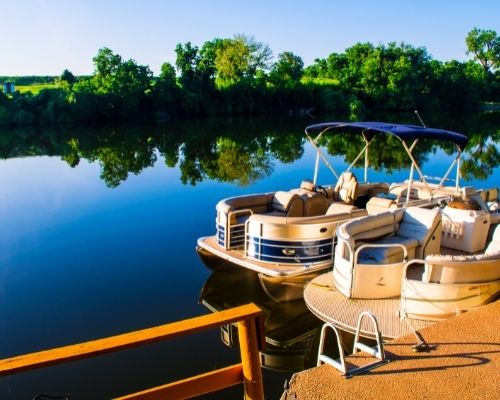 Pontoon boats
This type of boat is considered to be here for Tatian in the face that holds a large amount of weight. Some people call these party boats. The boat has a flat surface and relies on pontoons to float. It is sort of like a boat/raft hybrid. It could also be considered sort of a floating patio, an entertaining deck space that you can move along the water. These boats are not meant to go fast along the water, rather to leisurely float along as you enjoy a relaxing day on the lake or time with friends as it can hold almost all of them.
Bass boats
As the name implies, being that there is a fish in the name of this boat, it is great for fishing in style. Bass boats are smaller than pontoon boats and designed for speed as well as the sport of fishing. Bass boats typically only seat 2 to 3 people and are great for freshwater lakes. Many of them have features including swivel chairs, storage bins, and live wells to keep your fresh catch. It is a great choice if catching a healthy meal is your main focus for owning a boat on the lake.
Wake boats
This boat is specifically shaped to create a large wake for the water sport of skiing or wakeboarding. This is a V-shaped boat with a rear-facing engine. This type of boat is designed to keep weight placed toward the back and will often have a tower to position pulling ropes from for boarding and skiing. This is a great boat for anyone looking to enjoy water sports on the lake.
Canoes and kayaks
These boats are great for the person that wants to head out on a very relaxed boat ride with minimal investment and no need for gas. Canoes are great for more than one person to enjoy a paddle across the water. A kayak allows for a solo trip in a boat on your own. These boats are great for getting in some fun exercise.
Choosing a boat to go with your lake home really is all about deciding what activities you want to enjoy on the lake. Even the smallest and simplest of boats can be a small yet significant investment, so making sure you are purchasing a boat you will use and love is important.
For more information on finding a great lake home in Granbury Texas on Lake Granbury, including Granbury Texas real estate and surrounding areas please contact us anytime.