What to Splurge on in Your Granbury Home Bathroom Remodel
Posted by Vickie Davies on Wednesday, October 4, 2023 at 1:41:03 PM
By Vickie Davies / October 4, 2023
Comment
If you are considering the purchase of a Granbury home that needs work, or are thinking of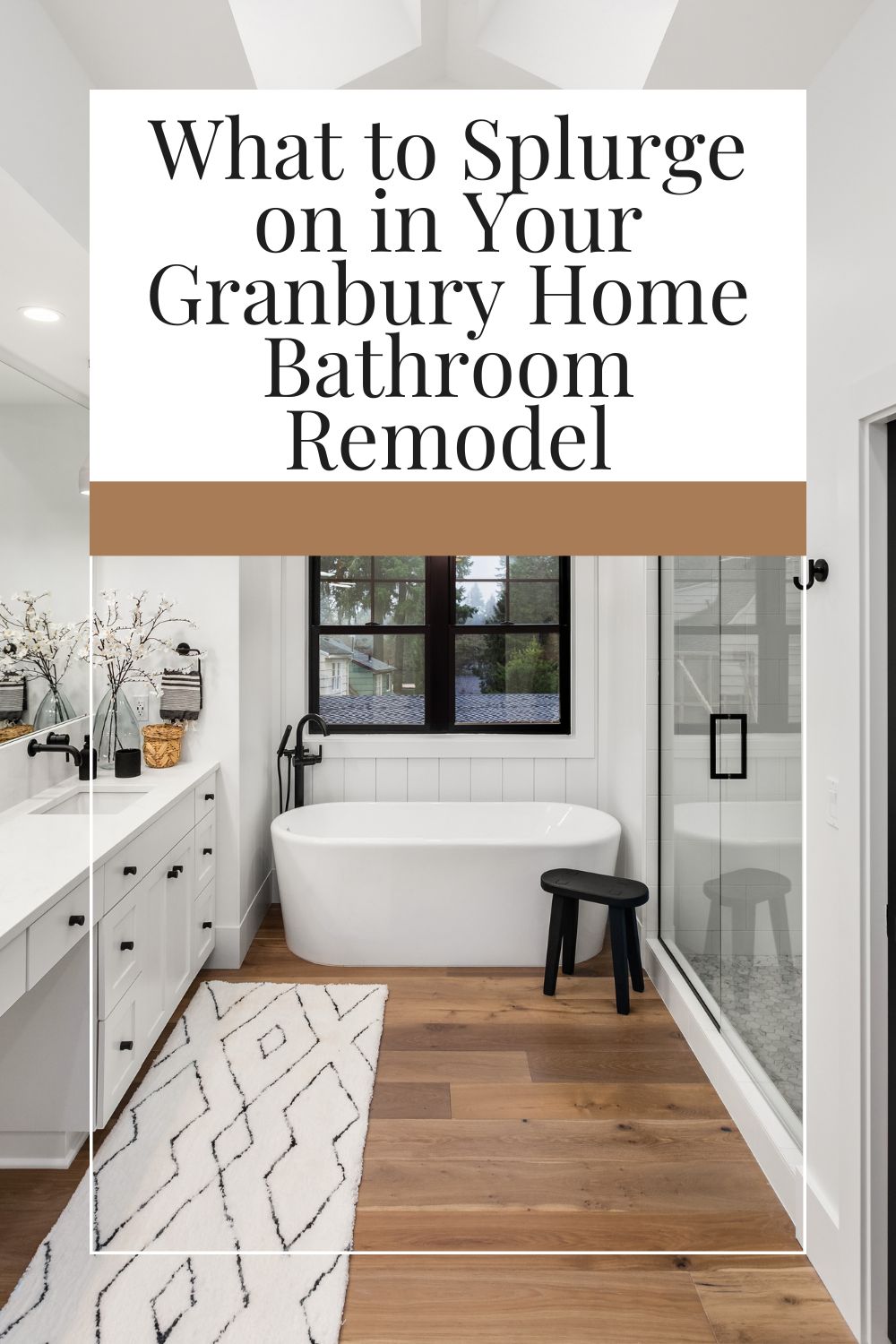 updating your Granbury home with hopes of selling it at a higher price point in the future, the bathroom and the kitchen add the most value to your home. When it comes to these rooms one of the best areas to focus on for homeowner benefit and ROI is the primary bathroom suite.
When remodeling with a focus on adding value to your home, it is good to know what areas are worth paying special attention to and what areas are better with a simple yet still good-quality makeover. Let's look at the areas of a main bedroom's bathroom suite that are worth the luxury attention.
The Backsplash
The backsplash of the bathroom vanity is probably the most stared at area of the room. This is a great place to make a stylish and luxurious impact. One of the most popular and appealing ways to do this currently is with decorative tile that extends from the countertop to the ceiling.
Using this area as a focal point will feel like you hired a decorator. If you are remodeling with selling in the near future in mind make sure to make your impact with interesting patterns and keep the color subtle and appealing.
Lighting
Bringing in updated light fixtures that are not just visually pleasing but also increase useful function is a great way to add glamour and appeal to the space. Functional lighting in a bathroom takes it from standard to luxury with little impact on the remodeling budget.
The Shower Surround
Next to the vanity, the shower walls are a major focal point and spot of interest to potential buyers. A high-quality shower surround is worth the investment now as you enjoy your private bathroom retreat and later as you prepare the home to sell. The best way to makeover a shower is with a quality material that seems luxurious but is also easy to clean. The pinnacle of luxury shower walls is the single slab wall. This means no grout lines and much easier cleaning. Plus it looks stunning.
Separate Commode Space
If you have the ability to, placing the toilet in a separate space to allow for privacy and let others use the vanity or the shower is worth its weight in gold. This not only makes the bathroom feel upscale it increases the functionality for homeowners that have more than one person living in the main bedroom suite.
Flooring
The floor will be the part of the bathroom that most likely takes the largest beating. You don't want to cheap out on your bathroom flooring. Instead of bringing in a brand new vanity cabinet, you can opt to give the cabinet a makeover and use the money you save by simply purchasing a coat of paint instead of a cabinet to get some quality flooring.
When you do pick out the flooring make sure that you stick with the simple and classic. It is best to go with something that looks good no matter what instead of the cute, trendy, and popular. Flooring can get expensive pretty quickly and you don't want to put in flooring that is popular now but looks old and outdated in just a few years.
You don't want to regret your flooring choice and not have the budget to replace it. It also is a quick turn-off for a potential buyer to come into the room and instantly think the flooring needs to be replaced. Most buyers don't want an expensive project to tackle unless they are looking for a fixer and at that point, they are looking for a discounted home.
The good news is you can find some great tile options at an affordable price point that make the bathroom feel luxurious in a classic style that will look great for years to come. And a majority of tile options are going to last for several years when cared for properly. So take the time to carefully plan your flooring choice. Keep it quality and keep it subtle and classic. You won't regret it when you decide to sell or switch up the style of the bathroom.
For more information about selling your Granbury home please contact me. I am happy to help you prepare your home to sell for top dollar. I am a local Granbury agent with extensive knowledge and experience and am ready to help you sell your home with as little stress as possible. Contact me anytime for any information about Granbury real estate.