What to Do When You Can't Find a House in Your Budget
Posted by Vickie Davies on Wednesday, July 27, 2022 at 7:48 PM
By Vickie Davies / July 27, 2022
Comment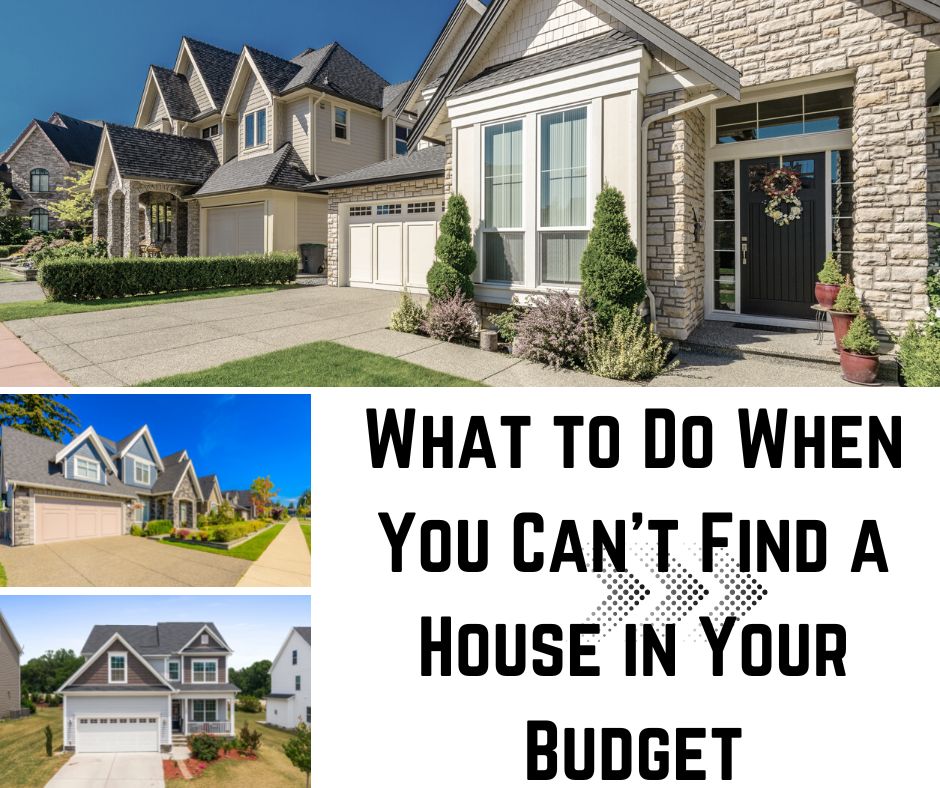 Have you been wanting to purchase a home but don't think it's possible with the price increases?
If you are feeling this way you are not alone. Home prices have increased every month for the last 10 years. As of May 2022, the median sales price of a home in America was $407,600. This is an increase of 15% from the year before in May 2021. These are the numbers for existing resale homes not including brand new construction.
Price increases can be very worrisome when you are trying to save money to afford a down payment and seek loan approval for the type of house you would hope to buy. Being able to purchase a home within a certain price range can have some people looking for creative or alternative financing options. And in some cases, these options may not be the best.
Many times buyers tend to overspend and try to justify it by purchasing a home they will truly love that will help them to build equity. But this is not the best decision if it causes you to put most of your income into your house payment. It can turn into feeling miserable in daily life not having enough money to do the things you enjoy.
So how can someone find a home that they can afford even when the housing market seems to continue to rise in price?
Here are some tips to find a home you can afford in your area
Housing market affordability
Currently, homes cost an average of $124,000 more than they did in 2020. That is no number to sneeze at. It can have many people feeling like it is impossible to purchase a home. The National Association of Homebuilders estimates that brand new construction homes will have an average cost of $412,500 across the country this year which is also much higher than in previous years.
Even with these increases in prices, there is good news. You don't have to purchase an expensive home there is a way to find one at a reasonable price.
Start by defining financial boundaries
The best way to start your homebuying venture is to sit down and take a fine tooth comb to your personal finances before you even look at homes. You want to add up all of your income and then subtract all of your mandatory bills to determine how much money you have left over.
Most financial experts and advisers will advise homebuyers not to spend more than 25% of their take-home pay on their monthly mortgage payments. You also want to be able to put at least 5 to 10% down on your home if you are a first-time buyer. If you are selling a home and purchasing a new one, you want to try and get your down payment between 10 and 20% for even better mortgage terms.
You want to be able to pay your closing costs and moving expenses with cash so you want to make sure that you have enough saved away to be able to do this. To help you get a clearer picture of what a mortgage payment could look like for your personal financial situation you can look up a mortgage calculator through an online search engine.
You might be surprised to find a lender who will approve you for a higher amount than 25% of your take-home pay, but you want to stick to this number so that you are still living a comfortable lifestyle once you are in your home.
Next, save up for a little bit longer if needed
If you do not have the money to make a down payment or pay closing costs, it is a better idea to postpone your buying efforts for a little bit longer until you do have this amount saved up. It may feel like you are in a battle against time with an increase in prices and interest rates but it is always better to be in a solid financial beginning when you purchase a home.
You may be surprised at how much more affordable your mortgage payment becomes when you have a stronger down payment and a higher amount of cash reserves to show your lender.
Reset Expectations
Another option in affording a home could be to revisit your wish list for your home. A larger home with an extra guest bedroom may be just out of reach right now but it might be possible to afford a home where everybody has their own bedroom and you could let an overnight guest borrow one of those rooms for a few days.
It can be tough to let go of those dreams of the amenities that you would love but they are never lost forever. You could always build up equity in this home and use it to help you purchase those dream features in the future.
Cast your net wider
You may have a certain area or neighborhood you were hoping to live in, but extending your area search might help you find more affordable properties. The further you get away from densely populated areas the more affordable properties generally become. This will allow you to get more home for your money and save for a lesser down payment in a shorter amount of time.
For more information on real estate in Granbury Texas and surrounding areas please contact us anytime.
More Buyer Information: