What Should You Fix and Leave Alone Before You List Your Granbury Home?
Posted by Vickie Davies on Friday, May 5, 2023 at 3:08 PM
By Vickie Davies / May 5, 2023
Comment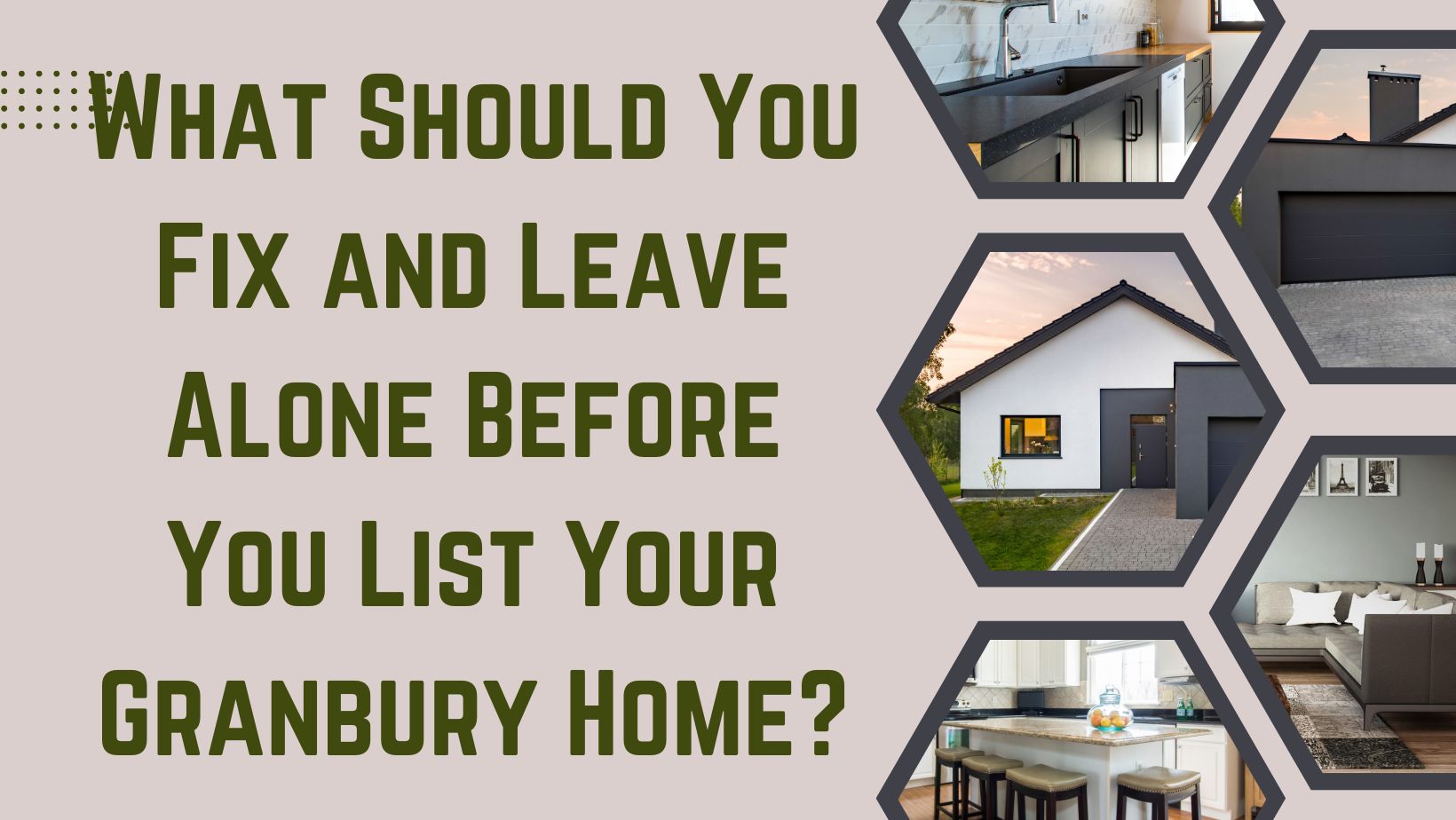 If you are a Granbury homeowner ready to list your home for sale you may be looking over your house and thinking that it needs some work before it is ready to be listed and shown to somebody to buy. Just like you would scramble through your home cleaning it before someone comes to visit a homeowner may go through their house thinking several things need to be done before they show it off to sell it.
It is a great idea to have your Granbury home in top shape before listing it for sale to help with the success and timeframe of your home sale. But do not fret thinking your home needs to be in the most perfect of conditions before listing it.
Here are some areas of your home that would be good to fix up and some that are OK to be left alone before you list it
Bathroom cabinets
The bathroom is always at the top of a home buyer's list. Making sure your bathrooms are updated and very clean and in good condition is a good idea. One of the most focused areas of the bathroom is the bathroom cabinets. Make sure that cabinets are not old and tired and provide plenty of great organizational space.
This will go a long way in helping your home appeal to more buyers. You don't necessarily have to bring in a completely new vanity but it is a good idea to spruce it up. This could mean painting it and getting some new up-to-date cabinet doors or some new cabinet hardware like handles and drawer pulls.
The kitchen
It is often said that a kitchen can sell a home all by itself. This can be very true. If you are considering a kitchen remodel or upgrade it could be worth the investment. If you are doing so only with the expectation of selling the home make sure that you are not going all out and spending every last penny to make the kitchen look beautiful. If you plan to live in the home and utilize the kitchen for a little bit longer then more attention to the upgrade could be justified. Small upgrades in the kitchen can pay off big time when fixing up the home for the purpose of selling it.
You don't need to completely overhaul your kitchen to make it look up-to-date and ready for buyers. Just like in the bathroom, you could refresh the cabinets with some new paint or new doors, or even just some new hardware. Bringing in some newer appliances, they don't have to be top-of-the-line, is also a good idea. Maybe replacing an old counter or backsplash could give your kitchen a whole new look that buyers will love. Just bringing in a few new updates can do a lot to make a kitchen look and feel new.
Don't fret over the flooring
Some homeowners that are not in love with their flooring may feel like it's embarrassing and that it needs to be ripped out and replaced before selling a home. In many cases, if you have hardwood floors all they might need is a refinishing to make them look amazing again. Unless your flooring is completely falling apart it is best to leave it as it is and let the future buyer decide if they want to change it. Flooring can be costly and may not give you the return on the investment you would like.
Painting
Painting your home is always one of the most budget-friendly refreshes you can perform on your home before listing it for sale. If it has been some time since your home has seen a fresh coat of paint it will go a long way to help the home feel clean and new. Make sure to choose colors that are neutral and that will work with any type of furnishings and decor brought into the space. This makes it easier to stage the home to appeal to as many people as possible.
Don't worry about any huge overhauls
A few cosmetic upgrades can be very promising and helpful when getting your home ready to list for sale. What you want to steer away from are large projects that cost several thousands of dollars if they do not impact the overall safety or structural integrity of the home.
For example, if your driveway has a few minor cracks in it don't think that you need to spend $5000 to resurface the driveway. Instead, you could opt to reseal it with about $50 of materials from the local home-improvement store.
When it comes to getting your home ready for sale the best strategy is to hire an experienced local real estate agent that knows what gets homes sold in your area. Have them come and take a walk-through of your property and ask them where they would focus their energy to get the home ready to show at its best. They can help to show you the best areas to focus on and save you a lot of time and money not worrying about items that won't make a huge impact
For more information on selling your home in Granbury please contact us anytime.