Ways Regular Maintenance Tasks Can Help You Save Money in Granbury Homeownership
Posted by Vickie Davies on Thursday, September 7, 2023 at 5:48 PM
By Vickie Davies / September 7, 2023
Comment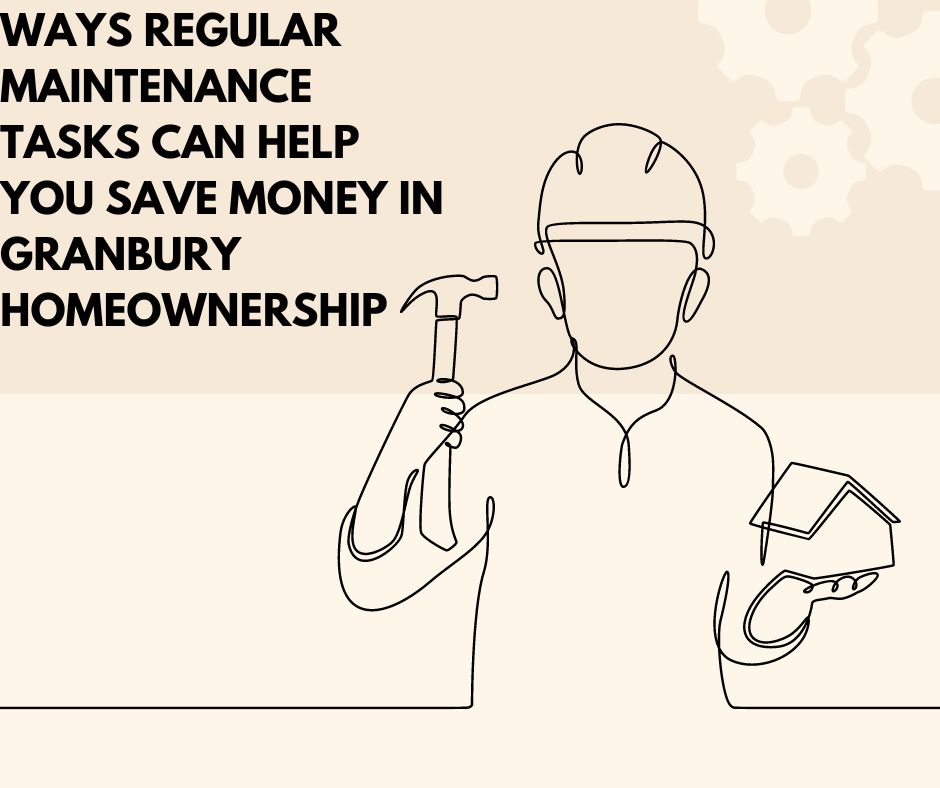 Regular and routine maintenance is like preventative medicine for your home. It helps to protect the structural integrity of your home and all of the major components so that items in your home will last longer. Some maintenance practices require professional help and can become quite costly but there are several tasks that homeowners can perform on their own that will help things in their home run more smoothly to prevent damage and over time save a homeowner money.
Here are five key areas of maintenance that can help save Granbury homeowners money.
Installing a smart thermostat and energy-efficient lighting
One of the biggest expenses in your home is heating and cooling it. One of the best ways to save money on this large expense is with the installation of a smart thermostat. A smart thermostat automatically keeps your home at a specific programmed temperature and can automatically switch to heating or cooling to keep your home at this temperature. It can also help to adjust areas of your home that might be hotter or cooler than others instead of blasting the same cold air in the same areas all day long. It can also be programmed to turn on and off at certain times of the day instead of running all the time. Being able to program energy-saving preferences instead of just running your system can save a significant sum.
Additionally replacing lightbulbs and fixtures with more energy-efficient fixtures can bring significant savings to your energy bill. It has been shown that just switching out lightbulbs for energy-efficient versions can save up to $75 on electricity bills every year. You also do not need to change your bulbs out as often with energy-efficient ones which also saves money on your purchase costs.
Adding insulation and sealing air leaks
Making sure to test all the exterior doors and the windows of your home for air leaks will help to find out if there is any air escaping through these areas. When a home is not airtight it works harder to heat or cool your space because the air is getting out of the home instead of being retained inside the walls. Making sure that you have all of your exterior doors and windows airtight can help to significantly reduce how long it takes to get your home to the temperature you want it at inside and to keep it that way. Additionally adding extra insulation to places like the roofline will help to keep cold air in on hot days and hot air in when it's cold. It's the same concept as using a fancy insulated cooler to keep your food hot or cold.
Cleaning the roof and gutters
A roof is a very large fixture on your home and it takes most of the beating in inclement weather. Making sure that your roof is well-taken care of will help to save a significant amount of money and replacement costs. An entire roof can cost tens of thousands of dollars or more. Prolonging the need to completely replace your roof by making sure you are cleaning it, making small patch repairs, and keeping the gutters clean will help to save a very significant sum over the lifetime of your home ownership.
Power washing
About once or twice a year it is a good idea to power wash certain areas around the exterior of your home. This can include walkways and porches as well as the exterior siding of your home. Before power washing you want to make sure that you are well aware of how to use the proper pressure with the power washer on different settings for what you are washing.
Washing the exterior of your home can help to extend the life of your exterior paint. Exterior paint on a home is very important for protecting the siding on your home. Making sure that the paint is in great shape will also ensure that your siding is in great shape. Having to repaint or re-side your home is both a large and significant cost. Pressure washing and keeping the exterior of your home clean once or twice a year will help to prolong the time between repainting or replacing siding.
Landscaping
Yardwork is one of those inevitable things every homeowner expects to have to do but it is more than just keeping up appearances and curb appeal that is beneficial. Taking care of your yard also helps to take care of your home. Making sure that they land around your home in good shape will help to keep your home in good shape as well. Make sure to periodically check that all drainage after storms is still running away from your home and carrying water outside of your landscaping instead of back into your home as this can cause significant damage or flooding. Also trimming back trees and bushes close to your home will help to remove possible damage to your home when these items brush up against it.
There are many routine maintenance tasks that homeowners can do to help keep their home in the best shape possible. These are a few of the major maintenance tasks but there are several others like keeping the home deep cleaned and taking care of routine maintenance on appliances and fixtures inside the home
For more information on Granbury real estate please contact me. I am here to make your home buying or selling process as stress-free as possible.