Tips for Moving to Granbury from a Large City
Posted by Vickie Davies on Tuesday, October 24, 2023 at 3:00:47 PM
By Vickie Davies / October 24, 2023
Comment
In the last few years, more and more people have traded living in bigger cities for smaller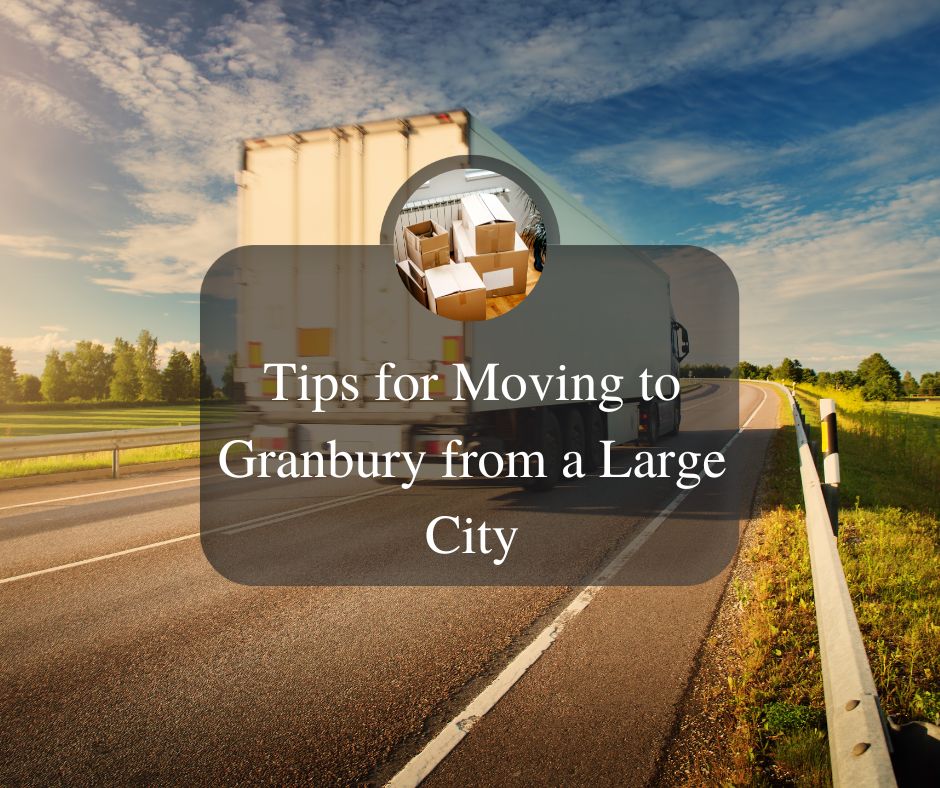 ones. There are a number of reasons why this is happening from finding more affordable homes and larger homes at smaller price tags to preferring the culture and atmosphere a small town has to offer.
Those who relocate to Granbury often fall in love with living here and end up not wanting to leave. But some may find the adjustment from big city living can take some getting used to. Here are some tips to help you adjust to living in a smaller town.
Be Prepared for Adjustment
Small-town living can have its perks and it will grow on you. But it is a good idea to go into your living transition with the mindset that it will take some time to find your comfort zone in your new location. Don't be hard on yourself allow for an adjustment period. A new lifestyle may not comfortably fit right off the bat.
Be prepared that life will happen at a bit of a slower pace and you may feel like you are not doing enough or that you are bored. With some time you may find that the slower pace of life is welcomed maybe even a little bit stress relieving. It will take time to adjust.
Check out local news outlets and bloggers
A really great way to find out about what there is to do in any location is to check out the local news and bloggers in the area. Social media can also be a good way to look for local events and the best places to hang out. Try searching local bloggers in the area and using the search tool on social media websites for anything related to the town and neighborhood. You may be surprised that there is more to the small town of Granbury than you realize when you get a local's point of view.
The app Nextdoor can also be helpful. Simply adding yourself to a neighborhood within Granberry and posting a question about where the best coffee is may get you several responses and a launching point of great places to try to discover your own personal favorite spot in Granbury to have a cup of coffee and enjoy the local atmosphere while you sit in the café. You could also try searching for specific businesses or activities you have an interest in. You may even discover a club centered around something you love to do.
Put yourself out there
Moving to a brand new location can be lonely when you have few or no friends in the area. If you are moving with family it can be quite difficult for children to feel comfortable having a conversation with new kids. Don't give in to comfort and resort to sitting at home and finding a new Netflix series to binge. Instead, ask yourself what you loved to do in your big city Hometown and see if you can find something the same or similar here in Granbury.
For example, finding a book club, an art club, or even an adult sports league. Getting involved in these things will also help your kids see that they can put themselves out there and get involved too. Volunteering is another great way to meet people and can also help to give you a connection to Granbury. When you volunteer there's a sense of connection and almost a sense of ownership and helping make the place you live a better place to be.
Be open to a different operating system and look for the good
No matter the size of the municipality you moved to there will be different ways of doing daily activities in each location. You may find that schools have different ways of accomplishing necessary tasks for example. There might be something that your kid really loved to do with their old school but is not offered at a new one. Be open to all the different operating systems of programs in your new town.
Instead of being sad at the differences, see if you can find the good things that you like about this new way of doing things. This will help you to have a positive outlook and see how a different perspective could be a good thing. And if there is something that could use some improvement you could offer to help bring about those better-improved changes from your experiences in your old home. You may just find that you make connections and help to improve your new location and make some appreciative friends.
Moving to any new location isn't easy but the transition can be especially difficult when moving from a busy urban area to a laid-back suburban atmosphere like Granbury. And if you are searching for a home in Granbury please contact me I am happy to help make your transition to Granbury as stress-free and seamless as possible. Contact me anytime about all Granbury real estate.