Tips for Keeping Your Lakefront Home Secure in Granbury
Posted by Vickie Davies on Tuesday, August 1, 2023 at 3:33 PM
By Vickie Davies / August 1, 2023
Comment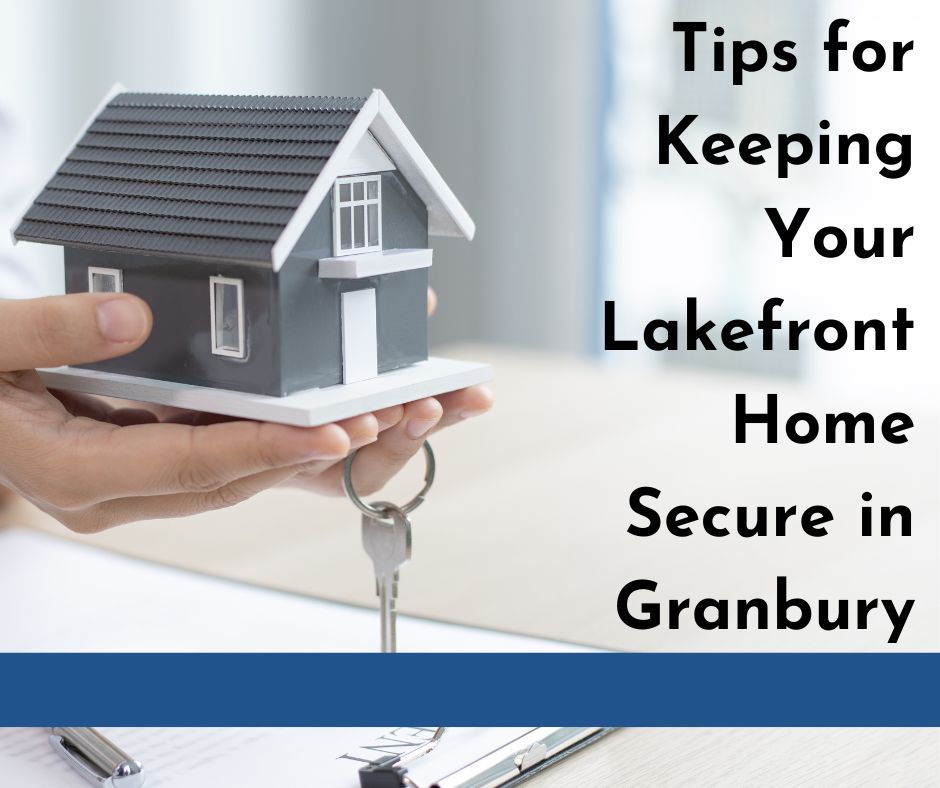 Owning a home right on the shore of Lake Granbury is a dream for many hopeful Granbury homebuyers. It is what some would consider the ideal and best location to live in the entire city of Granbury. It offers the most picturesque views and the ability to walk out your back door and get right into the lake.
But it also leaves an extra portion of your home "open" or exposed to the public. When living right on the lake or considering the purchase of a lake home you want to make sure that your highly visible home is as secure as possible.
Keeping your Lake Granbury home secure
Maintaining a presence
It Is always a good idea to get to know the people that live near you. You want to make sure that you know the people you are going to be spending a lot of time in the same location with. It is also good to know if you can trust them and let them know that they can trust you and build a relationship. Neighbors are a great way to help add a level of security to your neighborhood and home, especially by getting to know the neighbors on each side of your home directly.
Building trust with one another will enable you to watch out for each other and let each other know when you might be away for a longer period of time. You can watch out for each other's homes and make each other aware of any out-of-the-ordinary activities going on around your homes. As well as make sure you are on the lookout for homes when owners are gone for a longer period of time.
Taking preventative measures
Taking plenty of preventative security measures with useful security tools is probably the first place that homeowners think to go when securing their homes. There are many different layers of securing your home to help keep intruders out. This can include door locks as well as padded deadbolts and even added chain locks on the inside of doors. Having three levels of locking mechanisms on exterior doors can help greatly.
You can also keep valuable and sentimental items in an added layer of protection by placing them within a safe or keeping them behind an extra locked door within your home. The more layers there are to get through the more hassle it is seen for intentional intruder and the higher likelihood you have of them moving on to the next project.
Smart devices
There are great smart devices that you can control through an app loaded on your smartphone to help you be aware of what is going on at your home at all times (especially when you're not there). These include locks, alarms, and several different types of camera systems. There are also indoor and exterior light systems that allow you to turn on and off lights from anywhere as long as you have a connection through your phone.
These items allow you to monitor your home at any time of day from anywhere and several of them are within a reasonable cost. There are even some smart devices that allow you to control everything from one app all at the same time.
It is a good to have cameras set up all around your home and a great idea to make sure there are cameras on the backside at your lakefront where some people often do not think to place a camera. You may want to place a camera near your home and then possibly another closer to the water to ensure you get good coverage of all of your property.
Consider signage
Making sure that people are aware once they enter your property from the lakeside that they are on private property can be a good way to communicate and detour people from entering your home via the waterside. If your property is large enough some lake goers may not be aware that the property is actually private property of a homeowner. Making sure to post private property signage or makes people aware that there are security systems in place will help to keep people from entering your property that should not be there.
For the most part, the city of Granbury is a very safe place to live with a low crime rate. But even in the safest areas, it is always a smart idea to take preventative measures and precautions to secure your home and keep it safe.
For more information on finding available lakefront homes in Granbury and all Granbury available real estate please contact us anytime. We are local realtors here to help you find the Granbury home that fits you perfectly.