Tips for Adding More Storage to Your Home
Posted by Vickie Davies on Sunday, April 24, 2022 at 8:29 AM
By Vickie Davies / April 24, 2022
Comment
Keeping a home tidy and organized in a manner that helps keep things running easily and smoothly as well as relieving stress requires setting up the right kind of storage system in the most important locations.
This is why homes that have these storage systems in place are so favorable to home buyers. It has been shown that homes with ample storage space sell more successfully. Installing a great storage system in your home will not only make your everyday life feel just a little bit less chaotic but will also be beneficial should you decide to sell your home someday.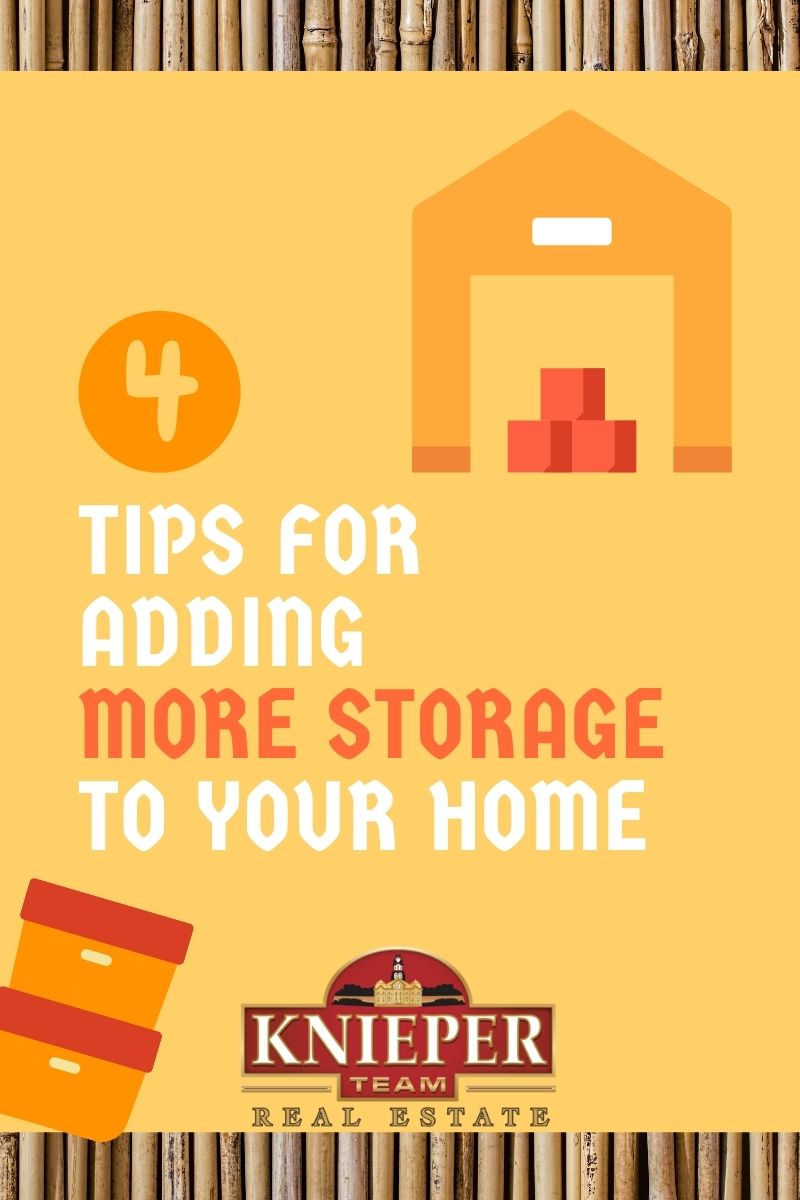 Here are some expert storage tips to help your homework better for everyday living.
Discover exactly what it is that needs a place and make sure that everything has its place
One key to making sure that storage works for you and it makes things easier for home life is to plan out the location where you put your storage system carefully. You want to be able to store items in the area of your home where you will most frequently use them.
For example, if certain items are constantly dropped or piling up in one area of the home create some storage that works with the style of the room and store those items in that location instead of fighting to get them moved to a different room every day.
Find a storage system that is simple and feels easy
Any storage system is helpful in getting things organized and put away but it will not be used if it feels too complicated. A storage system that feels like more work will just be left empty. You want to make sure you are able to store things away in the right place quickly and easily and that everybody using the system feels the same way.
When you are in a hurry to get to your next task in your busy schedule you are not going to take the extra time and energy to perfectly align things within your storage system. If the system will be used by children make sure that it is easily accessible for their height.
Use the most of closet space
Use careful strategy when planning out a system for your closet so that you are maximizing every available inch. The closet's main purpose is to store things so using every single bit of it to be able to do so is a smart plan. This eliminates having to create more storage elsewhere. Try extending the shelves up to the ceiling and placing small items on hooks inside the door or on the back of the door.
Homes with closets that have an impressive organizational system are a big asset to homebuyers. Not only will this benefit you know it could greatly benefit you when you sell your home.
Make use of boxes and bins
Having shelves is great but there are some items that could use a little extra help when being placed on the shelf. Small items that pile up just left on the shelf could tend to easily fall off the shelf and make for more stress and putting items away. Using decorative boxes and bins that are all uniform will help to create a more cohesive and relaxing look as well as enable you to more easily and quickly put smaller items away into categories.
For more information on real estate in Granbury Texas and the surrounding areas, please contact us anytime.
More for Homeowners