Thorp Springs Cuisine is One of Granbury's Best Kept Secrets
Posted by Vickie Davies on Monday, May 17, 2021 at 2:17 PM
By Vickie Davies / May 17, 2021
Comment
Of the beaten path outside of the downtown core of Granbury which everyone frequents for great food, in a sort of non-descript building is Thorp Spring's Cuisine. This restaurant is a favorite of many who have found it, a best kept secret and hidden gem of Granbury. Those that do find this Thai restaurant are impressed with the cuisine.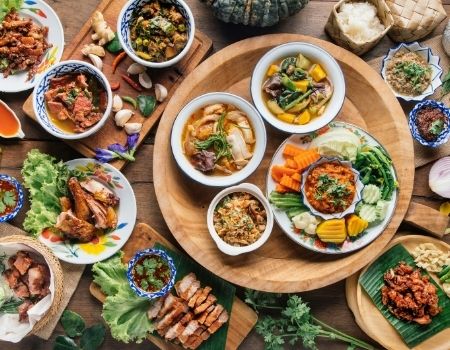 Thorp Spring's Cuisine is located at 2312 Lipan Hwy in Granbury Texas. It is locally owned and family operated. They serve up Fine Thai Cuisine as well as Japanese Hibachi Grill meals. Trip Advisor has several raving reviews from happy customers, many calling it a hidden gem, some not wanting it to be found so they can continue to enjoy it without a long wait from crowds, and those who call it the best-kept secret in Granbury that needs to be found out.
Here are a few reviews from the Tripadvisor site:
A review from s3h0rs3 on December 23, 2020, reads:
"Very Good Thai Food. Hidden Gem Near Granbury "Very good Thai food. Good portion size. Prices on lunch special recently went up, but now include a normal tea(and no subs for a Thai tea) so it isn't as good a deal as it once was, but the food is fresh and seasoned well. 5 star pad Thai is a little closer to 4 on the real 'Thai hot' scale. The orange chicken, Thai tea, and home made egg rolls are very nice. Good pad see ew".
Chip1950 on August 22, 2020 writes: Thai
"Diamond in the Rough" "The Pad Thai is great, we can't get past that so we don't eat much else...The Vegetable Egg Rolls are great, not like a fried Chinese Egg Roll, more delicate. Roll ups. Right now they're not serving lunch COVID... just dinner... (spaced) and "to Go" orders, but don't worry, Thai Food is great even better the day after or reheated! 

Inside is like a little jungle Disneyland of sushi table furnishings that look like an ancient Thai City!!! It's like exploring an overgrown ancient City. I can't express to you how friendly the young Man and Girl that wait on the diners are... A very simple nice experience with Great Thai Food. I read a couple of bad reviews, there is something wrong because if you know Thai Food you'll find this to be extremely authentic, just listen to the Thai conversations drifting out of the kitchen, we love it and you should support them now, we don't want to lose them! Share the Pad Thai and get some other stuff!"
And another review from Maria P way back in 2017 states:
"Best Kept Secret—that should NOT BE A SECRET!!! " People in and around Granbury -- take note!!! This place is in a nondescript building, in a place you lease expect to find a GREAT Thai restaurant - and that you might pass by -- but DON'T! AS someone who loves all Thai and Indian food, I can honestly say they have some of the best. They compete with all the "fancy" places I have been to in Dallas, Plano, Frisco, and all over the world. The owners are the cooks and they have a small staff -- so if you want to eat in -- call and find out how busy they are so you aren't surprised by a wait. Sometimes there is no wait -- but even 4 or 5 tables can back up the kitchen. But for those of us that hate eating chain food and junk food (Chili's, fast food, El Chico, Cotton Patch) - THIS IS AN AMAZING ALTERNATIVE! Be sure to try the Tom Kha Gai soup. They also have hibachi tables -- just call in advance so the chef can prepare and be ready when you arrive."
According to the reviews, the egg rolls are a big hit, the service is outstanding and friendly, and the orange chicken is loved by many, as is the curry. If you are interested in trying the Japanese Hibachi dining you will need to call ahead and make plans so that they can prepare.
Thorp Springs Cuisine is currently open on Sunday from 11 am to 2:30 pm, closed on Mondays, and open Tuesday thru Saturday from 11 am to 2:30 pm and 5 pm to 9 pm.
So if you enjoy great Thai cuisine or Japanese Hibachi meals, Thorp Spring's Cuisine is not to be missed. Whether you live in Granbury full time, own a vacation home here, or love to come and hang out in Granbury because there is so much to love about the town.
If you are looking for a home in Granbury Texas please contact us any time, we would love to help you find your next dream home.