Take Advantage of Texas Tax Free Weekend at Historic Granbury Square
Posted by Vickie Davies on Tuesday, August 2, 2022 at 9:58 AM
By Vickie Davies / August 2, 2022
Comment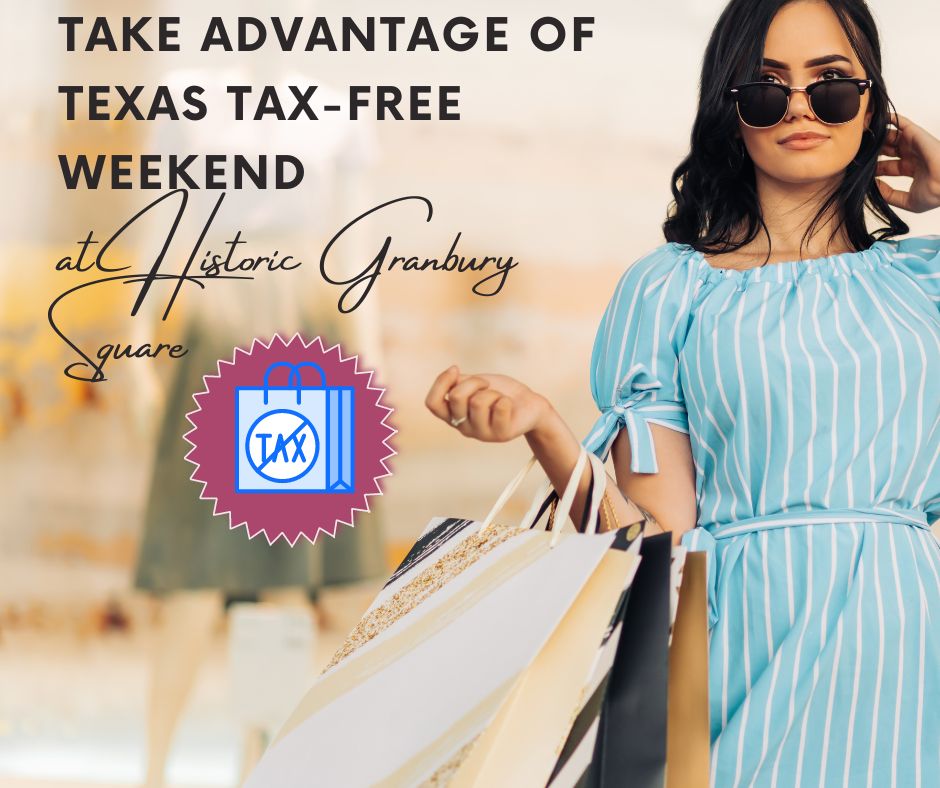 Every year the state of Texas has a tax-free weekend or sales tax holiday. This is a great time to stock up on needed items for the change in seasons as well as for school while benefiting from a little bit of a price break.
What is the Texas sales tax holiday/tax-free weekend?
The Texas comptroller encourages all taxpayers in the state to come out and support local Texas businesses and save some money on tax-free purchases. This year the sales tax holiday will be August 5-7.
During the sales-tax holiday/tax-free weekend in Texas, Texans can take advantage of purchasing items sold for under $100 without paying sales tax. In most cases, you can shop from any store doing business in Texas whether at a physical store or online, or even through a catalog without having to show a tax exemption certificate to purchase qualifying items without a sales tax fee.
Qualifying items for tax-free weekend
Sales tax exemptions apply to qualifying items only that you purchase during the three specified days of the sales tax holiday. Items purchased before or after these dates of course will not qualify for the exemption.
A list of qualifying items
Every item on the list has its own long list of very specific items that qualify for the tax exemption to insure there is no confusion in qualifying for a tax-free purchase. The general categories for tax-free purchases include:
- clothing
- shoes
- backpacks
- school supplies
- items on layaway
- items on special order or rain check
To get a clear picture of specific items that are eligible for tax-free purchase you can visit the Comptroller of Texas website
It is Good to Know that Additional Charges Can Affect the Total Sales Price
For an item to qualify for tax exemption during the Texas sales tax holiday weekend the item must be below $100 in sales price. Some items might have an extra delivery, shipping, handling, or transportation charge put on the item by the store selling it to a consumer. It is good to know that this additional charge tacked on by the retailer is added to the item's original price and counts towards the overall total sales price.
For example, if a pair of shoes is purchased at $85 and there is an extra charge to have the item delivered to your home by the store of $20 then the full sales price of the item then becomes $105 and the item is no longer eligible for a tax exemption.
This makes shopping in a brick-and-mortar store location where you can purchase the items and bring them home on your own much easier to receive the tax exemption on qualifying items under $100.
Historic Granbury Square is a great place to benefit from the sales tax holiday weekend
The town of Granbury was founded in 1860 and the Historic Granbury Square has many of the original buildings of commerce that took a major role in the development of Granbury. The downtown Square is the first town Square in Texas that was listed on the National Register of Historic Places. Much of the original 17th-century architecture is still present today.
Historic Granbury Square is located at the intersection of US 377, SH4, and SH51. Some say it is the centerpiece of the town and it is definitely a hub of economic activity as well as social community gatherings in Granbury.
Today the Square is a collection of boutique shops, live entertainment, dining, nightlife venues, and year-round community festivals in a gorgeous historical setting. It is a great place to spend the sales tax holiday in Texas.
Here's a list of all of the great unique locally owned retail stores that you can shop in Historic Granbury Square.
Appaloosa Ranch Boutique
Eighteen Ninety Marketplace
Madeline Woods Boutique
Mimi and B's Eclectic Fun Mercantile
Merry Jaynes Candy Shop
Stuff 'n' Nonsense
The Jewelers Workshop
Your Private Collection Art Gallery
There's nothing quite like living in the town of Granbury Texas. For more information on available real estate in Granbury please contact us anytime.