Style Ideas for Screened-in Porches
Posted by Vickie Davies on Monday, July 18, 2022 at 5:39 PM
By Vickie Davies / July 18, 2022
Comment
A screened-in porch is a great indoor and outdoor space that allows you to get some fresh air all year long. Outdoor living spaces are more and more desirable among home buyers because they add more square footage to the home and allow you to enjoy your yard more easily.
Here are some great ideas for styling a screened-in porch
Bring focus to the architecture
Many times a screened-in porch will use an extension of the roofline of the home as a cover. Sometimes this means that you can make use of exposed beams and rafters or a vaulted ceiling to highlight the interesting architecture. This will also help the space to feel larger and grander.
Use a combination of refined and rustic
If you have rustic architectural elements on your porch don't be afraid to contrast them with some refined and lux elements in your furnishings or your light fixtures. This brings an unexpected pop of interest to your space.
Bring the indoors out
Furnish your screened-in porch with super comfortable furniture that looks like it was something dragged outside from the cozy living room. Upholstered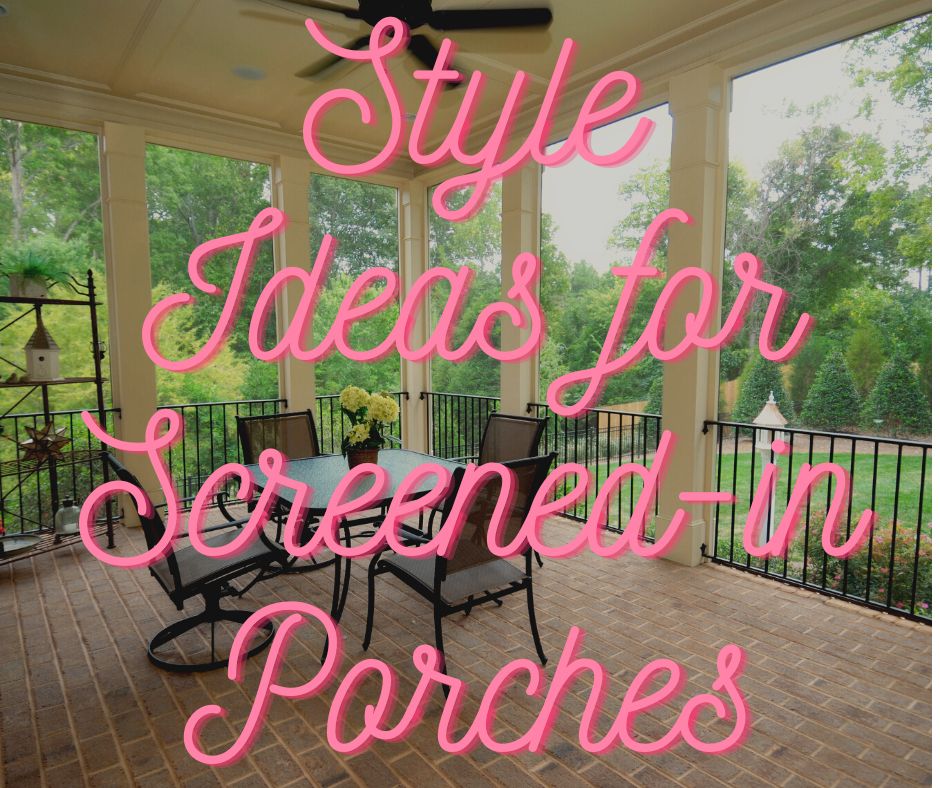 furniture, a rug, and even a chandelier can help to make a screened-in porch feel like an extension of the home but with better views.
Related: Designing a Low Maintenance Yard
If you have pets, pet-proof your screens
If you have a furry family member you want to remember that their paws can do some damage to the screening around your porch. You don't want to end up with snags, holes, or a giant rip in which your friend can escape and other critters can get in. You can help to fortify the lower areas of your screened-in porch with some extra wire that can serve as a safety railing.
Extend the useful season with warming elements
As the weather gets cooler there is no reason why you can't continue to use your screened-in porch. Bring in elements like blankets and fire features to help extend the usefulness of your screened-in porch. Of course, you want to make sure you are properly venting any fire features. If you are unable to do so you could bring in some outdoor space heaters.
Consider a sleeping porch
More and more homes are adding a sleeping porch to their yard. A sleeping porch is a screened-in porch that has a bed allowing you to comfortably sleep outdoors at your home without worrying about natural elements bothering you as you snooze. Originally sleeping porches were built as a means of beating the heat when it got too miserable to sleep inside.
Don't forget to make use of the view
As you are setting up the furniture layout on your screened-in porch you want to make sure that some of the furniture allows you to be able to stare at the natural beauty all around you. This is the whole reason for being outside after all is enjoying the outdoors. This can be done by facing furniture towards the view as well as bringing in clever furniture pieces like swivel chairs that will allow you to turn in any direction.
Having an amazing outdoor space can add a lot of value and usefulness to your home. If you have a great screened-in porch you want to make sure that you are optimizing its full usefulness.
For more information on purchasing a home in Granbury Texas and surrounding areas please contact us anytime.
More Homeowner Tips