Some Granbury Residents are Wondering: Why Does the Real Estate Market Seem to be in a Holding Pattern?
Posted by Vickie Davies on Thursday, August 17, 2023 at 6:44 PM
By Vickie Davies / August 17, 2023
Comment
There have been several differing opinions on the state of the real estate market and many headlines to confuse Granbury buyers and sellers. While some headlines say the market is headed for doom others are saying it can only get better. The truth is that the market is challenging in different aspects but it seems to be in sort of a holding pattern currently. Why is this?
The senior vice president of research at John Burns Research and Consulting shared that he believes things are moving but very slowly and ineffectually and he thinks it is due to the continued hovering of high mortgage rates.
Currently across the United States, the brand-new construction market is doing better than the resale market which is a change from the last few years. Some believe that this is because builders are able to buy down mortgage rates for home buyers that would otherwise be stuck with a 7% mortgage rate. But builders are not able to construct homes fast enough to keep up with the demand and help in the housing shortage.
Numbers show that home sales have plummeted but this is mainly due to a lack in inventory of homes for sale. When the mortgage rates hit the lowest anybody has ever seen in 2021 it brought large numbers of homebuyers to the market and home purchases soared higher than we have seen in this lifetime. The National Association of Realtors reports that 6.12 million homes were re-sold at that time. In 2022 mortgage rates soared to 7% and sales dropped to 5.3 million. It is expected that 2023 will see a sales number of somewhere around 4.16 million.
Many experts believe that the current housing market conditions won't see a rebound until a significant increase in homes hits the market. And many of those same experts are predicting that this will not happen until mortgage rates fall below the mid-5 % range making more American homeowners comfortable to list their home for sale and take on a new mortgage for their next home.
Many expect mortgage rates to remain high until the Federal Reserve decides to quit hiking rates in their effort to combat inflation. Currently, a large number of homeowners in Granbury and across the United States are staying put within their homes to utilize the two and 3% mortgage rates they were able to secure through a home purchase or a refinance. On top of that other homeowners are holding onto mortgage rates much lower than they currently are. As mortgage rates drop in the future it is expected that these homeowners will put their homes on the market and help to increase the sales with an increase of housing inventory.
What is keeping the housing market at a standstill?
The big question for the housing market from Granbury buyers and sellers and many other people around the country is, "How come housing prices haven't come down as home sales are slowing?" Prices have only come down in some areas by less than 1% as of July compared to the previous year.
The answer, there is still a large number of buyers looking to purchase homes. This is making the housing market feel much more lucrative than it truly is. The very small number of homes for sale are selling at record paces still and for great prices often more than the list price. Even though there are fewer homes and the number of actual sales is dropping rapidly the demand for homes remains high and this is keeping the real estate market in a holding pattern.
What does this mean for buying or selling a home in Granbury right now?
If you are looking to buy or sell a home right now the best thing to do is to have a conversation about your personal goals for your home purchase or sale with a local Granbury real estate agent. They can help you to determine if now is the best time for you personally to purchase or sell a home. The best time to buy a home for anyone truly is when they are ready and if they can afford to do so no matter the market conditions.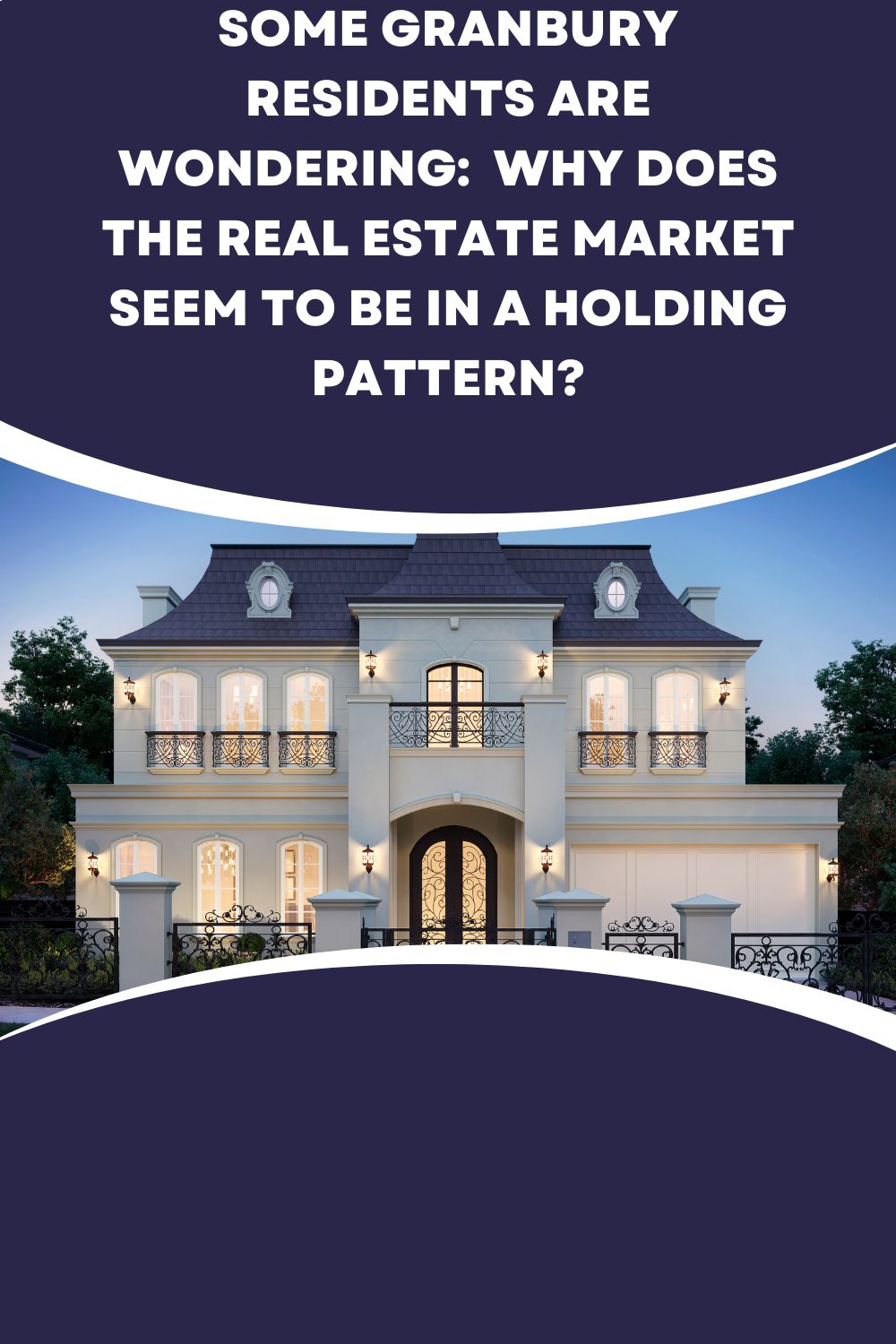 Buying a home in Granbury is one of the most solid investments you can make that will help you to build wealth as well as benefit you in your daily life. Real estate is a purchase that should not be made lightly and is better off as a long-term investment. If you are in a financial space to afford payments on the home that you need and truly want in Granbury then it is worth discussing your options with an agent despite how the market may seem right now. The help of a professional may surprise you at your chances of success in buying or selling your home right now.
Please contact me for more information on buying a Granbury home or selling your current Granbury home. I am here to work in your best interest and help you find a home that you truly want and need in Granbury. Contact me anytime!