Should We Rent or Sell Our Vacant Home?
Posted by Vickie Davies on Thursday, September 24, 2020 at 10:00 AM
By Vickie Davies / September 24, 2020
Comment
Are you on the fence about renting or selling a vacant home? There are pros and cons to each so it's important to understand all of the factors involved before making a wise decision. Renting might be a good option if you're prepared for the maintenance that comes along with it. Selling might be a great way to simply unload the property and move on with your life. But here are some of the advantages and disadvantages of either.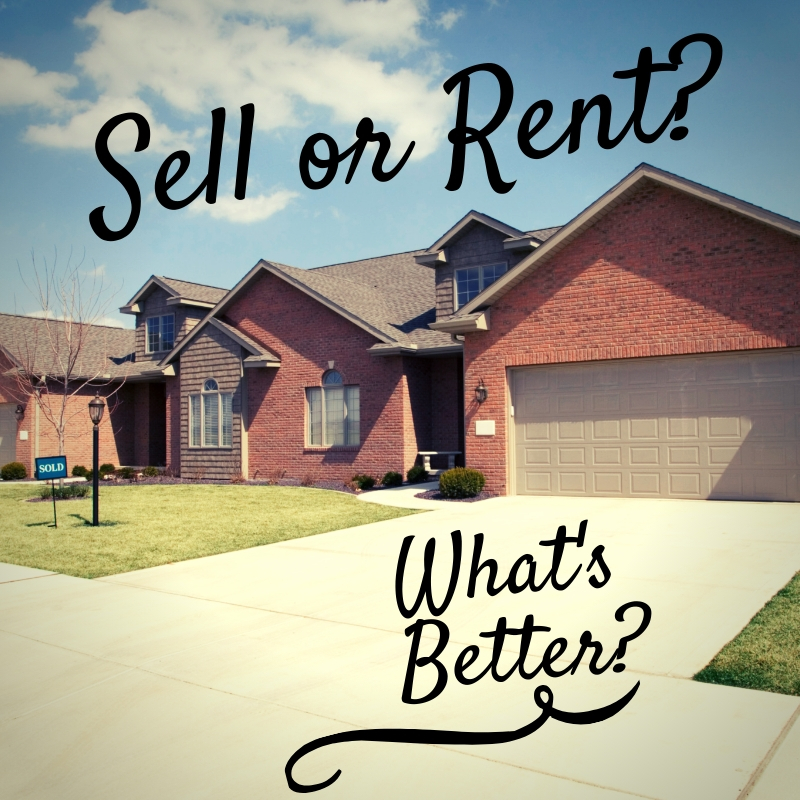 Advantages of selling the home. Should We Rent or Sell Our Vacant Home?
The neighborhood just isn't what it used to be.
If the vacant home is in a neighborhood where values are decreasing, it's probably better to sell the house and move on as quickly as possible. You will get more money now than you would in a year or two. It's important to talk to a local agent that is very familiar with that neighborhood. They will be able to look at some comparable sales and see where the market is going in that neighborhood.
Selling means you can get out of it and move on with your life.
If the home looks like it's going to need a lot of repairs you can simply sell the property as-is. This means you are not willing to repair, replace, or update anything on the property. You may not get as much from the sale of the home, but peace of mind and stress can be easily dissolved by selling it this way.
Sell if you need money now.
If you don't need a lump sum of cash right now, renting might be the better option, but if you need money, selling and then paying any capital gains taxes (if you're not planning on buying again) might be the best option. It's important to weigh all the financial costs, burdens, and benefits to determine if selling is the better option.
Should We Rent or Sell Our Vacant Home?
Disadvantages of selling.
The only major disadvantage when it comes to selling a vacant home is that it could be difficult for you emotionally. If you have memories tied up in the home it might be emotional to sell it. Honestly, this is really the only disadvantage. Selling with a reputable agent in your area might be the best option unless you want monthly cash flow, in which case, renting would be the better option.
Advantages of renting.
The biggest advantage when it comes to renting out your home is that you have a second source of income. You'll receive extra money each month that can pay for property taxes, any mortgage, utilities, and repairs on the property. You can increase the value in it by having some renovations done before you have renters.
If the home has been vacant for a while, by renting, you can successfully avoid squatters, vandals, and burglaries. Even if you choose to rent it out for a short time, it will be better than leaving it vacant for several months.
Disadvantages of renting.
You will be the landlord which means that you will be responsible for evicting a tenant, any repairs, maintenance, and the clean up after a tenant has moved out. You can't be guaranteed a good tenant even if the screening process is airtight. It's important to have background checks on every tenant or even consider a property management company that can do all this for you. But, with the property management company, you will be giving them a portion of the rental payment every single month to handle this. That could be good or bad depending on how much you'll need from the cash in the house.
Selling can be a little bit stressful but so can rent it. You need to determine if you're looking for a short-term situation while it's on the market and then sold and done with it, or a long-term situation that can reap multiple benefits of monthly cash flow income and equity building. What works best for you all depends on your current budget and your lifestyle state.
Give us a call and let's go over some numbers either way. We can help you make an informed decision on whether to sell or rent out your vacant home in Granbury Texas
Related Posts for Sellers: