4 Quick Steps to a More Organized Closet
Posted by Vickie Davies on Tuesday, June 28, 2022 at 9:47 AM
By Vickie Davies / June 28, 2022
Comment
The closet in your bedroom can quickly become one of those mangled messes that you dread facing on a daily basis. Needing to quickly change becomes a dreaded task in a mountain of tangled-up T-shirts and getting dressed soon turns from a simple daily task into a dreaded chore.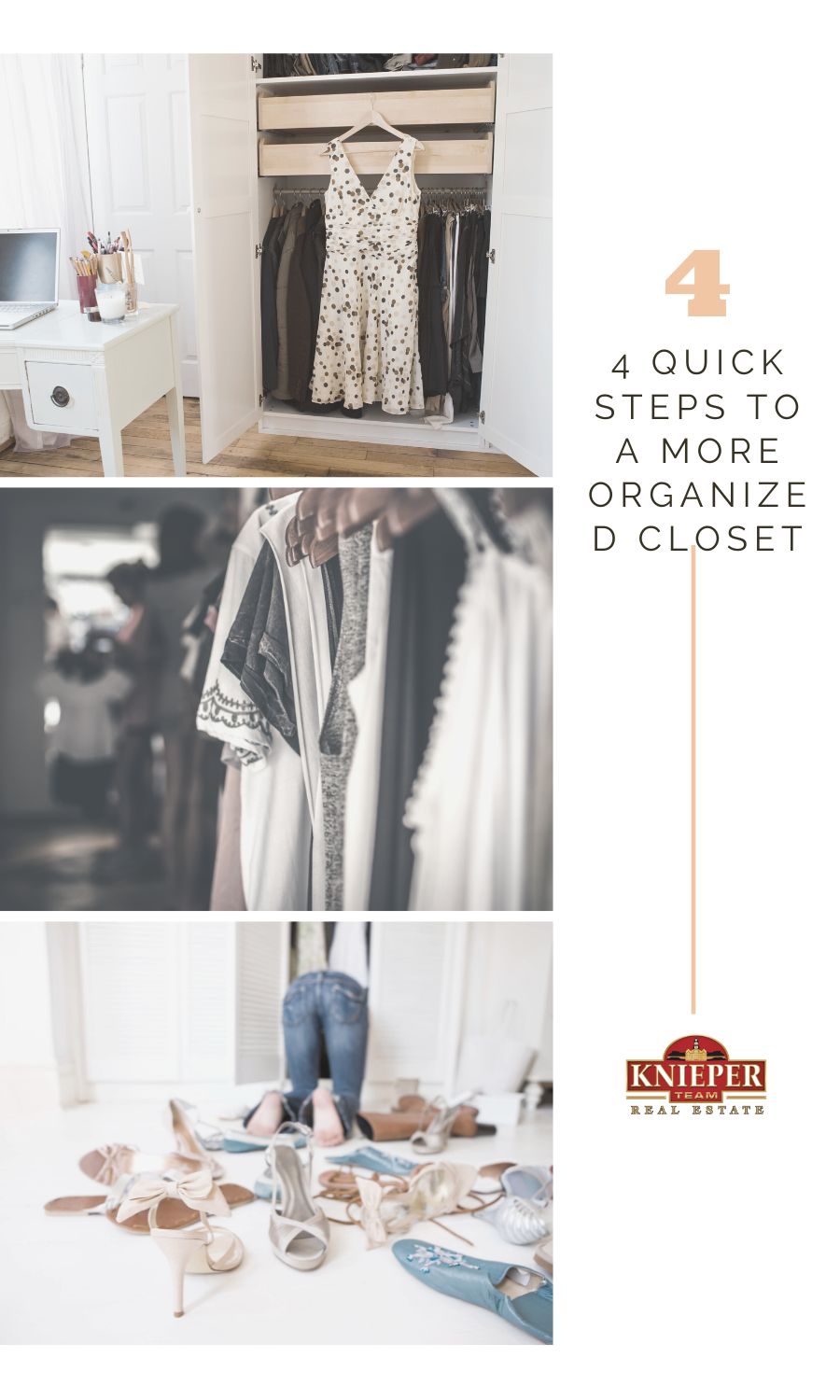 If you are less than thrilled with the space that your closet has become use these quick steps to get you back on track and love your space again
Pack Up Off-Season Clothes
One of the easiest ways to create more space and less chaos in your closet is to help it work more efficiently with fewer things. The easiest way to accomplish this is to put aside anything that you don't need for the current weather season you are in. You don't need that big Sherpa pull-over when the daily temperatures are hitting 70° for example. You also won't need a bikini in the middle of winter.
You can store your off-season clothes in plastic totes with a tight-fitting lid to keep them dust-free in an area of your home that you do not need to access on a daily basis. This could be somewhere simple as under your bed.
Sort things out by type
To find things more quickly sort them into categories. For example, stick all of your formal occasion items together in one spot. If you are trying to get dressed for a wedding you will not appreciate climbing through a mountain of sweatpants to find your suit.
Once things are sorted into categories for the occasion you can then sort them by color to help you more easily put together your look for the day. If you want to get incredibly organized you could even sort things by solid color and pattern.
Consider tossing out some items
After categorizing your clothes and further organizing them into color ask yourself when the last time you wore every item in your closet was. Another great question to ask is if you saw the particular item in a store today would you purchase it? If it has been quite some time since you have worn it or maybe you have forgotten you even had it and you answered no to the second question it is time to hand it off to a new owner.
Now its time to find an organizational system
Now that you have stored away items you won't need for the current season, grouped together like items you were keeping within your closet, and gotten rid of old items you never use it is time to consider how you will put them back in your closet.
Of course, the easiest way is to purchase a shelving system that allows you to have a space for everything. These are an investment but could be well worth it as they are an attractive selling feature if you decide to sell your home in the future.
If you don't have the ability to invest in a brand-new closet organizational shelving system there are some great organizational items you can purchase from the store to transform the system within your closet to work better for the items that you want to store in there. These items include things like storage bins for shoes and shelf dividers to help keep shirts and purses in place.
For more information on living in Granbury Texas, including real estate in Granbury Texas, please contact us anytime.
More Homeowner Tips