Most Popular Neighborhoods on Lake Granbury
Posted by Vickie Davies on Wednesday, July 26, 2023 at 11:01:19 AM
By Vickie Davies / July 26, 2023
Comment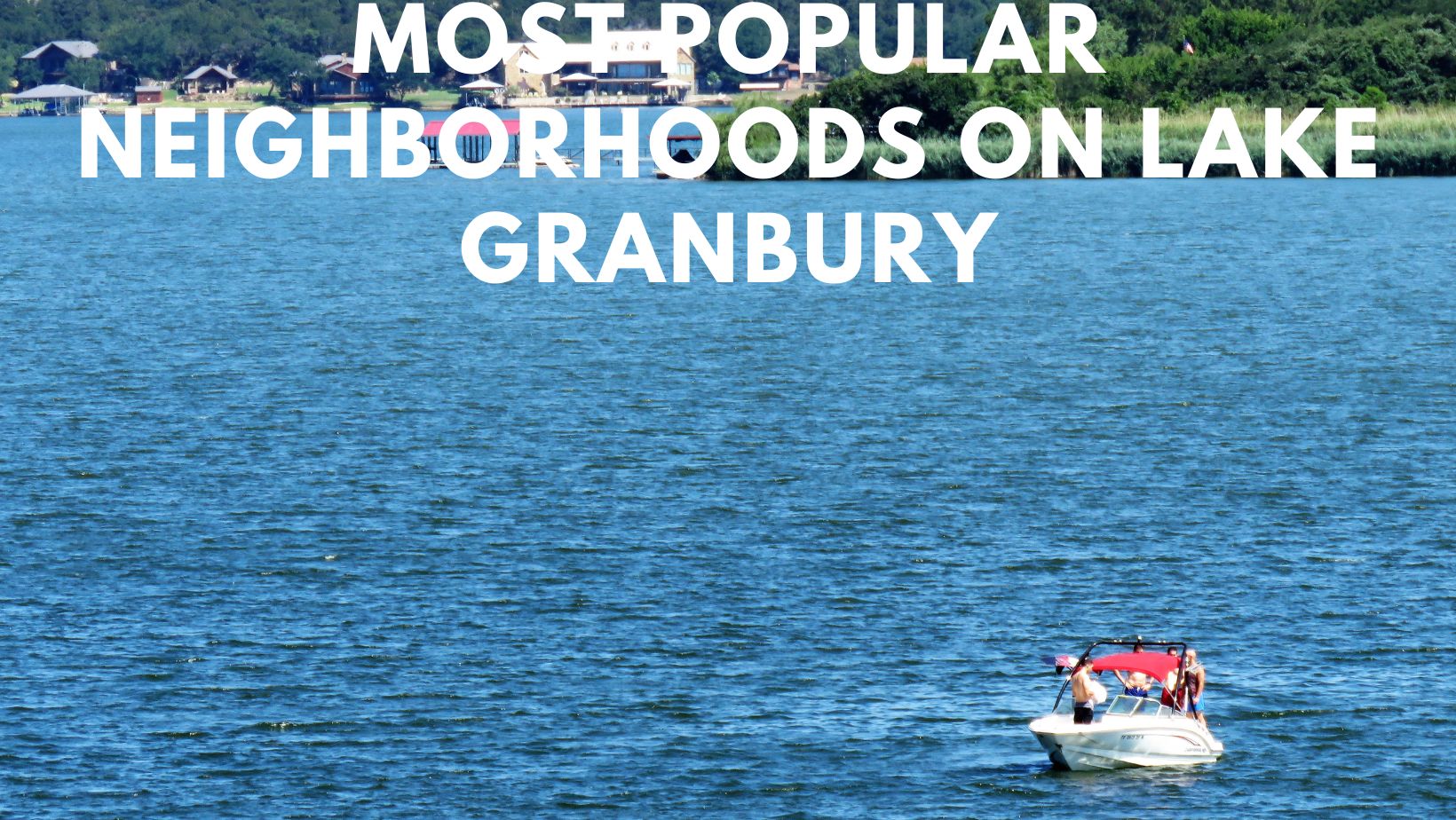 Lake Granbury is a driving focal point of many Granbury home searches in the town of Granbury and beyond. Lake Granbury is a large 20-mile lake which means there is plenty of shoreline and several homes and neighborhoods to choose from. Simply looking for a lake home can get overwhelming if you go into it without any research into the different areas and neighborhoods around the lake before you go home shopping.
To help potential Lake Granbury homebuyers narrow down their search and make it much less overwhelming we have compiled a list of the most popular lake communities to help you learn and discover more about Lake Granbury neighborhoods and homes.
The Most Popular Lake Granbury Neighborhoods
Bentwater Estates and Mallard Point on the North Side
Bentwater
Bentwater is nestled on the shores of Brazos River and Lake Granbury, this residential subdivision has two entrances. The main entrance can be found off Hideaway Bay Court and the second is located north of Meander Road. The location is close to and gives easy access to the Luton Ranch shopping and dining area, fantastic schools, and of course the lake.
Homes have been constructed in the neighborhood over the last 20 years with several lots still available starting at about $80,000. Most existing properties feature traditional Texas design from 1700 ft.² to about 5500 ft.². If you're looking for acreage, Bentwater has it with several lots up to 5 acres or more.
Lots and acreage start at about $80,000 but existing homes can run anywhere from $500,000 up to $2.5 million. Homeowner association fees are approximately $450-$550 per year and cover common area maintenance and management.
Mallard Point
The community of Mallard Point is on the south border of Bentwater. These homes are right at lake level as compared to homes overlooking the bluffs in Bentwater. These are referred to as walk-out properties because homeowners can walk out their door and straight to the lake. Lots are spacious in Mallard Point often sized between a half acre and two acres. Some homes can be found at pretty affordable price points starting around $450,000 and topping out at around $900,000.
De Cordova Bend on the South End
The DeCordova Bend Estates is a gated golf community on the lake. Considered a boutique community of its own due to all of the amenities, it offers two golf courses, tennis courts, a Marina on Lake Granbury, a country club with a variety of social activities and events, a resort-style swimming pool, and a fitness center with state-of-the-art equipment and weights.
This private and exclusive neighborhood is one of the originally planned communities along the Brazos River on Lake Granbury. It offers several different styles of housing including vacation homes, golf front properties, canal properties, and lakefront homes.
This large community offers smaller lots but the most diverse collection of homes. From condos/villas right on the water to older construction homes that have been well kept and updated, to homes that could use updating at lower prices, to newer custom-built homes, homes with private docks on the lake, and inland lots with lower costs of living that still allow easy lake access.
Neighborhoods in the Central Lake Granbury Area
These are four smaller communities all neighboring each other in the central area of the lake shores. They all have separate HOAs but are located very close to one another.
Harbor Lakes
Harbor Lakes is nicely located near most of the modern amenities in the city of Granbury. It is just a seven-minute drive to the historic square and just a few minutes from other retailers in the area. The community and all of the others neighboring it in the central lake area are close to the four restaurants on Lake Granbury as well. Homes were built between 1995 and 2005 and many feature canal-front homes in the deepest part of the lake making them ideal for boat owners. There have since been three more enclaves of Harbor Lakes built in the last eight years and these areas offer gated neighborhoods. There are also large condo homes near the entrance to the golf course and there are some undeveloped lots available to build a brand new home.
Waters Edge
Waters Edge is a unique, established community that has wraparound canals so nearly every home is waterfront to some degree. The entrance to Waters Edge is located right off of downtown on Highway 377. Follow Waters Edge Dr., South to the entrance along Waters Edge Drive and Harbor Lakes Drive. Only about 5% of the homes are not waterfront and nearly all have access to Lake Granbury. Many are located on their own cul-de-sacs and peninsulas and follow the canals. It is one of the most unique neighborhoods in Granbury.
Catalina Bay
Catalina Bay is one of Granbury's finest gated communities just off Highway 377 and some Granbury residents might describe it as Lake Granbury's highest-end luxury neighborhood. It's a great location, close to the highway, the river, and the Harbor Lakes golf club. Most residents are just minutes away from Walmart, shops, restaurants, markets, and more. This gated community features a private and secluded enclave of about 200 homesites that have either canal or waterfront living. 90% of homes in Catalina Bay are waterfront of some type, typically canal.
The Islands
Neighbor to Catalina Bay is The Island, a private and gated community and just minutes to shopping and amenities. Although they are connected, they have two separate entrances, but both go to the same homes and community. Both communities were developed under the same legal description and both share Catalina Bay as the legal name.
Homes in both communities were built from about 2010 to the present and feature 3 to 5 bedrooms, 3 to 5 bathrooms, and in sizes up to 4000 ft.². The Islands features its own separate HOA and has a lesser demand on community restrictions as compared to Catalina Bay.
If you are looking for a waterfront property on Lake Granbury let me help you with your home shopping, I am highly knowledgeable in waterfront home buying and can help you to gain insight about Lake Granbury, the neighborhoods, and factors of owning a lake home you may not have thought about. Contact me any time to start your Lake Granbury home purchase.