Making Over Your Granbury Living Room- Where to Splurge and Where Not To
Posted by Vickie Davies on Tuesday, October 31, 2023 at 12:38:55 PM
By Vickie Davies / October 31, 2023
Comment
The living room of your Granbury home is one of the most used and the most seen areas of the home. Creating a living room that is both inviting and aesthetically pleasing as well as comfortable is important.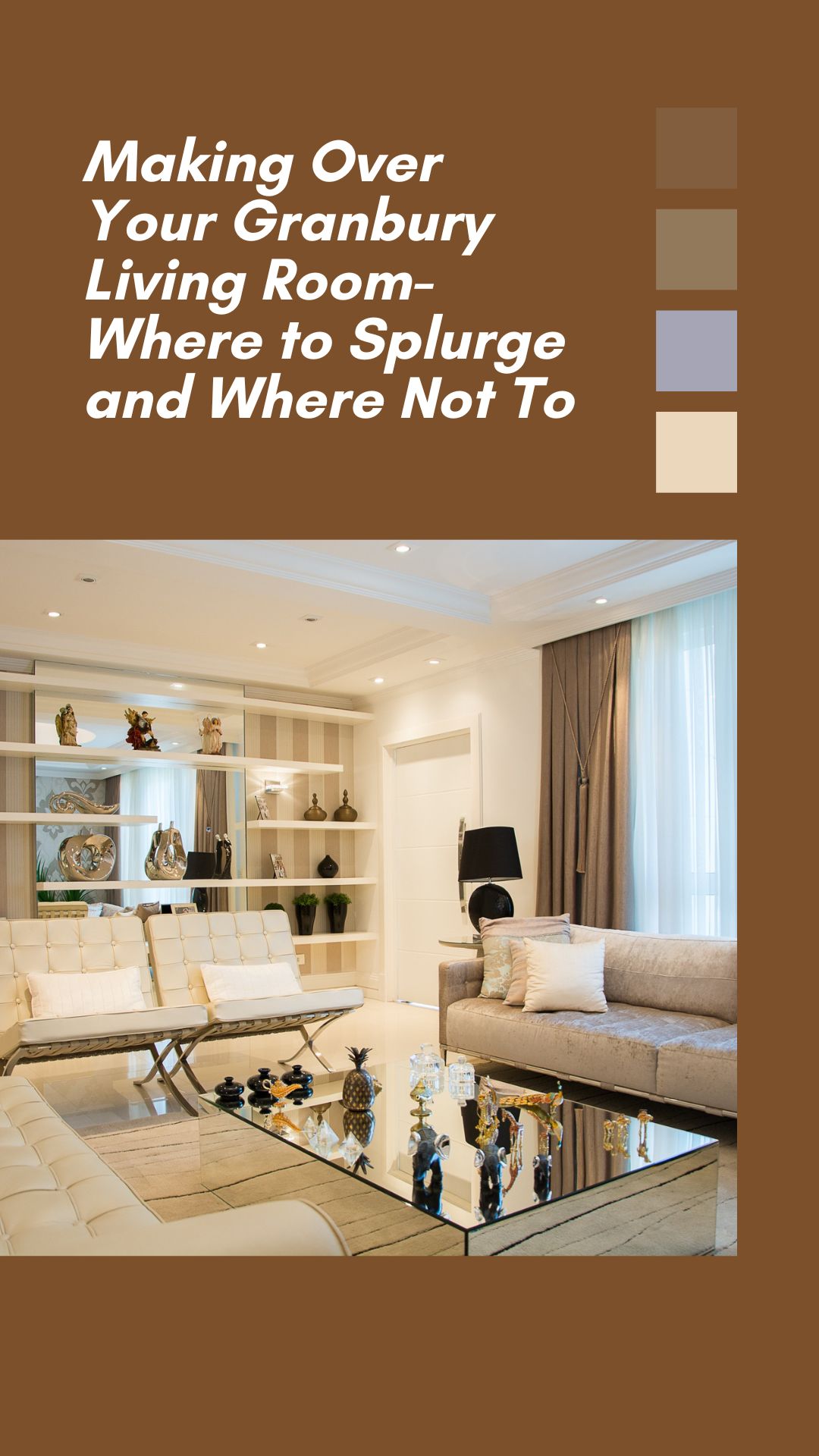 If you are designing your living space on a budget you might feel overwhelmed at the thought of being able to create a space you will truly enjoy and be proud to invite guests into. The good news is there are some design tricks you can use to create a space that is able to entertain without going overboard on the cost. There are areas where you can save money and some you want to make sure to purchase high quality to create a room that can do the job and look good at the same time without going bankrupt.
Where to Save
Rugs
The placement of a rug can help to define different spaces in your room and add a layer of cozy design appeal. It used to be that no matter what a great rug would cost a fortune. Today they don't have to. You can find some great-looking rugs that don't break the bank. And sometimes they can help prevent the need to completely change the flooring.
Coffee Table
Having a table in the middle of the room adds the ability to bring some style to an expanse of empty floor space. It can also provide a much-needed spot to place a cup of coffee when visiting with friends or curling up with a good book. The good news is, you can find a great-looking table for not a lot of money. The coffee table doesn't have to do the hard work say the sofa does either so a less expensive one can do the job.
Throw Pillows and Blankets
These decorative items can help set the style tone for a room. But they are also items that can be easily switched out to help set new ones. Instead of purchasing those expensive goose-down filled pillows with French silk, opt for some high-quality basic pillow inserts that you can change out inexpensive covers as you change your color scheme, or make a change for the holiday season.
Art
There is some great art out there that can be purchased at all price levels. Though original works by talented artists are amazing, a licensed print can still look amazing when placed in a great frame. If you don't have the ability to purchase the original buy a responsibly reprinted version from the artists. Or opt for great photography. Look for the artwork your kids have made as well you may be able to chicly display your absolute favorite artist's original work for only the price of a frame.
Where to Spend
Sofas
The sofa is the hardest working piece in your living room. You want to make sure that it is quality and able to do the job of people constantly getting up and down to sit, or to hold you while you lay down and cozy up for the night. The higher quality the sofa the longer it will last with the proper care. You also want to be able to find something that is incredibly comfortable and fits perfectly into your room.
Lighting
Lighting does so much for a room on many different levels. It helps to set an overall mood tone for a space. It can make a space feel larger when there is plenty of light. Lighting can also act as an extra piece of art with architectural interest. And finally, light fixtures that bring light and look like artwork help to make the whole room feel like it is elevated and elegant. It is like the jewelry in a well-styled outfit.
Flooring
The floors in a room are one of the largest surfaces and one of the first and most widely noticed. If you are in a position to redo your floors making sure you purchase something of high quality that helps act as the style foundation to the whole space is key. Also because it is underfoot it takes a beating. You want to make sure you are purchasing quality materials that will last and be worth the investment.
When it comes to decorating your Granbury home a mix of high-quality items and ones that will not break the bank is the key to creating a comfortable space you will love for a long time.
If you are currently looking to purchase a home in Granbury please contact me. I am here to help you find your ideal Granbury home. I am knowledgeable in all Granbury real estate and want to help you take the stress out of shopping for a home on your own.