Landscaping Tips that Help Granbury Equestrian Properties Run More Efficiently
Posted by Vickie Davies on Monday, January 9, 2023 at 4:59:20 PM
By Vickie Davies / January 9, 2023
Comment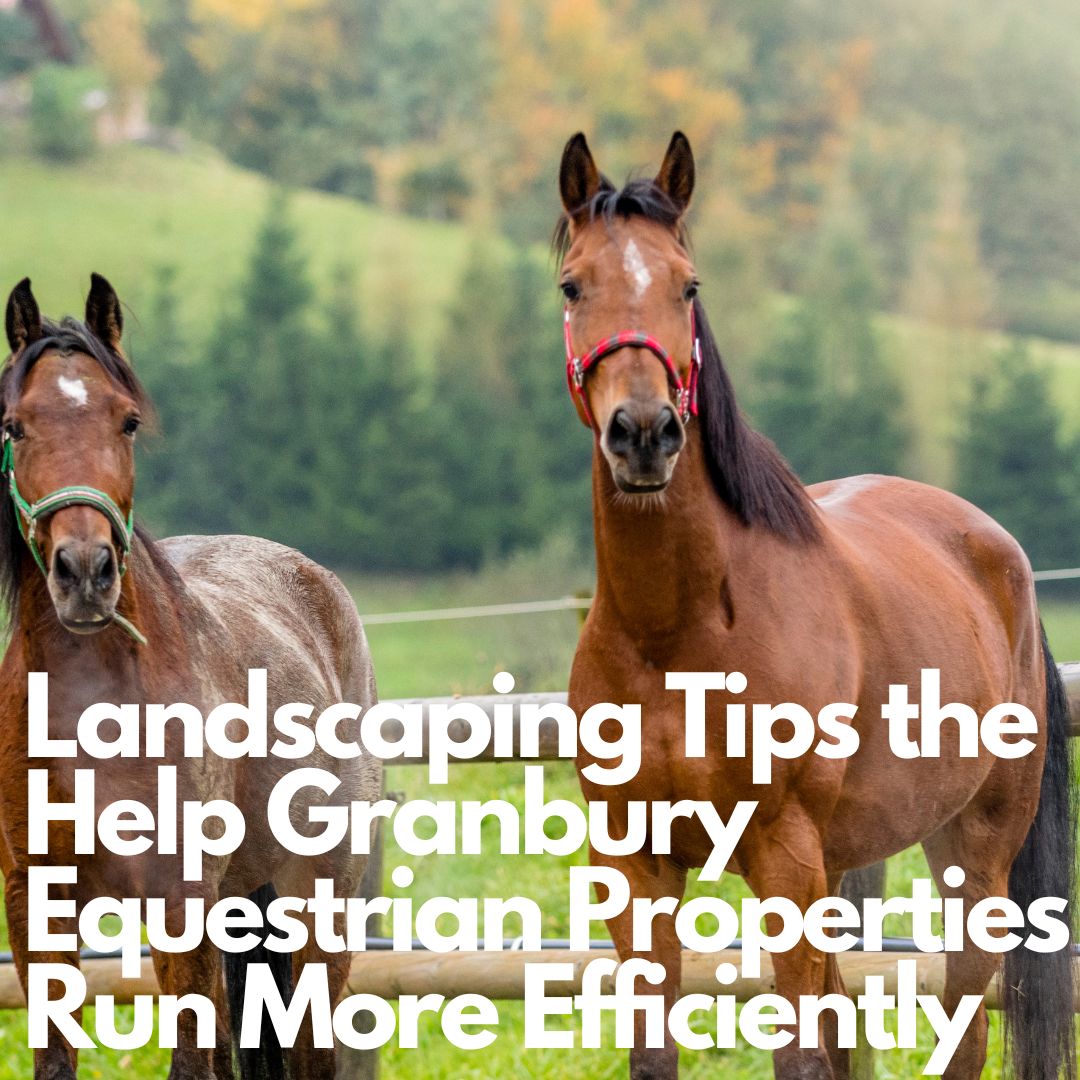 In Granbury Texas, there are several beautiful equestrian properties or properties that would allow for creating equestrian space on them. There are many ways that an equestrian property or one that is worthy of becoming an equestrian property is different than the standard traditional home. One of these is landscaping. It is very important to have efficient landscaping maintenance and practices to help run your Granbury equestrian property smoothly.
Landscaping is so important on an equestrian property, that having the right landscaping practices can be a huge difference between a well-functioning equestrian property and one that has continual hiccups and added stress that are not necessary. Landscaping is often a last thought when purchasing or maintaining equestrian properties but it is actually one of the most important factors.
Great landscaping tips for Granbury equestrian properties
Fencing and security
One of the most important aspects of an equestrian property is being able to keep the horses healthy and safe within the areas you would like them to stay in. One of the ways to keep your horses in the safe place you've created for them is with fencing and security measures.
For fencing, there are several different materials to choose from for keeping your horses in the right areas of your property. These materials can include vinyl rail, HTP rail or line, bare wire, no climb grid fencing, conductive braids, electrical tape, polymer line, and traditional wood. It is good to consider the individual needs of the animals on your property as well as the overall design aesthetic you would like to keep. Every fencing material has its benefits and drawbacks.
It is good to note that fencing that can keep intruders out can also be the same type of fencing that may injure a horse in the perfect storm-type scenario. It is also good to note that the amount of fencing material you will need will be dependent upon your property as well as the type and design of fencing you were looking at.
Added levels of security you may choose to incorporate extra materials in your landscaping like security hedges or cypress trees that can also help as a disguise to less attractive fencing but still offer the utmost protection as well as great design.
Pasture Management
Horses like to graze and they will graze all day long if they so desire. Grazing and pasture needs will be an integral part of designing your fencing and landscape on your property. It is a good idea to plan out where you will need to keep a pasture before enacting any planting. It is good to consider if adjacent horses will get along with each other and maybe be able to provide a buffer between paddocks for horses that are not getting along.
Location and climate on the property and the size of the property are also good factors to take into account when choosing your grazing areas. You want to make sure that there are no toxic plants in the area that your obsessive grazers can get a hold of. You also want to make sure that the area is not prone to flooding at certain times of the year.
Planning irrigation and draining
Natural ponds and pools on a property can be a great benefit by adding a water source for landscape irrigation and any emergencies like fire. If there are already bodies of water on your property you want to ensure that they are healthy ones that will not be dangerous or detrimental. You also want to ensure that these areas that naturally pool with water are healthfully irrigated into a spot where there are no areas that are problematic for sitting water.
Choosing the right professional help if you are creating an equestrian property
If you are purchasing a property that allows for the ownership of horses or the ability to board horses for other people and create a business, you want to make sure that you are hiring the proper equestrian landscape architect. This architect will take into account the layout of the land and access to the land to create a system where items like stables and gated entrances are easily accessible for ease of use and everyday chores.
For more information on purchasing an Equestrian property in Granbury please contact us any time.