Low Maintenance Landscaping Tips for Lake Granbury Homes
Posted by Vickie Davies on Monday, January 9, 2023 at 5:33:06 PM
By Vickie Davies / January 9, 2023
Comment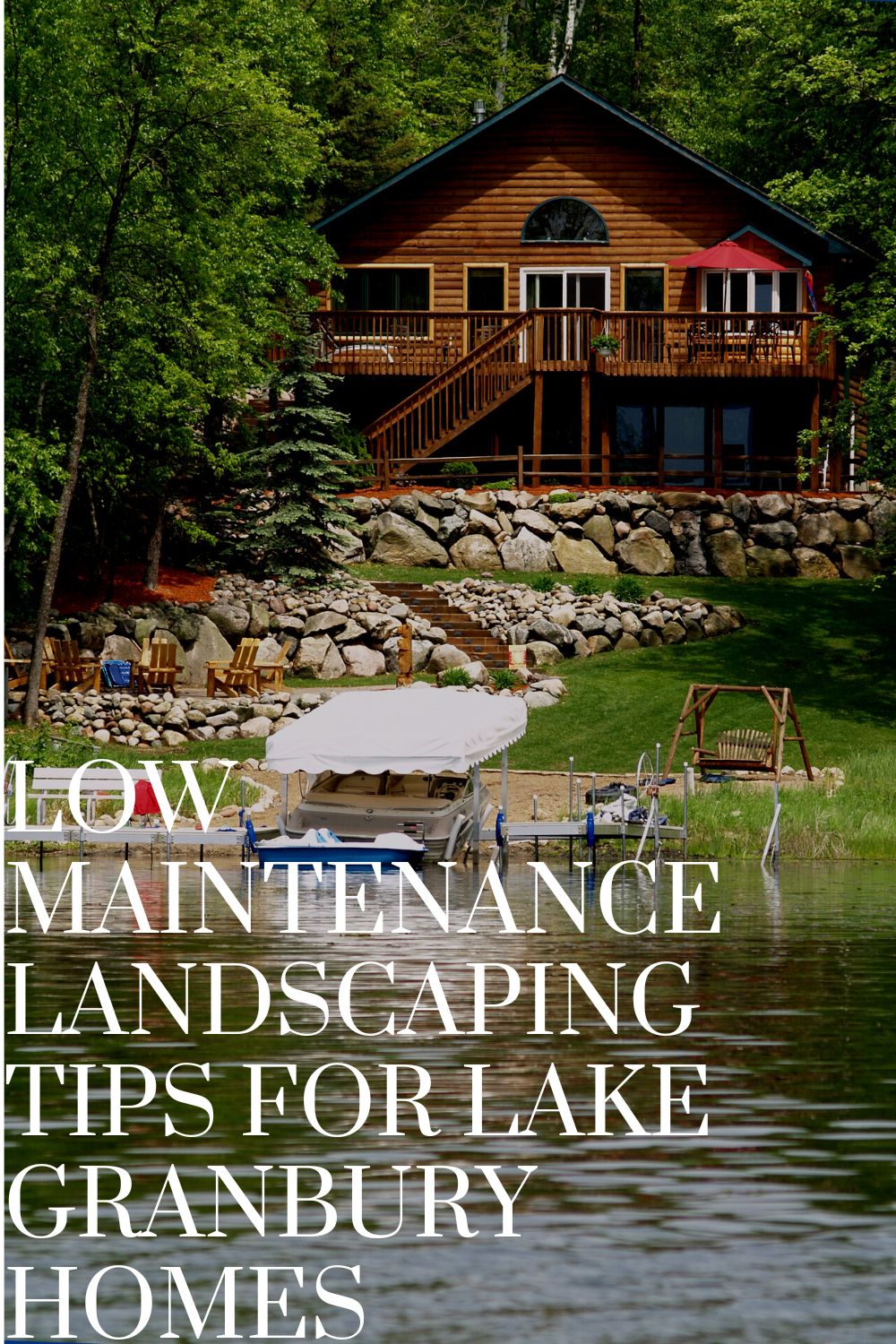 When you live in a beautiful outdoor setting such as right on Lake Granbury your landscape will receive more attention than the average traditional home. Having a nicely landscaped yard helps to complement the beautiful view of the water and it is only natural that when you live on the water you want to be outside more often enjoying your yard. But not everybody wants to constantly put in work to keep their landscape in top condition. This is why we have found some great low-maintenance landscaping tips for Lake Granbury homes.
Low maintenance landscape tips for lake homes
Ground cover
Though grass is beautiful and seems to be the easiest way to make a large portion of your property green and lush it is actually one of the most high-maintenance landscaping items in a majority of yards. In the spring and summer, a healthy lawn requires weekly mowing and a myriad of other maintenance techniques to keep it looking great and healthy. Instead of keeping large portions of grass in your landscape consider ground cover in strategic areas to cut down on the need for frequent watering and mowing. Groundcover fills in the area, with lush and attractive aesthetics, and there are several of them that require very little water.
Group plants together by need
Often when filling in planting beds homeowners only think about the look of what is being planted. A great hack to keeping your planted bad areas lower maintenance is to group plants together that have the same needs for thriving. This will help to simplify your maintenance process. It is also good to only plant plants that thrive in your area instead of exotic ones that will need much more care and upkeep outside of their typical climate.
Think about areas where you could use more hard escaping
Hard escaping is the act of bringing outdoor living spaces to life making your yard more usable for extra living space. This can be something like installing a patio or a floating deck or choosing paver walkways to get around from section to section of your yard. Having hardscape areas is highly desirable for many homeowners because that allows them to set up spaces that feel like outdoor living rooms, outdoor dining spaces, and even outdoor kitchens which are in high demand. This will help you to be able to utilize your yard and enjoy your lakeside setting even more while easily entertaining guests at the same time. It also cuts down on your planting area which cuts drastically down on your needed maintenance.
Consider perennial plants
Perennial plants are those that go dormant for a season but come back every spring and summer. Annuals are the ones that need to be replanted as they only grow for one season and then they are done. Perennials may cost more upfront to purchase but they are a huge savings cost when you are not re-planting new plants every year. You want to make sure that for your perennials to thrive you are planting the proper perennials for your area. It is a good idea to hop into a local nursery and ask an expert about perennial plants that thrive in the Lake Granbury area.
For more information on Lake Granbury homes including available Lake Granbury homes for sale please contact us anytime.