Installing a Retaining Wall at Your Lake Granbury Home
Posted by Vickie Davies on Tuesday, July 4, 2023 at 2:28:51 PM
By Vickie Davies / July 4, 2023
Comment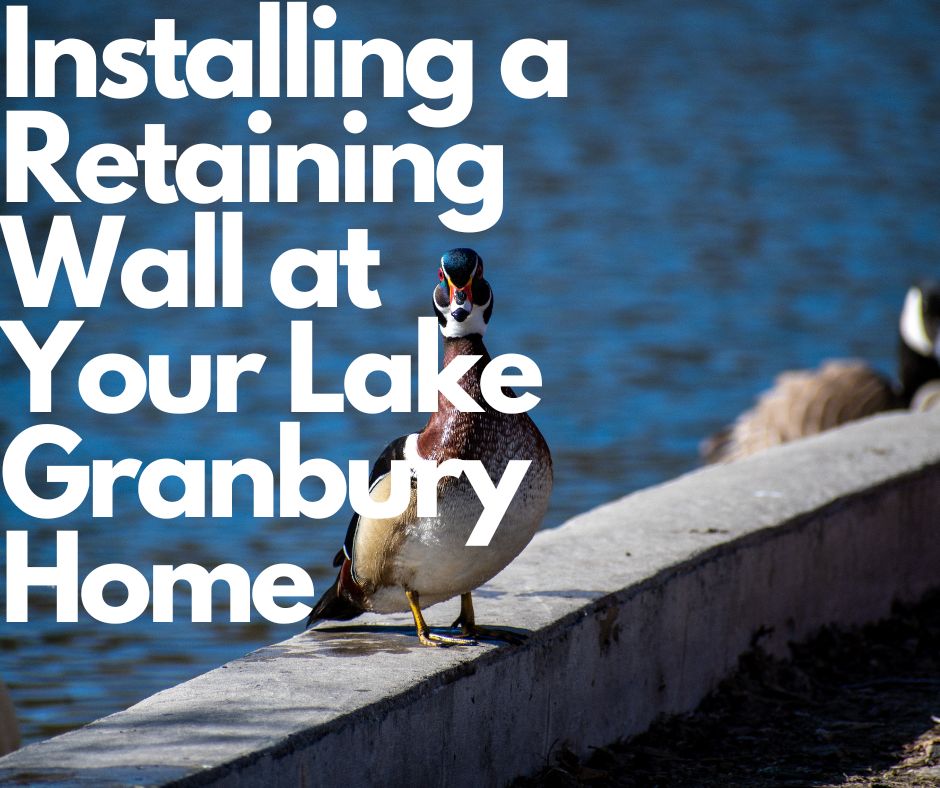 Homes on Lake Granbury are some of the most popular and desirable properties to purchase in Granbury Texas. Most people dream of living right on the lake for many reasons. Being close to the water can also bring some challenges to property upkeep as well. The water is gorgeous but brings constant change to the landscape and some homes may benefit from the installation of a retaining wall.
In Granbury, lake homeowners are able to install a retaining wall with a permit from the city of Granbury. But before you go through the process of getting a permit it is a good idea to know how retaining walls work and the process of installing one to make sure the time and expense are worth it for your lake home.
What is a Retaining Wall?
A retaining wall is a structure built to help protect homes right on the water from damage. Sometimes a retaining wall is referred to as a seawall or embankment. They have a focus on preventing erosion by directing water to safer areas. Retaining walls can also bring a nice design aesthetic and help to level out portions of a yard.
Benefits of Installing a Retaining Wall
Preventing Erosion
The constant flow of water and the movement brought by boat wakes can pull sediment from the lake shore and with time the shore is much less than it once was. A reduced amount of land over several years can be a problem for waterfront homeowners. A retaining wall offers strong protection from land erosion. The wall acts as a barrier to keep the dirt and other sediment on the shoreline instead of letting it slowly wash away with the tide and waves.
Flooding Protection
During times of harsh rain storms the first areas to flood are of course the bodies of water. This means that during heavy rain the lake has the potential to rise and bring that water onto your property and, if your home is close enough to the waterfront, into your home. A retaining wall provides a shield from floodwater helping rising waters to you stay in the lake instead of over lapping into your property. Retaining walls do not always stand high enough to completely contain flooding waters but they can help to gain some time and make preparation in case the flood rises higher than the retaining wall.
Long Lasting
A properly constructed retaining wall has the ability to last many decades and helps to keep land and water in their respective places. The most reliable retaining wall building materials include steel and stone which will last for several decades before needing to make any adjustments when the proper maintenance is in place over the life of the wall.
Choosing the right retaining wall for your property
Here are some aspects of your personal property to consider when choosing what shape and material you need for your retaining wall.
The body of water
The size and volume of the body of water near your home are going to take the biggest precedence in what type of retaining wall you need at your property. Aspects of the water include the size of the body of water, the strength of the currents that come through the body of water, and the salt content of the water. Lake Granbury is a freshwater source so salt does not become an impacting factor on the materials. But it is good to make sure you know the current of Lake Granbury and how it directly impacts the waterfront of the Granbury home you own or are considering purchasing.
The current condition of the shore
It is a good idea to look at the condition of your shore to see what the actual incline is and what the content of the soil is on your property. Some wall shapes and materials are better suited for specific types of soil and incline levels. It is a good idea to ask a professional to consider coming out to look at your property and ask them for the best material and shape for your wall.
Appearance
You may have a preference for any type of wall you would like to see at your home as far as style and appearance go. But the first two aspects need to be taken into account before dreaming up your ideal retaining wall that meets your style expectations. You also want to take into account the price of materials and how long materials are going to last. It is a great idea to make something look amazing as it will help your property to retain more value but you want to make sure that it will also be useful as well as decorative.
For more information about purchasing and maintaining your Lake Granbury home please check out our blog. If you would like help buying or selling a home on Lake Granbury contact us anytime. We are experts in Lake real estate and can help you to find a Lake Granbury home you love or to sell your lake home with the best success.