Ideas for Decorating Your Lake Granbury Home on a Budget
Posted by Vickie Davies on Thursday, July 6, 2023 at 3:28 PM
By Vickie Davies / July 6, 2023
Comment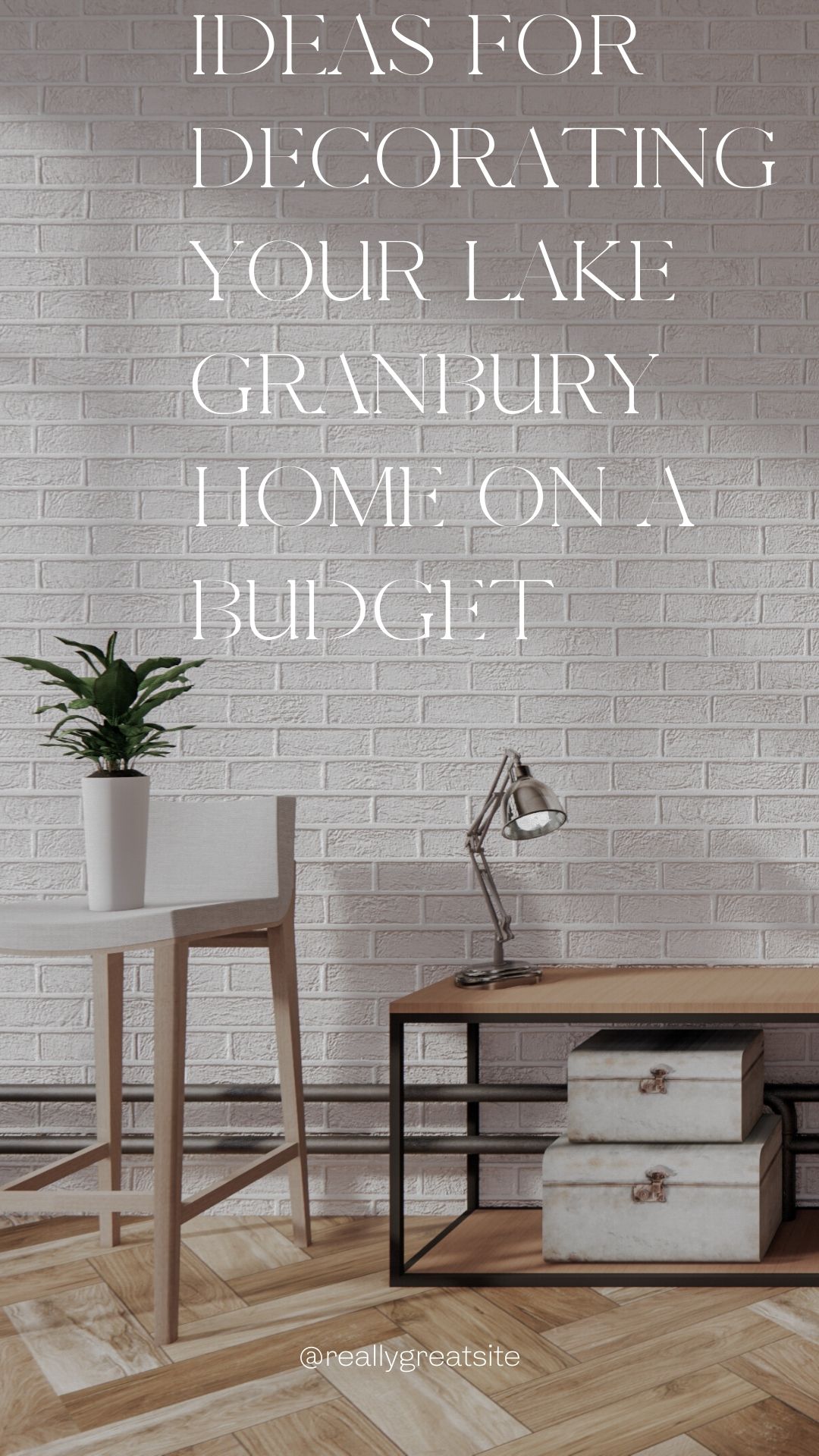 If you are fortunate enough to purchase a home on Lake Granbury then you probably want to capture that special lake vibe within the interior design of your home. You want to incorporate all the elements of the natural beauty surrounding your home inside while still remaining simple and relaxed to maintain a welcoming and easy atmosphere that accentuates the views from your windows instead of competing with it.
You are probably also looking for a design not only to work with your amazing views but to be affordable, especially with the increasing prices of many other costs of living currently. Whether you are decorating a home you just purchased in Granbury or are hoping to breathe life into one you have loved for many years there is a way to decorate your lake home on a budget.
Decorating a Lake Granbury home on a budget
Start by choosing a style
The first thing you want to decide is the type of ambiance you want the inside of your home to have. This will help you to make all of your decorating decisions and keep a cohesive design that does not feel chaotic and discombobulated. A cohesive design helps to keep your home looking high-end without having to spend $1 million.
If you are unsure of what style or feel you are looking for it is a good idea to get on Pinterest or other ideas sites or to thumb through a decorating magazine to decide what your favorite interior looks are and gather some inspiration.
Choosing a main color pallet
After deciding on your overall theme and feel for your design it is a good idea to choose your favorite color palette to work with. Just like choosing a style making sure to stick with any main color palette will help to keep the design cohesive and working together instead of feeling too busy and chaotic. Many times a color palette will have one main color and then a couple of accent colors to help bring that color to life.
There are some websites that will also help you to choose a color palette by playing around with different palettes and how colors work together. These can include home-improvement store websites in their painting section or paint manufacture websites. You may even find interior design websites that allow you to play with color palettes.
Don't forget to bring nature inside
Working with natural beauty that is seen through your windows is one of the best ways to highlight the amazing view. Working with your view is really the best way to incorporate it almost like a piece of art into your design and make it even more of a wow factor in your home. Some ways that you can work with your amazing view is to bring nature into your home. Using natural elements like stone, wood, and plants as well as neutral colors that you see in your view outside are great ideas to bring the outside in and make your lake home views even more spectacular.
Avoid obstructing your views
When you live on the lake the views that you have from your windows are one of the biggest selling factors in purchasing your home. You don't want to put cumbersome pieces that take away from your view in front of your windows. Instead, you want to make sure that furniture and other items work around your views so that you can maximize them.
Finding places to purchase inexpensive items
Now that you have an idea of what design you would like and what colors you are looking for as well as how much room you have you are ready to go shopping. But where do you start? It is easy to just walk into any store and start buying but this does not help to keep you on a budget. The good news is there are many different places where you can find great items for the inside of your home that look carefully curated and expensive on a lower price scale. Start with local thrift stores and garage sales. Even an estate sale could bring you some amazing high-end treasures for a very low cost.
Flea markets and farmers' markets are also great places to find housewares that many people do not often think about. You might find an old treasure that is completely one-of-a-kind and unique and maybe it just needs a coat of paint to fit within your color scheme. Make sure that you think outside the box a little and use your imagination. Could a piece fit totally within your style but maybe doesn't fit within the color palette? Maybe all it needs is a brand new coat of paint to make it feel completely high-end and brand new and perfectly fit within your home.
It doesn't all have to be cheap to stay within your budget. You can also pick just a handful of very high-quality brand new items that will last you for years to come. In this way, you will also be saving money because you will not have to spend more to purchase a new item in a few years. Keep in mind purchasing things that will be used often and need to do a lot of work may be better purchased as a quality investment piece. For example, if you are designing your living room you probably want the couch to be high quality.
Sitting down and making a few careful and thoughtful preparations for a redesign before just jumping right into it can actually save you a lot of money. When you thoughtfully plan things out it will also help to keep a room feeling like it was designed by a pro and is more elegant than just purchasing everything right away that you love.
For more information on owning a home on Lake Granbury please feel free to browse through our blog or to contact us. For information about available real estate on Lake Granbury or to sell a Lake Granbury home please contact me. I am highly knowledgeable in lake real estate and I'm here to make your home selling or buying adventures as stress-free as possible.