How to Review the Contract on Your Granbury Home Purchase Before Signing
Posted by Vickie Davies on Tuesday, September 12, 2023 at 8:38:49 PM
By Vickie Davies / September 12, 2023
Comment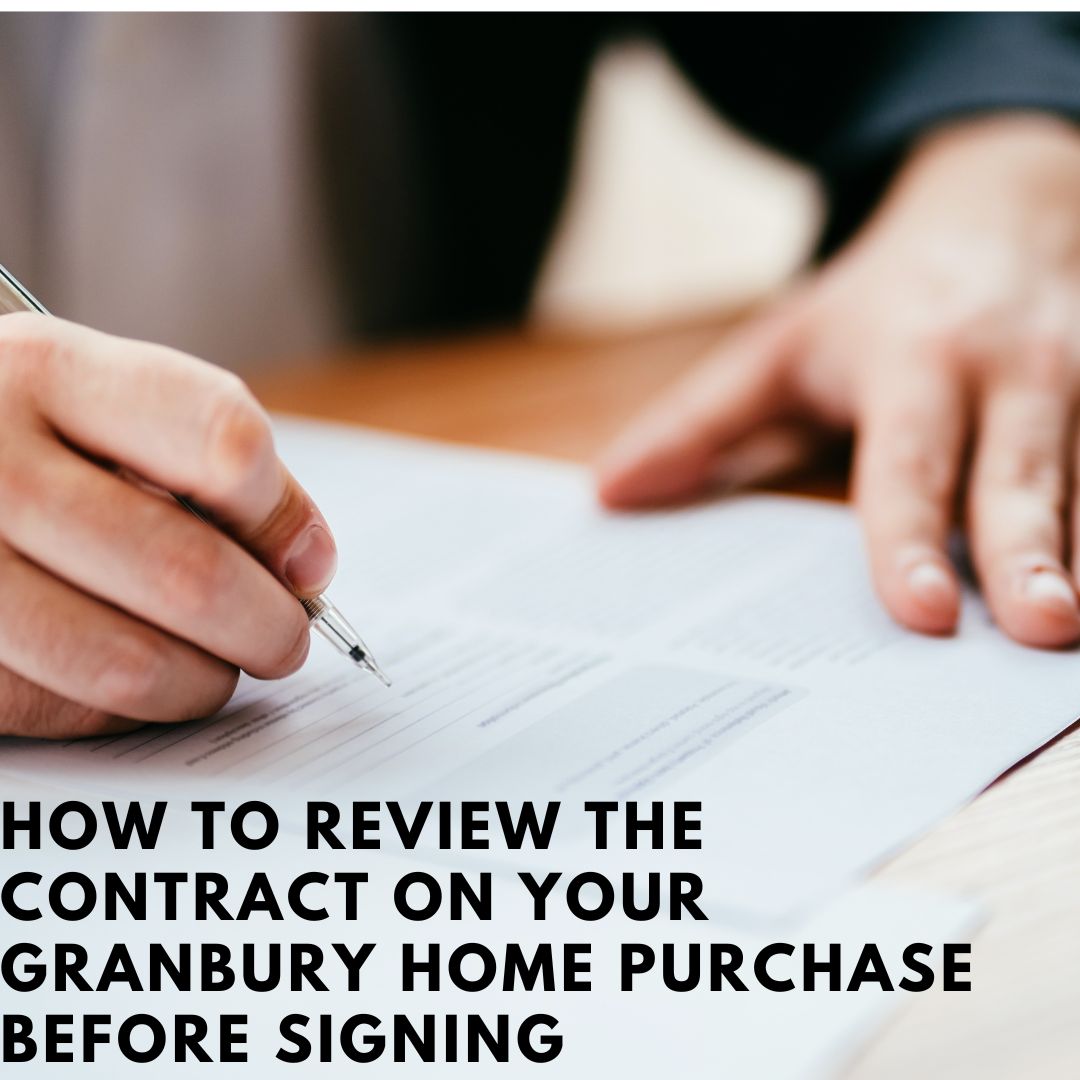 There are many different steps to purchasing a home in Granbury. One of the most important is coming to the closing table and signing your purchase contract in order to receive your keys and officially take ownership. The purchase contract can be quite lengthy especially as more things get added to help clarify legalities. And a majority of homebuyers actually find themselves skimming the contract to avoid reading a long and confusing document.
It can be tempting to just skip over the long documentation when you are busy and just want to focus on receiving your keys. However, it is very important to make sure you know what you are agreeing to and signing especially when it comes to a major life purchase. Here is some advice on how to review your contract.
What exactly is the purpose of the contract?
A home contract is the legally binding paperwork that specifies the terms of the home purchase and is often referred to as the home contract or the real estate purchase agreement. This contract is a legal record of your ownership of the property and includes all the details about obtaining ownership including the price, the closing date of the sale, any contingencies, and much more. It is basically a roadmap of the buying journey that is documented for proof and protection.
Tips for reviewing your contract
Have professional help by your side
Before actually signing the contract you will be given a copy of the contract a few days before your actual closing and signing date. This is to give you more time to thoroughly review the contract and all of its details. We suggest that homebuyers do not skip this and just go to the signing without reviewing the contract. Having your real estate agent help you go over the final contract terms can help you to understand it and help it to feel less stressful. If you have any questions at all about anything including confusing legal terms it is a great idea to highlight those pieces and discuss them with a real estate professional.
Make sure you know the basics
Every real estate purchase agreement will have basic terms that are required to be there by both federal and state laws. The most common purchase agreement basics include who is involved in the sale, and description and exact location of the property changing ownership, the final purchase price of the property, and the official closing date of the sale when the ownership will take on new owners.
Double-check the contingencies
A contingency is an extra condition that has been negotiated and agreed upon by both parties. This contingency must be met before the purchase can be finalized. The most standard contingencies include financing, home inspection, and appraisal. There could also be extra contingencies such as a seller offering to pay a portion of the closing costs for the buyer to help them better afford mortgage terms. This is a common contingency occurring in many home purchases currently. Other contingencies could state that the seller understands they agreed to leave the refrigerator behind in the home. Making sure that everything you discussed previously about special conditions of the home purchase is included in the contract and clearly stated will help you to protect the conditions of your purchase and make sure that all the negotiated terms will take place.
Look over the disclosures
Disclosures are items that the seller has communicated are important for a new owner to know before making a purchase. This could be something like the house gone through a fire or a major crime committed on the property. Odds are that you will probably know about these things prior to coming to the closing table but it is always good to double-check to make sure everything that has been disclosed to you is in the contract or that there is nothing surprising and new there.
The title
The title is the document that gives legal entitlement and ownership to the property. It states that there is no other ability to claim ownership or a stake in the home by a third party and that there are no liens or restrictions on the property. It also states if there are any easements.
Review the closing costs
The closing costs will be due at your closing date when you sign the paperwork. It is good to go over these costs and ensure that they are as expected and to know what you will be expected to pay when signing your final paperwork. These costs should be specified in the contract and explained. It is important especially if you have received any seller concessions for closing costs to make sure these numbers are accurate.
Knowing your responsibilities when it comes to the signing
The contract will also state what the buyer and seller are expected to do to be able to finalize the home sale and make it legally binding. It will lay out the steps that you are required to take and what you will be required to have with you when you come to sign your contract. This could include a legal form of ID as well as a check and the full amount of any closing costs owed. You want to make sure that you are prepared so that you do not delay your closing date.
Knowing what is in your contract before "signing your life" to it is crucially important. Make sure that you have knowledgeable professional help who can discuss anything you may have questions about.
If you are interested in purchasing a home in Granbury please contact me. I am here to help you find a home you love and help you go through the homebuyer process as easily as possible with as much knowledge and understanding as possible.