How to Organize Your Granbury Garage on a Budget
Posted by Vickie Davies on Tuesday, May 9, 2023 at 4:13:26 PM
By Vickie Davies / May 9, 2023
Comment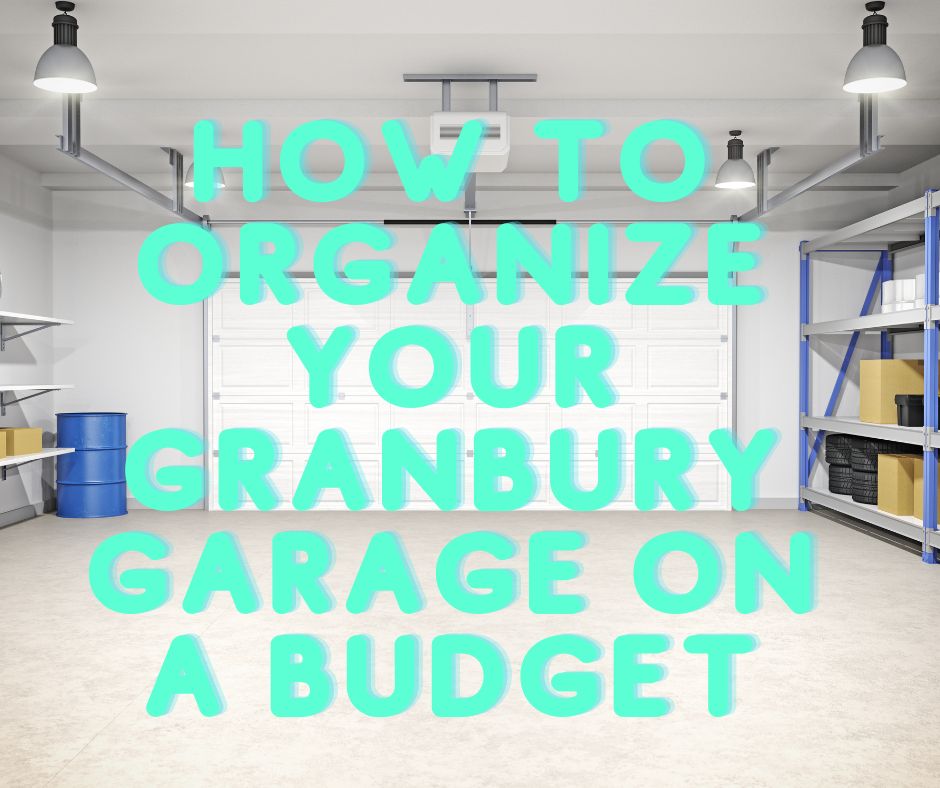 One of the most utilized areas yet least thought about when it comes to decor in our homes is the garage. After all, it is not us that sits and spends time in it it is our car. Yet when purchasing a Granbury home many buyers are interested in the garage and its ability to take on the tasks it needs to.
Your garage can be used for a myriad of different things but what a majority of homeowners want from their garage is an organized space that can help to make life a bit easier whether they actually house their car in there. Having an organized and tidy garage can actually help to bring some resale value to a home when you are ready to sell your Granbury home.
Not everyone has a couple of thousand dollars hanging out to give the garage a total makeover. The nice news is that there are several organizational upgrades that you can make in your garage for little to no money.
Here are some budget-friendly ways to get your garage in shape
Find a system to get things off the floor
When it comes to the garage a majority of Granbury homeowners have more than just their car alone stored inside. The last place you want to keep these other items is in piles on the floor. There are many budget-friendly ways that you can get your extra storage items out of those piles and in an easier spot to find.
One of the most budget-friendly ways is with some simple pegboard and hooks. There are many different organizational systems and they come in a wide range of prices. You may be surprised to find that there is a simple system that can get your things up off the ground for little money.
Have fun with some paint
It is often said that using bright bold colors within your home is not the best choice especially if you plan to resell it before you repaint. A great way to play with some bright and fun colors is to paint the interior of your garage. Often a garage seems boring and lifeless but bringing some color to the walls could help give an unexpected style pop that brings some life into the room. Just make sure that it makes sense for the space it doesn't seem like it was picked just to make a statement.
Give the garage floor a makeover
Often the garage floor can get stained and look old and bring down the whole feel of the garage. Start by giving your floor a good cleaning and then consider giving it resurfacing. A good material for a garage floor could be a two-layer epoxy coating. If you do not have the budget for epoxy then simply laying down rubberized interlocking floor tiles is a good way to bring the space up with its look and appeal without spending an arm and a leg.
Add some lighting
Often the garage in the basement has the least amount of lighting included when you purchase a home. Adding some more lights to help you easily move around or maybe get some projects done can be very helpful and will also bring a new look to the space. It could be as simple as adding some motion-activated battery-powered lights that don't require any help from an electrician.
Let go of stuff
Sometimes our organization issues within our homes simply have to do with the fact that we have too much stuff and a significant amount of it we never end up using. Consider taking inventory of all the things you are keeping in your garage and get rid of anything that you have not used in over a year. You may be surprised to find all the stuff that you own that you forgot about and never gets utilized. The nice part of this re-organization strategy is that it cost you nothing.
Having a well-functioning garage is something that can help not only make your home work better but lift your mood as your home functions on a better level and makes life easier day to day.
For more information on buying or selling homes in Granbury and surrounding areas please contact us anytime.