How Recent Inflation has Impacted Home Improvement
Posted by Vickie Davies on Tuesday, August 23, 2022 at 7:46 AM
By Vickie Davies / August 23, 2022
Comment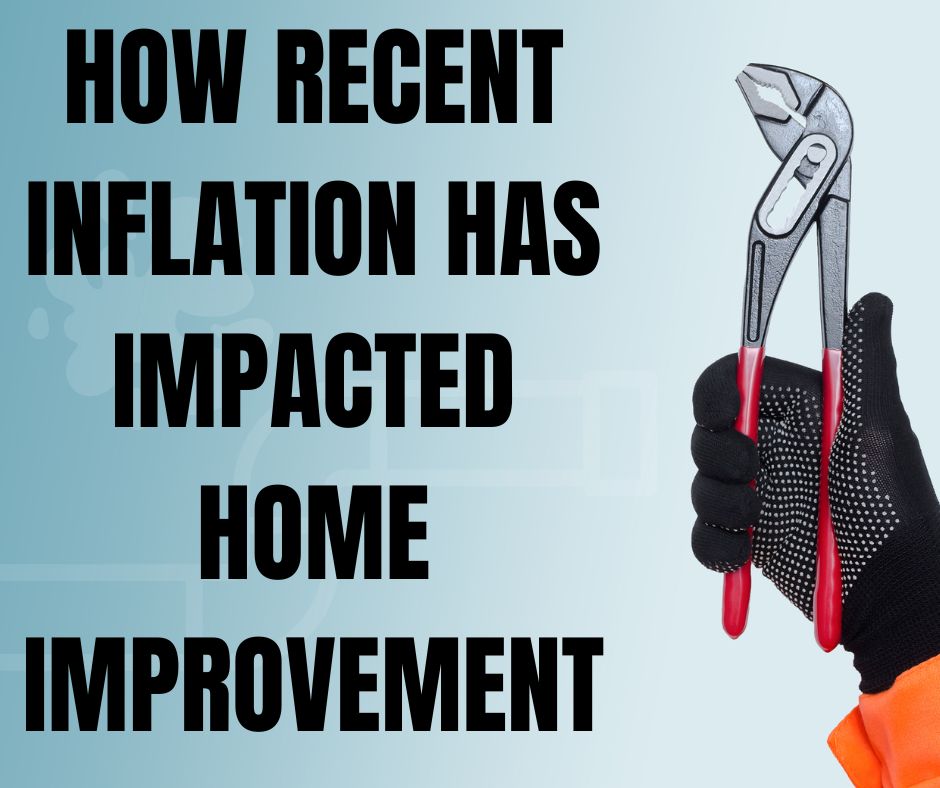 The current US Consumer Price Index shows that prices of different goods in America have increased 9.1% between June 2021 and June 2022. This has many Americans concerned about their budget and how they will be able to afford certain items they were hoping to accomplish such as home improvements.
These increases have caused some homeowners to scale back on projects or hold off on them all together. The reluctance to remodel or make home improvements is a recent new development as shown in a study conducted by Nationwide Insurance. The study found that as of March 2022 71% of homeowners with upcoming home projects still expected to proceed with them through the higher cost as well as a potential for delayed timelines and limited availability of materials.
Since then the outlook has changed as a study conducted with results shared in June 2022 by Hippo found that 46% of home buyers are now reporting that an increase in price has held them off from doing home projects.
The Largest Contributors to Inflation's Impact on Home Improvement
Higher Prices
Of course, the most obvious contributing factor to inflation is a larger cost for materials to get a project done. Higher prices have been seen on many products including paint, drywall screws, tile, sinks, and everything else in between.
This turns into a big change in how much work you can get done in your home for the current budget you have. A project that was once affordable and within budget last year no longer is and projects either need to be scaled back or put off until more money can be saved.
Fuel Costs
If anyone has watched the news over the last year you have seen how quickly the price of fuel has skyrocketed. The price of gas has probably been impacted the most by inflation. Research has shown that gas prices are almost 60% higher than they were just a year ago and much higher than they were before 2020. What some people don't realize is how this exploded price increase impacts other areas.
Suppliers and contractors need large vehicles that consume a significant amount of gas not just for their size but also for their frequency in use. These vehicles consume a significant amount of fuel and as such greatly increases the cost of doing business for many suppliers and contractors as well. This makes the cost of doing business a lot more expensive and to stay in business this cost needs to be covered somehow.
This means an increase in prices of labor and goods as contractors and those transporting supplies are hit with a higher cost of operating their business. To stay in business they need to transfer some of that cost to the consumer to help them continue to operate and provide their services.
Loans
It is common for the average homeowner to finance a large home improvement project by taking out a loan. The most common types of project loans include home equity lines of credit for refinancing. As the federal reserve has raised interest rates to try and help the inflation situation home improvement loans have become more expensive and have more qualifying restrictions.
Higher interest rates significantly impact the ability to borrow money as well as the total overall cost of the project. This means higher loan payments or longer terms that can financially stretch a homeowner or put them at a higher risk of loan default. Lenders have become more aware of heightened risks and are now requiring additional items such as keeping a contingency reserve or more stringent change order procedures.
The Ability to Find a Contractor
Contractors have been in high demand since just before the pandemic began but the demand increased greatly as homeowners spent a lot of time in their homes face-to-face with the issues they would like to or need to fix about their home on a daily basis. This caused an increase of homeowners no longer wanting to ignore or put off improving areas of their home that needed it or that they have always wanted to change
As the demand increased contractors were able to charge more for their services with the higher demand. This coupled with a worker shortage has put a larger strain on the home improvement industry.
So if you want to make some improvements to your home or to purchase a home at a lower price point that needs a little bit of work these are some factors to consider as you enter into your home improvement plans.
For more information on real estate in Granbury Texas and surrounding areas please contact us anytime.
More for Homeowners