How Much Value Does a Lakefront Location add to a Granbury Home?
Posted by Vickie Davies on Thursday, October 19, 2023 at 8:13 PM
By Vickie Davies / October 19, 2023
Comment
A study published by Black Knight has shown that waterfront locations have held a consistently higher value in real estate properties as compared to landlocked homes. Lakefront homes like any other property do fluctuate in their actual fair market value as the economy fluctuates, but waterfront homes most often sell at a higher price than other homes. If you are considering selling your Lake Granbury home, you may be wondering how much added value the location gives to your home.
Around the nation lakefront homes on average sell anywhere from 25% to 40% more than the same type of home further inland just a few miles away. A study of the Canyon Lake California Area over the course of more than a decade showed that lakefront homes sold for a little over $100 more per square foot. On the other side of the country in Lake County Florida a traditional home of 3,000 square feet priced at $400,000 could bring in a price tag of around $1.4 million right on the chain of lakes.
When considering what price you could list your Granbury lakefront home at and what profit you might possibly make from the sale of your home, you might be thinking this is widespread. What can you expect the lakefront to add to the value of your home? Is it more on the 25% end? Or is it a large increase like lake homes in Florida? The answer isn't black and white. It actually depends on the particular aspects of your Lake Granbury home.
Factors that Determine the Value of a Lakefront Home
Determining the fair market value of a property can be complicated. The best plan of approach for finding out what you could possibly sell your home for is to work with a trusted local real estate agent experienced with Lake Granbury properties. To help you get an idea of what goes into the valuation it is good to know the factors that make an impact.
View and Access
The larger the view the more of an impact it has on the location and how impressed a buyer is. If the full house has a view of the lake this is going to bring more added value. If a home has a full width of the backyard on the lakefront this is going to add more value than a portion of the yard touching the lake. Both of these will have more added value than a home that is within walking distance of lake access.
Why is this? The aspects of convenience and advantage. Having the entire width of your backyard on the lake makes it much easier to enjoy the lake with more freedom. You get plenty of direct access, you have the ability to own a dock, and you have more personal private space to get to the water. It's like going on vacation and paying more for the hotel room overlooking the pool or beach. Or paying the highest price for the room with sliding door access directly to the pool or beach.
Amenities
Homes with amenities that allow for added activity opportunities also add value. A home with a dock that allows you to dock a boat right at your house will add value to that list price. Other outdoor amenities like outdoor kitchens and hot tubs all bring extra value to the property.
The Location
The location of your home on the lake adds value, but the precise location along the lake can also make a difference. For example, a home in a waterfront community with added community amenities like tennis courts or a country club will have added value. Or a community with large homes that are gated. Or even a home that is on the most desirable part of the lake. These all play a role in the added value to your home.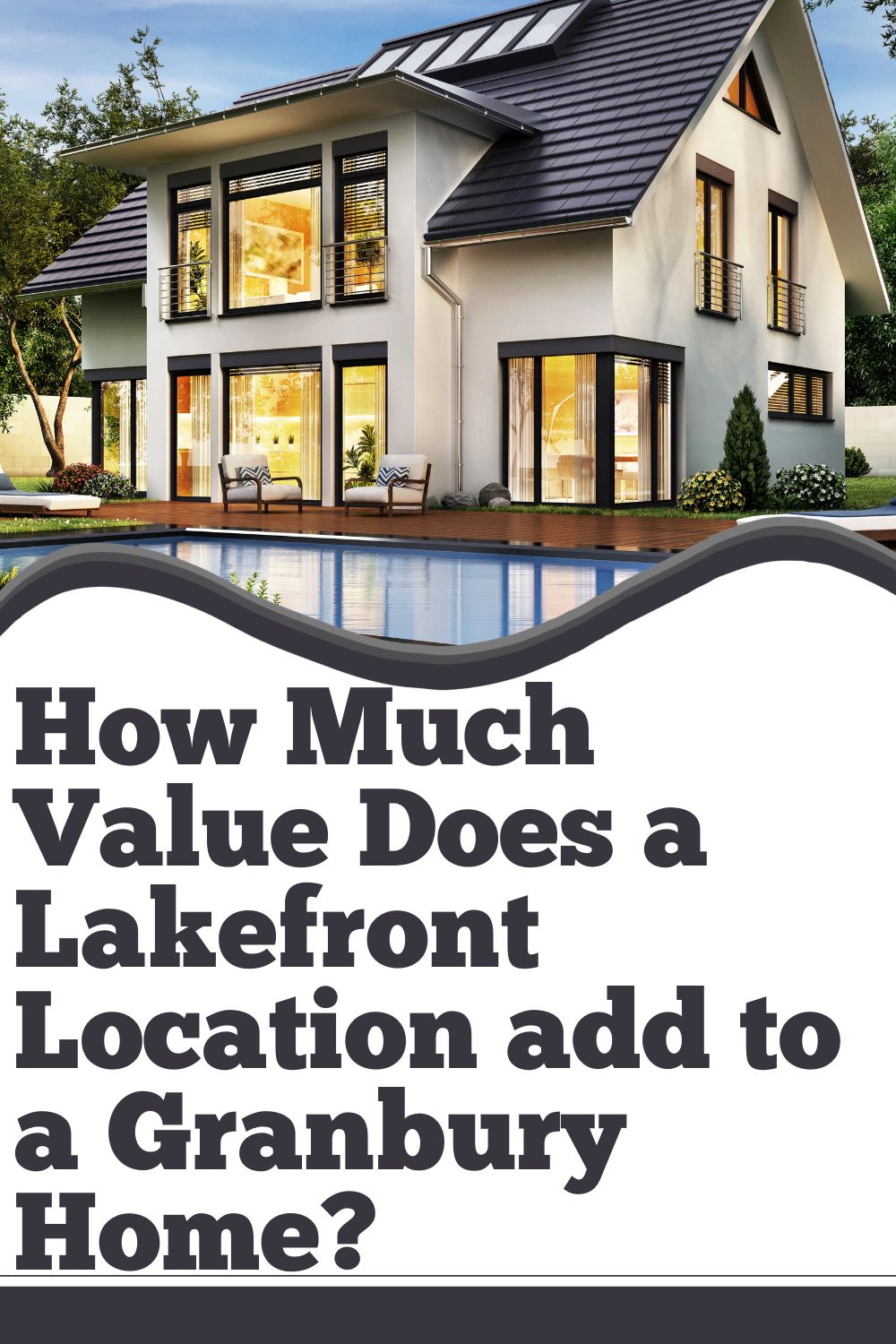 If you are thinking about what it would look like to sell your Lake Granbury home, please contact me. I am experienced in selling lakefront homes in Granbury. I am happy to help you navigate the details of finding the fair market value of your lakefront property and helping with all of the aspects of getting your home ready to list for sale. I am dedicated to helping my clients sell their homes at the best price possible. Contact me anytime for all your Granbury real estate needs.