Hosting an Amazing New Years Eve Party at Your Lake Granbury Home
Posted by Vickie Davies on Wednesday, December 28, 2022 at 7:24:52 PM
By Vickie Davies / December 28, 2022
Comment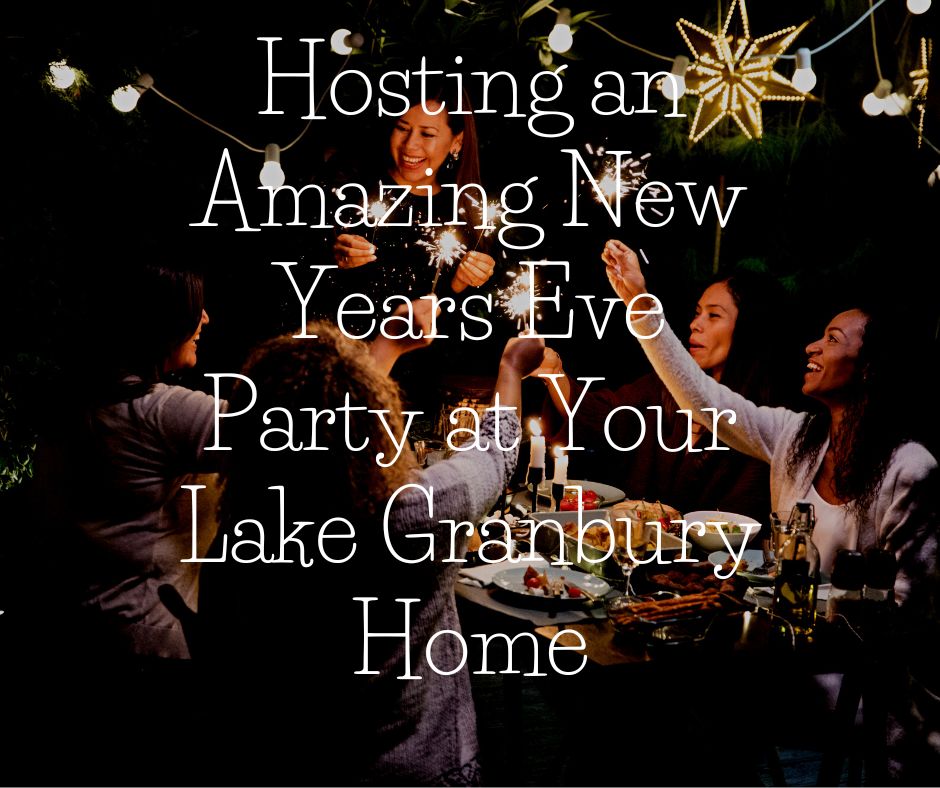 When you're in a home on Lake Granbury you have one of the most beautiful seats in town to fireworks shows especially on New Year's Eve. Not only that but when you live on the lake you now have the prime location for hosting guests in your home on holidays and really any time. Hosting parties on the lake is just another way to make your celebrations more memorable.
Here are some tips for hosting New Year's Eve parties at your Lake Granbury home
Setting the scene
Before purchasing everything for the party you want to ask yourself what type of party you envision throwing at your Lake Granbury home. Are you going for fancy and classic as many New Year's Eve parties tend to be? Are you hoping for something that is relaxed and rustic to complement the outdoor focus? Are you looking for maybe a meeting of the two?
Once you figure out how fancy or relaxed you want your party to be you can then go about planning how you will set up your home to welcome your guests.
Areas of focus
No matter the style of New Year's Eve lake party you decide to throw you will want to focus on certain areas of your lake home with your decor and prepare them to be welcoming and inviting to guests. If you have decided to serve dinner you of course will want to set a tablescape that goes along with the formality of your party. Being at the lake is a great opportunity to have a weather-friendly outdoor venue to watch fireworks around the lake. Having a fire pit or an outdoor deck heater and plenty of comfortable seating with warm blankets will help to set the scene and get it ready for firework viewing as you ring in the new year. Of course, you also want to pay attention to your front door as it is the first area that will welcome your guests into the party.
The menu
Every great party no matter the location has an amazing menu. If you have decided to go all out with a fancy party you are probably serving a sit-down dinner. If you have decided to go a little more casual or somewhere in between the two you may opt for just serving the most amazing charcuterie and hors d'oeuvres that anybody has ever had.
To make sure that you have a good balance it is good to have both savory and sweet offerings to please all types of pallets as well as bring a full course and hearty meal to your guests.
Don't forget the drinks
What is New Year's Eve without a toast to celebrate a brand-new beginning? Whether you partake in alcohol or not there's always a way to make up festive cocktails or mocktails for your New Year's Eve party. If you have children coming to your party you will need those mocktails handy as well. With the younger crowd, it is also a great idea to invest in some shatterproof drinkware. There are several great drink recipes both containing alcohol and not that are festive and fancy for your New Year's shindig.
Before purchasing fireworks on your own
One of the best backdrops for New Year's Eve fireworks is the shimmering waters of the lake that reflect the light making it like two fireworks in one. But if you are planning to light off your own fireworks in celebration of the new year it is best to make sure that you know the regulations for lighting fireworks both in your city and at your particular Lake Granbury home.
For more information on lakefront and lake-view properties around Lake Granbury please contact us anytime.