Homebuying strategies from the 1980s when mortgage rates were 18%
Posted by Vickie Davies on Tuesday, December 6, 2022 at 4:02:40 PM
By Vickie Davies / December 6, 2022
Comment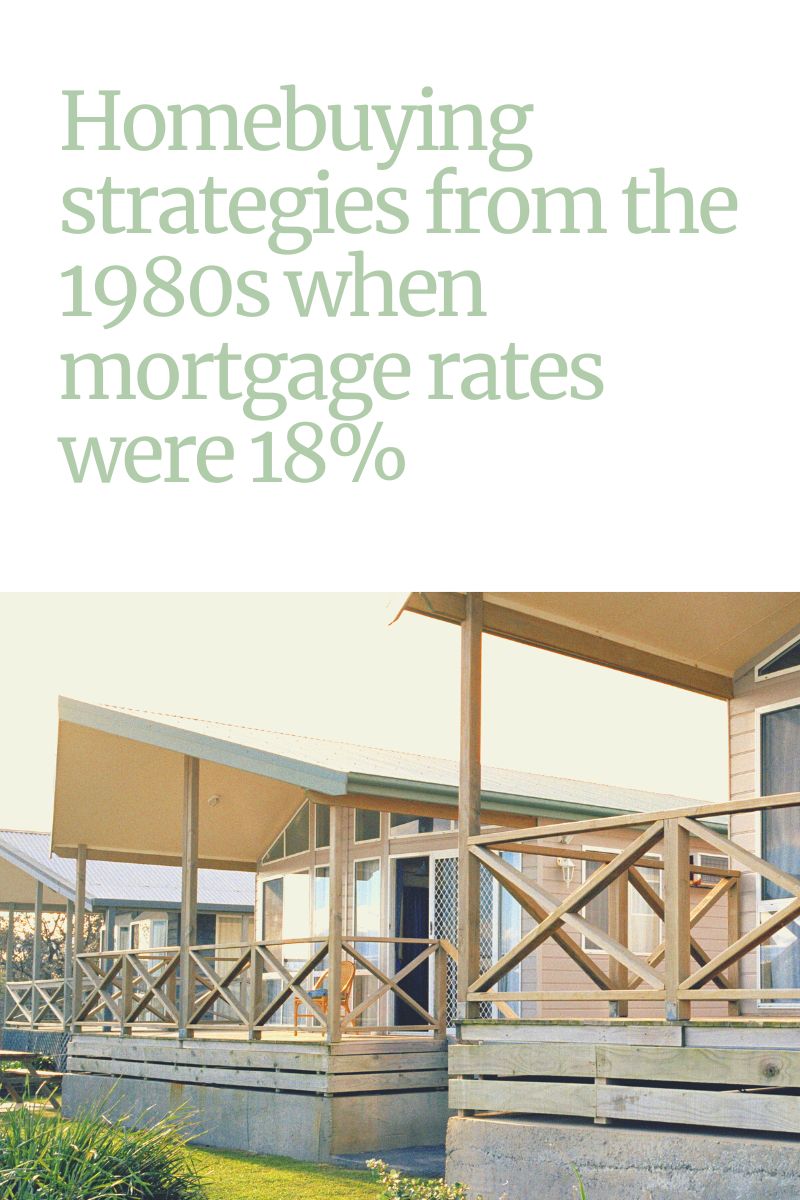 The Granbury Texas housing market has definitely made a shift over the last year and especially in the last couple of months. For some the very high increase in mortgage interest rates has put a twist on many homebuyers' purchase plans to find an affordable home right now.
If you're in a financially stable place and looking to purchase a home right now there is hopeful news for anyone looking to purchase a home. America has seen rapid mortgage rate increases before. In fact, in the year 1981, the interest rate rose to 18%. While this seems like an impossibly high rate the real estate market stayed alive due to some creative home-buying strategies that are starting to make a comeback in today's current market.
Similarities between today's real estate market and the market of the early 80s
There are a few similar things happening right now in the real estate market that we also saw back in the 1980s. In 1981 the older end of the baby boomer generation was about 35 years old and at the time were the largest number of homebuyers. At this time the first millennials were being born as well. This is the next largest homebuying generation in America since that time. Currently, millennials are diligently searching for homes for the last few years as the largest sector of homebuyers in the country.
Both the baby boomers and millennials have been hit with rapidly rising mortgage rates during their prime homebuying years. This is all due to a series of rate hikes put in place to help fight inflation by the Federal Reserve.
In October 1981 the average mortgage interest rate on a 30-year fixed-rate mortgage reached an all-time high of 18.63%. This was a rapid increase of nearly 5 percentage points in just 12 months. The year before in 1980 saw almost as much rapid mortgage rate increase.
In 2022 the 30-year mortgage rate grows to 7.08% in early November. At this point, mortgage interest rates have seen an increase of 4.1 percentage points interest in 12 months. These numbers are from data provided by Freddie Mac's weekly survey dating back to 1971.
Very high and fast mortgage rate climbs resulted in hopeful homebuyers either leaving the market or finding new creative ways to afford a home purchase. In 1980 the year-over-year home sales plummeted 22.3% in in the following year they plummeted another 18.6% according to data archives from the National Association of Realtors. Currently, in 2022 the existing home sales pace has dropped 28.4% over the last 12 months as of October 2022 according to more research from the National Association of Realtors.
The 80s was an era of creative home financing
There were several strategies brought into homebuying when it came to securing affordable homes through mortgages during the 1980s. Two of the biggest strategies that you may have also heard of currently include assumable loans and mortgage rate buy-downs. Assumable loans helped to keep the real estate market plugging along during the early 80s when mortgage rates climbed higher than we have ever seen. They served as a foundation for what was called creative financing filling the gap between the purchase price and mortgage balance.
Some other forms of creative financing from the 80s included promissory notes where buyers took on loans from homeowners in the form of a note for a certain amount that the buyer would pay to the seller every month and the buyer possibly taking out a second mortgage for the difference in the current value in the home. These arrangements had names including contract for deed, wraparound mortgage, and lease with an option to buy. An article from June 1981 written in the Washington Post said that these creative financing loans accounted for more than 50% of home re-sales in several areas of the country.
About 40 years have gone by and creative financing is yet to make a comeback in this very similar housing market to that which we saw in the early 1980s. This could be due to the fact of increased risk with these formerly creative financing avenues taken from years past.
The need for creative solutions today
Some hopeful homebuyers are wondering if creative financing used in the 80s is not an option will there be some form of new creative financing available to potential buyers in the near future? Currently, mortgage rate buy-downs are making a come back and there is a small set of available assumable mortgages out there as long as mortgages are backed by the Federal Housing Authority.
The fact of the matter is that any homebuyer has the potential to make a home purchase when they are making the right financial steps. It is within the best interests of any interested homebuyers to sit down with a mortgage professional or financial advisor to see what their next steps could be in finding an affordable home to purchase.
For information on real estate in Granbury Texas and surrounding areas please contact us anytime.