Home Improvements That Cost A Lot More Now and Why
Posted by Vickie Davies on Tuesday, September 7, 2021 at 10:31 AM
By Vickie Davies / September 7, 2021
Comment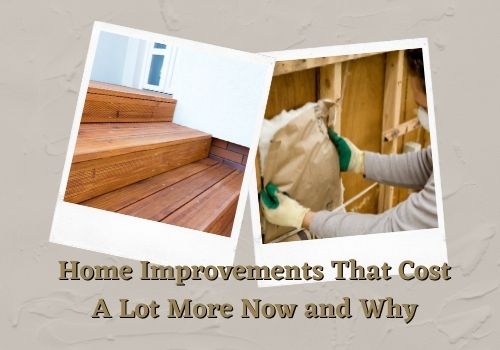 Home Improvements are getting spendy! With the ongoing COVID-19 pandemic, many people spend a lot more time at home, either working from home or just staying at home as a precautionary measure to prevent the spread of the virus. This gives them time to poke holes in their home structures and see the improvements they can put in place to make the designs look better, presentable, and more appealing. Unfortunately, the cost of some of the home improvements has skyrocketed this year and is attributed to the scarcity of raw materials, increase in demand for sustainable products, and rising wages. Here are some of the home improvements that cost a lot more this year.
Home Improvements That Cost A Lot More Now and Why
Home office
Improvement projects of developing home offices have increased in prices this year due to the high demand for these projects. In addition, many people have made working from home a standard norm and thus opted to develop home offices, thus increasing its demand and increased development costs. For those who did not have offices at all in their homes, their spending will double as they need to buy lots of office equipment.
Related: 8 Mistakes to Avoid When Remodeling a Home
Home addition
The cost of adding home size by either increasing a room, floor, or a bump-out has increased in 2021, attributed to an increase in the price of materials such as plywood and framing lumber brought about by the Covid-19 pandemic. Adding modern style to the exterior fireplace has also proven to be more costly than ever. In addition, the repairs themselves cost an arm and a leg.
Related: How much does it cost to build a house?
Closet
Installing a closet is more costly in 2021 due to the increased cost of raw materials than in the previous years. The ongoing COVID-19 pandemic has significantly contributed to the production and processing of fewer products used for developing the closets, thus causing an increase in demand and a hike in the installation prices.
New home cabinets
The cost of replacing old cabinets has increased due to the scarcity of materials like lumber during the COVID-19 pandemic due to the low production rate of raw materials.
Despite the rapid rise in the cost of home improvement projects, mainly due to the ongoing COVID-19 pandemic, the home improvement industry is still doing well and making huge profits. This is because when homeowners see the need to improve their home value, they hire these contractors and pay for the materials' total cost and services.
More: Outdoor Spaces that Buyers Really Want
Ready to list? Need help staging? Give us a call! We specialize in all Lake Granbury homes and real estate