Granbury Texas Real Estate Market Snapshot Nov 2020
Posted by Vickie Davies on Friday, November 13, 2020 at 6:49 AM
By Vickie Davies / November 13, 2020
Comment
It's no secret that the real estate market is hopping in a lot of markets across the country and Granbury is no exception. Days on the market are down, the sales prices are up, and the number of homes sold is also up, but that also means that inventory is low making it more of a seller's market than a buyers market.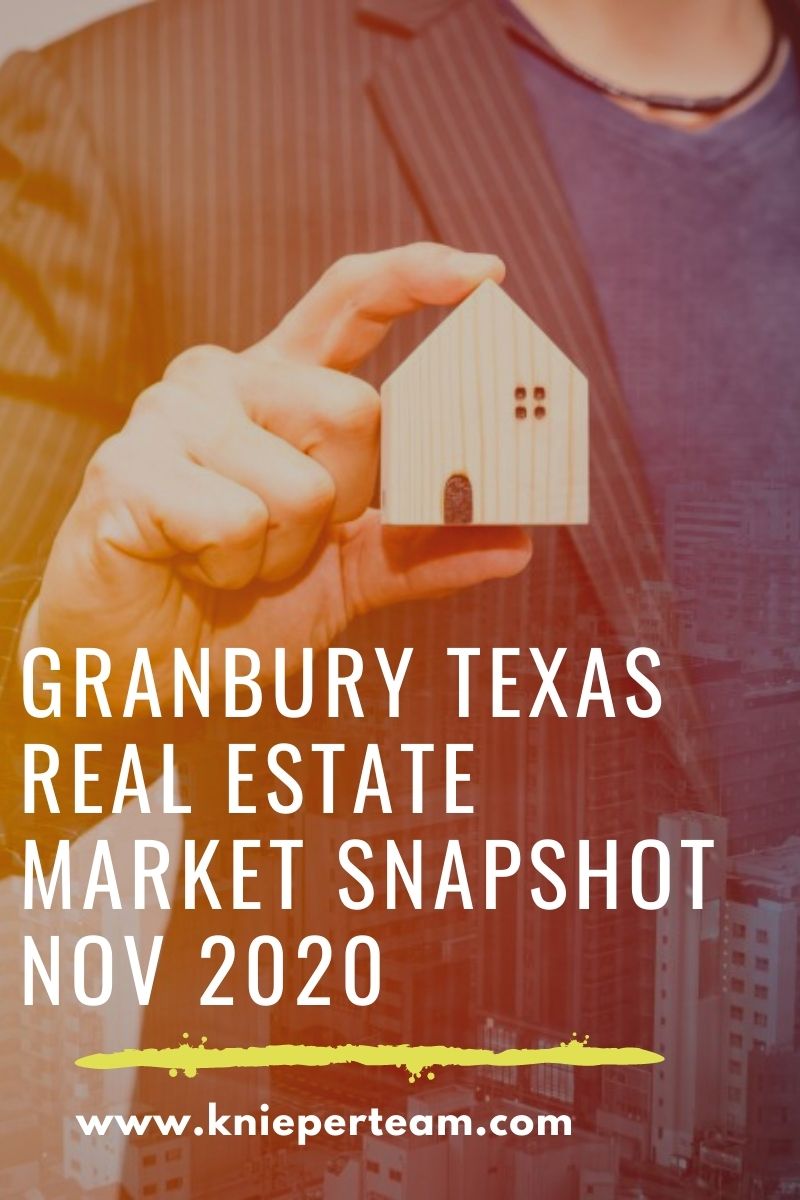 Right now, the active inventory is about 142 homes and properties on the market, which is about average compared to the last couple of months. However, compare that to a year ago, November 2019, and we're down 55% on inventory. Last year at this time there were over 315 properties for sale, quite different from our 142 today. There are almost no distressed or foreclosed properties as many homeowners are getting top dollar and even over asking price for their homes.
The average days on the market are between 30 and 45 days, which is a pretty balanced market, but it's down 18% from last year at this time.
The average home price is about $265,000, an increase of 2.6% year over year. The median sales price is $271,000, a 7.1% increase over last year.
Projections indicate a nearly 6.5% increase by October 2021. This is great news for anyone getting into the real estate market even now. Chances are your home value will increase over the next year and you'll gain quite a bit of equity.
Some of the more popular neighborhoods right now are Pecan Plantation, Oak Trail Shores, Waples, and Mambrino. Nearly 33% of homebuyers are looking for property between $130,000 and $262,000. For sellers… If you have a home within this price range, you not only have a hot home but you may end up selling for more depending on the closest competition.
Speaking of buyers and sellers, let's discuss how this affects each party.
For home buyers in Granbury Texas:
Homebuyers might find themselves struggling to compete with cash offers or investors, but we are not seeing the type of investors that we saw in 2007 and 2008 when home prices drop dramatically low. Interest rates are still low so investors will be competing with first-time homebuyers, but home prices are also up rather than down, which deters a lot of investors.
It definitely pays to have your own buyer's agent right now as an agent that is representing you can negotiate on your behalf and write up the right type of offer with the right contingencies and terms to appeal to today's home sellers. Definitely don't go it alone and use your own representation when trying to bid for a property.
Related: Lower Interest Rates Means Buyers Can Afford More
For home sellers in Granbury Texas:
Now is a great time to sell and even though we are coming up on the holidays, buyers and sellers are still keeping the market quite active. It's a great time to strategically price your home and again, if you have a home priced over $130,000 to about $300,000, you're in the prime demographic for the majority of homebuyers. But, that's not to say that if you have a home price over that or a lot priced under that, you won't be able to sell, it's just a more niche markets. There are plenty of luxury homes over the $400,000 mark that buyers are scrambling to go after. People are working from home and being home more and more so they are looking for more space and a variety of homes and rooms within the property.
Read More: Financing Options When Buying Lakefront Property
All this to say that it's a pretty good market out there regardless of whether you are buying or selling. Have the right representation, price it correctly, stated accordingly, or have a buyers agent that helps you plan and prep the right offer, and you'll get the desired outcome you want. Contact us below for more information or browse our featured listings for all of Granbury Texas real estate.