Granbury Fall 2023- Take Part in a Live Action Game of Clue
Posted by Vickie Davies on Friday, October 6, 2023 at 3:08 PM
By Vickie Davies / October 6, 2023
Comment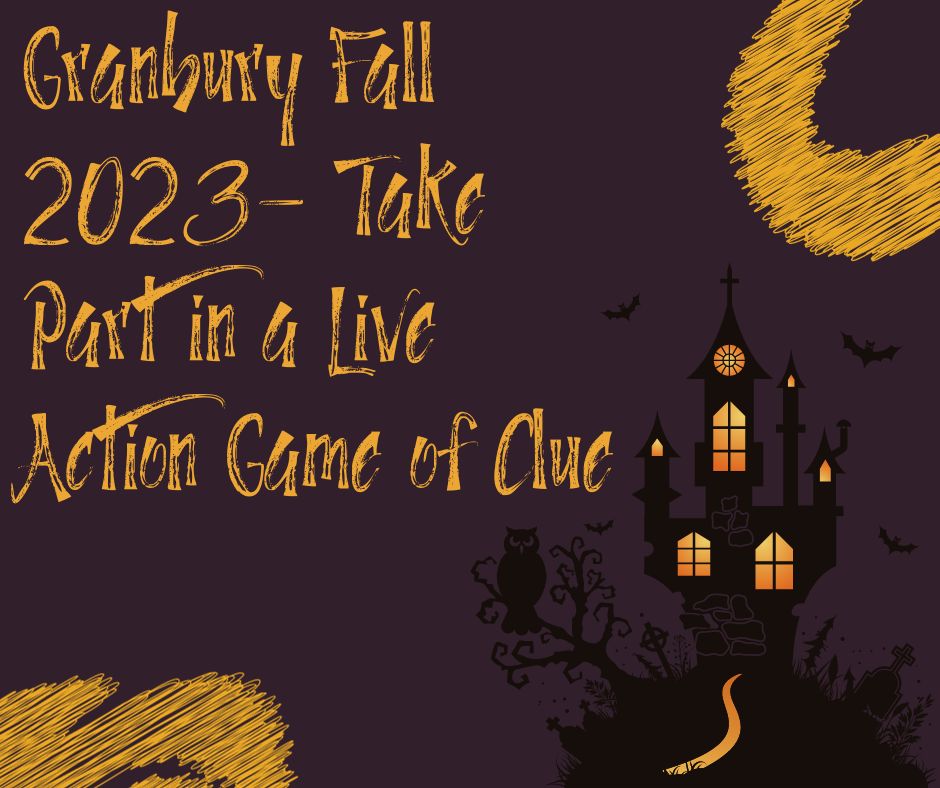 If you are new to Granbury or are checking out what Granbury is like as you consider buying a home in the Granbury area you might be looking for what fun things there are to do during the Halloween season in Granbury and Hood County. There are several great fun things to do in and around Granbury all year long, this is why it has been officially designated the Texas Celebration Captial. If you are looking for some spooky fun check out the live-action game of Clue coming up.
Granbury Here's to Clue II Event
The popular Clue board game has been around for almost 80 years. It has long been a well-known go-to on family game nights. For the second year in a row, Granbury and Hood County residents can get in on a fully immersive experience of a live-action game of Clue.
The Game will have three opportunities to play: Friday, October 13th, Saturday, October, 14th, and Sunday, October 15th at the Neely House which is located at 304 East Rucker Street in Granbury.
Susan OOten is the host of this fun spooky-themed event and has done several events of a similar nature in the past. This is her second time hosting a live-action Clue game experience. Previously she has hosted a large number of murder mystery dinner fundraisers for the Azle Arts Popcorn Player Theater. The game is sponsored by her bed and breakfast Tree Top Getaway. This year's game promises even more spooky fun with an actual Halloween theme.
This year's game will have original components you would expect to see in the actual board game and a few added changes to up the spooky factor a bit. The movie about the board game entitled Clue made in 1985 will be playing in a repeated loop through the night. There will be clues on the wall in every room for players to figure out "who done it" and arrive one step closer to solving the murder mystery Clue is centered around.
Players will have fun rolling giant dice and moving through actual board game spaces to help them feel as if they are the actual game pieces. Players will be able to play solo or grab a partner to help them figure out the mystery. Ooten says that she keeps the final solution a secret even from herself by not looking at what is in which envelope. Each game will have a different answer so players can play different game times if they want.
Each player will get a door prize. In addition, there will be raffles for different gift baskets. The first night offers extra fun and there are differing time slots to sign up for the next two days of play.
Ooten hopes that people will stay a while and take their time to play the game on Saturday and Sunday with no race to the finish. She will be decorating both the inside and outside of the game venue for all players to enjoy every part of the atmosphere.
VIP Night
The first game night will be a special VIP night with extra fun that includes appetizers that are related to the event themes and Professor Plum wine. This first night is October 13th and the fun starts at 7 pm.
VIP night will also have a twist on gameplay with a scavenger hunt style of play. The first person to solve the mystery will win a prize in addition to the door prizes and raffles. There will also be some drawings for prizes. VIP night tickets are $40 per player.
Buying Tickets
You can purchase tickets to play the game at Eventbrite. Standard play tickets are $15 per player and players of all ages are welcome. The game starts every two hours starting at 11 am on Saturday with the last game starting at 9 pm. On Sunday the games begin at 12:30 pm and the last game begins at 6:30 pm. There is a limit to the number of players for each game session. The game taps out at 12 players. Games need at least 3 players for the game to be run. If for some reason there are not enough players the host has helpers on standby to hop in and play the game.
Living in Granbury is in our opinion the best place to live in DFW. For more information on Granbury real estate please contact me any time.