Good Dock Maintenance Tips for Lake Granbury Homeowners
Posted by Vickie Davies on Friday, June 30, 2023 at 4:10 PM
By Vickie Davies / June 30, 2023
Comment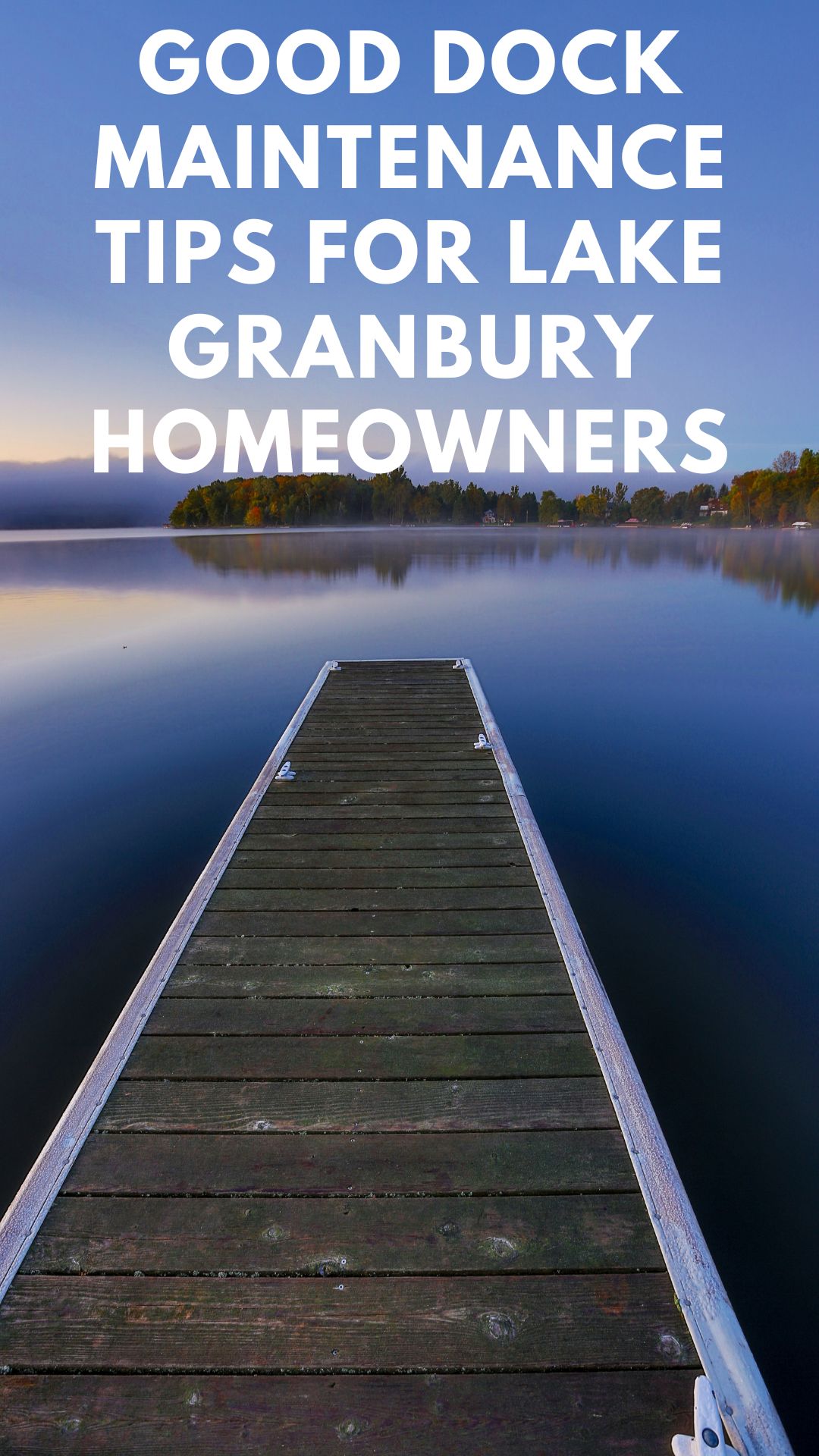 Owning or purchasing a home on Lake Granbury is one of the most popular and ideal areas of homeownership in the town of Granbury. If you are right on the water and have a dock in the lake it is good to know what it means to keep one up when you are considering the purchase of a Lake Granbury home. It is also good to make sure you are well-versed in how to care for your top if you already live on the lake.
Here are some essential dock maintenance tips to know for Granbury Lake homes
Routine cleaning
Making sure that the dock is clean is highly important and essential to the usefulness and lifetime of your dock. It may not seem like a huge task that plays a big significant role but it can be unknowingly the most important task to have your dock last as long as it possibly can. The nice thing is that cleaning is as simple as a pressure wash that only takes a few minutes. Investing in a quality power washer is a great idea for owning a home with a dock. It is good to give your dock a nice pressure washing at least once or twice a month to ensure that there is no debris building up on your dock especially items like mold and mildew that can rapidly grow and become a big nuisance as well as create a slippery surface.
Protecting a wood dock
A majority of home docks are made out of wood and the funny thing is that one of the biggest enemies of wood is water. It is essential that a dock made out of wood is coated in protective sealant like paint or stain that is made to withstand the water. The best wood is pre-treated timber made to withstand marine conditions. No matter the type of wood it is always smart to reseal your dock at least once a year to keep it in it's best condition and help it stand up to water.
Using a cover
If you have periods at your Lake Granbury home where your dock will not be utilized it is a good idea to invest in a dock cover. This can help to provide protection against the damage of the sun and extreme temperatures. Not only do these situations wear down the dark materials they can also wear down the metallic fasteners and fixtures holding your dock together.
Taking care of rubber rails and bumpers
If you plan to have a boat tied to your dock you of course will have either a rub rail or bumper to protect the dock in the boat from hitting one another. You want to make sure you are purchasing a high-quality rub rail or bumper. The best ones prevent your boat from bouncing around and continually hitting the dock.
Repairing broken pieces
With time your dock will wear down no matter the type of materials. Everything is prone to wear and tear with use. Make sure to inspect your dock periodically. Shoot for about four times per year to make sure that all of the parts are in great working condition and nothing is broken. If there is a piece of split wood or badly damaged hardware make sure to replace it as soon as you notice it to prevent larger issues from happening. Docks that go unattended could end up needing a whole portion or the entire thing completely replaced. The best way to avoid bigger issues is with preventative measures when you see small ones arise.
Making sure you are well aware of what it takes to care for your dock is the best way to factor in this cost of purchasing a lake home or to help you be aware of how to keep your Granbury Lake home retaining its best value with strategic and proactive minutes. There are many aspects of taking care of your lake home and you especially want to make sure your dock is in great working shape.
Are you looking to purchase a home on Lake Granbury? I can help you find the ideal Lake Granbury home you have been dreaming of. Please contact me anytime I am highly knowledgeable in all Granbury real estate including experience with lake home realty.