Fun Fall Activities in Granbury Texas
Posted by Vickie Davies on Monday, September 13, 2021 at 10:43 AM
By Vickie Davies / September 13, 2021
Comment
Some say that in the fall Texas turns into a quintessential fall postcard especially in small towns like Granbury Texas. Granbury in the fall is filled with a variety of fun activities during the daytime and amazing opportunities to relax on chilly evenings.
Here are five favorite fall activities in Granbury Texas
The Hike and Bike Trail
This is a paved hiking and biking trail that winds through Granbury that many people enjoy. Take a serious ride or just a leisurely stroll and enjoy the scenery all along the path. It is a great way to take in and enjoy those crisp colorful fall leaves falling from the trees. This trail is a short and easy 3 miles for hikers and bikers of all ages and levels. To learn more about the area keep an eye out for the moments in time plaques along the trail with plenty of historical information about the area.
Enjoy a Broadway Show
The Granbury Theater Company is host to many great amazing live Broadway-style shows all during the year. Fall is a great time to get inside and enjoy a live show out of the chilly fall weather. The theater is known to put on several Broadway hits including Monty Python's Spamalot which is playing Sep 17 to Oct 10 and Fiddler on the Roof playing Oct 22 to Nov 14.
Local Festivals
There are several great small and local festivals that take place in the fall months at Granbury Texas. Some of these fun festivals include:
Lakefest: Texas country music festival that is full of everything you would expect to find in a small town in Texas. Make sure to bring a chair and come hungry. Hang out with other local Granbury residents and taking in all the beautiful scenes that Granbury has to offer while enjoying some hometown fun.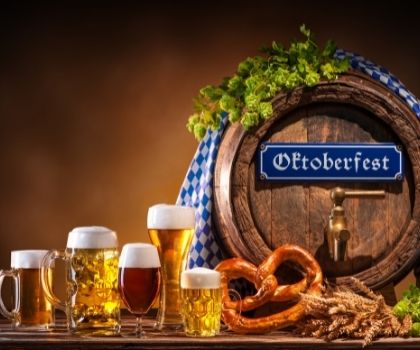 Oktoberfest: taking place usually in October at the famous Kessler's Schnitzel Haus and Biergarten is a traditional local favorite, Oktoberfest. This festival takes place in the heart of town at Granbury Square and runs for a weekend offering a great selection of German beers, street vendors, amazing traditional Oktoberfest foods, and live music.
Harvest Moon Festival: one of the most creative and unique local festivals you will be able to take part in in Granbury. This is home to over 30 artist booths where you will find several great local masterpieces including some interesting and unique renderings of a famous harvest moon that comes to Granbury every fall. In addition to the amazing and unique works of art that you will not find anywhere else are some awesome wine tastings on the Square.
Enjoy a Night on the Lake
There are several great places to find a place to sit down, relax, and enjoy the beautiful waters of Lake Granbury at night time. It's so relaxing to sit along the shores and just stare out at the water whether it be from a restaurant that serves great tasting food, or a public space like the local park. There's nothing quite like taking in glimmering light off the waters of Lake Granbury to finish off your day full of fall fun.
For more information on living on or near Lake Granbury, including Granbury Texas real estate, please contact us anytime.
Check Out All Granbury Communities