Evaluating Your Wants and Needs for a Granbury Home Purchase
Posted by Vickie Davies on Monday, July 17, 2023 at 5:53 PM
By Vickie Davies / July 17, 2023
Comment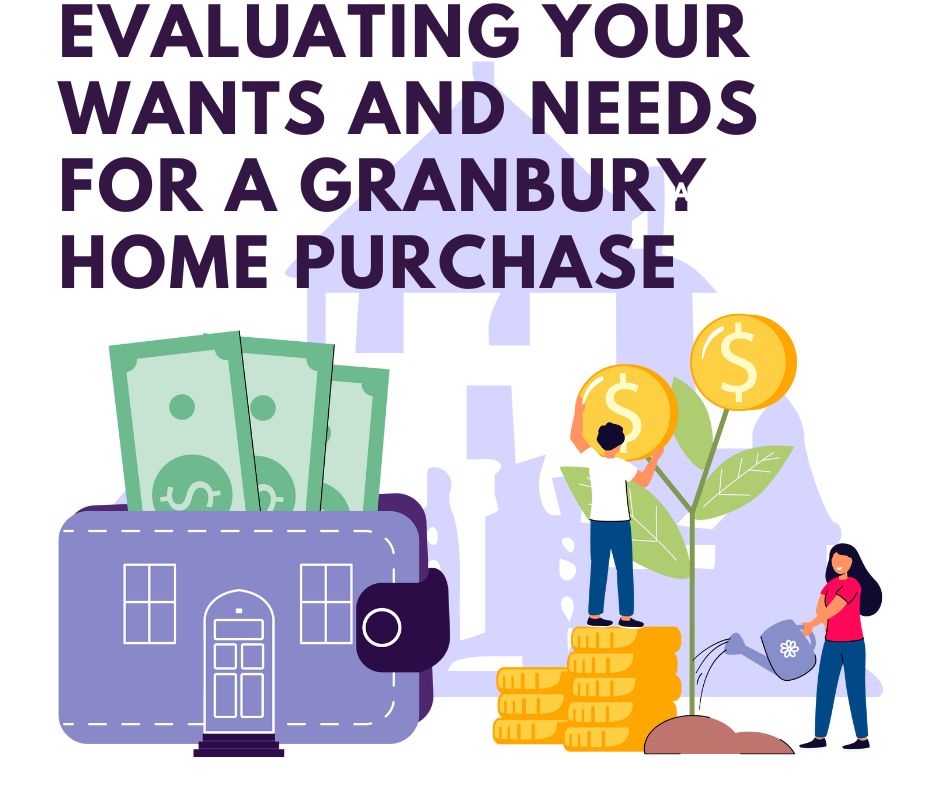 As home buying in Granbury and pretty much all over the country has become more adventurous, homebuyers in Granbury need to be a bit more strategic with their home search. Prices are continuing to increase on homes, although, at a much slower rate, and mortgage rates are staying relatively high as compared to the last five to ten years. This means that a homebuyer's dollars are not stretching as much as they used to.
To help offset the higher costs of home ownership currently savvy homebuyers are taking a closer look at their home purchase strategy, especially when it comes to what they truly need and want in their next Granbury home. Assessing the true needs of your next home versus the wants can help a buyer to focus on purchasing a home without overextending themselves on home payments.
Deciding What You Really NEED in Your Next Granbury Home
A good example of wants versus needs in a home, especially here in the middle of Texas summer is a private pool in the backyard. While the summers get very warm here in the south and having a pool right at the back door that you can cool down in instantly is amazing, it is not an actual need for pretty much any homebuyer. There are other ways a Granbury homeowner can cool down when the heat is at its peak in the summer. There are some great public places to take a swim in Granbury, the most popular being of course public swimming spots on Lake Granbury. Then there is also the public pool in Granbury.
A pool is readily found at a large number of homes in Granbury, but not every Granbury home comes with a pool. Maybe you, like many other hopeful Granbury homebuyers have always dreamt of living in one of the gated communities right next to the lake. These are amazing perks that do help a home retain a better value, but when it comes down to it, anyone in Granbury really could make do with a home further inland that might require a five or ten-minute drive to the lake instead of a walk there.
Choosing to find a new way of doing some daily activities instead of purchasing a home with them at the doorstep can be a very good way to save thousands, more like tens of thousands of dollars on the overall cost of your home. Instead, think about the items in your home that just do not work currently and are causing you to need to move to a new home in Granbury.
Categorizing Out Your Wants, Needs, and Dreams for a Granbury Home
It is advised and for good reason by many financial and real estate experts that any potential homebuyer sits down with all parties involved in the move to talk about what you are truly looking for in your next home and then to sit down with the parties involved in the actual purchase to decide the non-negotiable must-haves in your next home to help you stay within a reasonable price range for your budget in your home search. When it comes to organizing what you are looking for in your next home make three categories: Wants, Needs, and Dreams.
Wants
These are features in a home that would be nice and would help keep daily life running more smoothly, but will not ultimately hinder your ability to function in day-to-day life. If they are not present in your next home it will not keep you from considering the purchase of the home. For example a three car garage or enough space for two home offices.
Needs
These are the features in a home that need to be there to make the home work for your daily life functions. For example, a family with kids will need at least two bedrooms (depending upon the number of kids and if the kids are able to share a room or rooms). The distance the property is from the homeowner(s) workplace. A kitchen with a full stove and fridge and enough storage to be able to keep what you need and prepare meals.
Dreams
These are the ultimate big asks that you have always thought would be cool but definitely do not actually need in your home. This could be a steam or convection oven in the kitchen, a wet bar in the family room, or a separate guest suite to comfortably house family and friends for overnight visits. Or even that location right on the water with a dock.
Once you have put everything you are looking for into the property categories it will help you not only narrow down your Granbury home search to homes that have these features but better assess what you truly do need in your next home to help you stay within a more reasonable home buying budget. It also eliminates looking at homes with features you love but don't need and being tempted to overextend yourself.
If you are looking for a great home in Granbury within a specific budget/price point I can help! I am highly knowledgeable in all Granbury real estate and can help you with your buying strategies to find a home you will truly love. Contact me today!