Easy and Healthy Air Fryer Recipes
Posted by Vickie Davies on Thursday, March 17, 2022 at 8:45 AM
By Vickie Davies / March 17, 2022
Comment
Over the course of the pandemic, there were many households that took on new cooking hobbies with their newfound free time. One of the most popular purchases in American homes for kitchen items during the past few years has been the air fryer.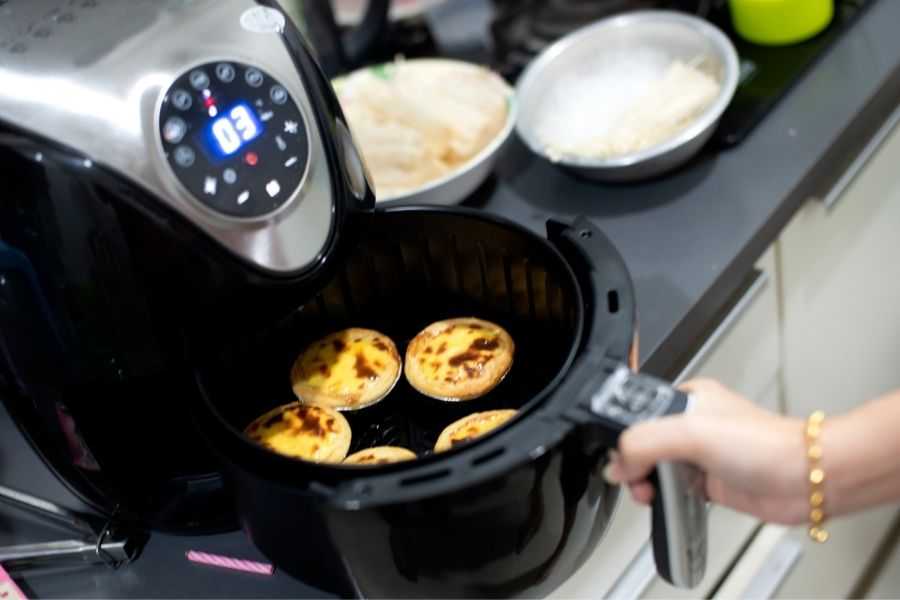 There are many popular go-to uses that people love to cook in their air fryers such as chicken wings or french fries. This amazing machine creates the ability to have crisp and yummy fries with no need for deep frying. But there's so much more that can be done with an air fryer than just the basic staples. You could even cook a very fast and easy healthy meal at home just by using your air fryer.
Here Are Some Great Quick and Easy Healthy Air Fryer Recipes
Prosciutto Wrapped Vegetables
What could be simpler than a two-ingredient recipe? This is a fun and tasty savory snack or if you eat quite a few of them, you could easily turn it into a simple meal. All you need is about 24 pieces of very thinly sliced prosciutto and about 12 asparagus spears with the ends removed.
All you have to do is wrap each piece of asparagus in one to two pieces of prosciutto and repeat the process until every spear of asparagus has a blanket of prosciutto around it. Then you want to spray your air fryer basket with some cooking spray and place half of the pieces in the basket and cook them for four minutes. Then repeat with the remainder of your asparagus. Make sure that you preheat your air fryer.
Chicken Parmesan
This is a classic Italian staple that is pleasing to even the pickiest of eaters. You can save a lot of time making this family weeknight staple meal by using the air fryer. Using the recipe found at the link we provide below makes it even easier with a one-step breading process and a very quick cooking time in your air fryer.
For three out of four of these recipes and a few more great easy healthy recipes from Dana Angela White (a great nutritionist )you can follow the link to this Food Network article here: https://www.foodnetwork.com/healthyeats/recipes/easy-healthy-air-fryer-recipes-nutritionist
Baked Potatoes
Potatoes seem to get sort of a bad rap as many of our favorite chips are made from potatoes that have been fried up to deliciousness. But a baked potato can be a very healthy meal side dish, or with a slew of toppings, it can become its own centerpiece to a meal.
Baking potatoes in the air fryer is a very easy and quick task there is no wrapping them in foil and sticking them in the oven for what seems like forever. With an air fryer, all you need to do is wash your potatoes, rub in a small amount of oil of your choice, and sprinkle with a pinch of salt then place in the air fryer after poking several holes with a fork. You want to bake the potatoes in the air fryer at 400° for 25 minutes and then flip them over for an extra 10 to 25 minutes depending on the potato size. To test that they are done, stick a fork in them, the fork should easily go all the way through the potato.
This method of "baking" potatoes leaves you with a perfectly crisp outside and a soft and fluffy inside just like you would enjoy at the most expensive of steak houses.
Taquitos
For another easy meal that everyone will enjoy try taquitos. You can put meat in them, but this recipe is made even better without the use of meat. Making it super cheap and less of a calorie intake.
Simply fill the taquitos with refried beans and you have a hearty fun Mexican-American dish. All you will need is some tortillas, a can of refried beans, some lime juice, cumin, olives, and whatever you would like to top them with such as salsa/guacamole/olives, etc.
Preheat your air fryer to 340. Combine some olives, lime juice, and cumin in a small bowl and mix them to combine the ingredients well. Then lay your tortillas flat and spread a few refried beans in the middle and sprinkle with the olive seasoning mixture. Make up all of your taquitos and then spray the inside of your air fryer basket and place in six taquitos at a time. Cook them for 3 to 4 minutes until they are golden brown and then top with your favorite toppings once they are cool enough to eat.
For more information on home tips and tricks please visit our blog and browse our fun articles any time. For more information on living in Granbury Texas give us ac all at any time!