Don't Overlook these Items when Shopping for Granbury Homes
Posted by Vickie Davies on Thursday, January 26, 2023 at 5:11:01 PM
By Vickie Davies / January 26, 2023
Comment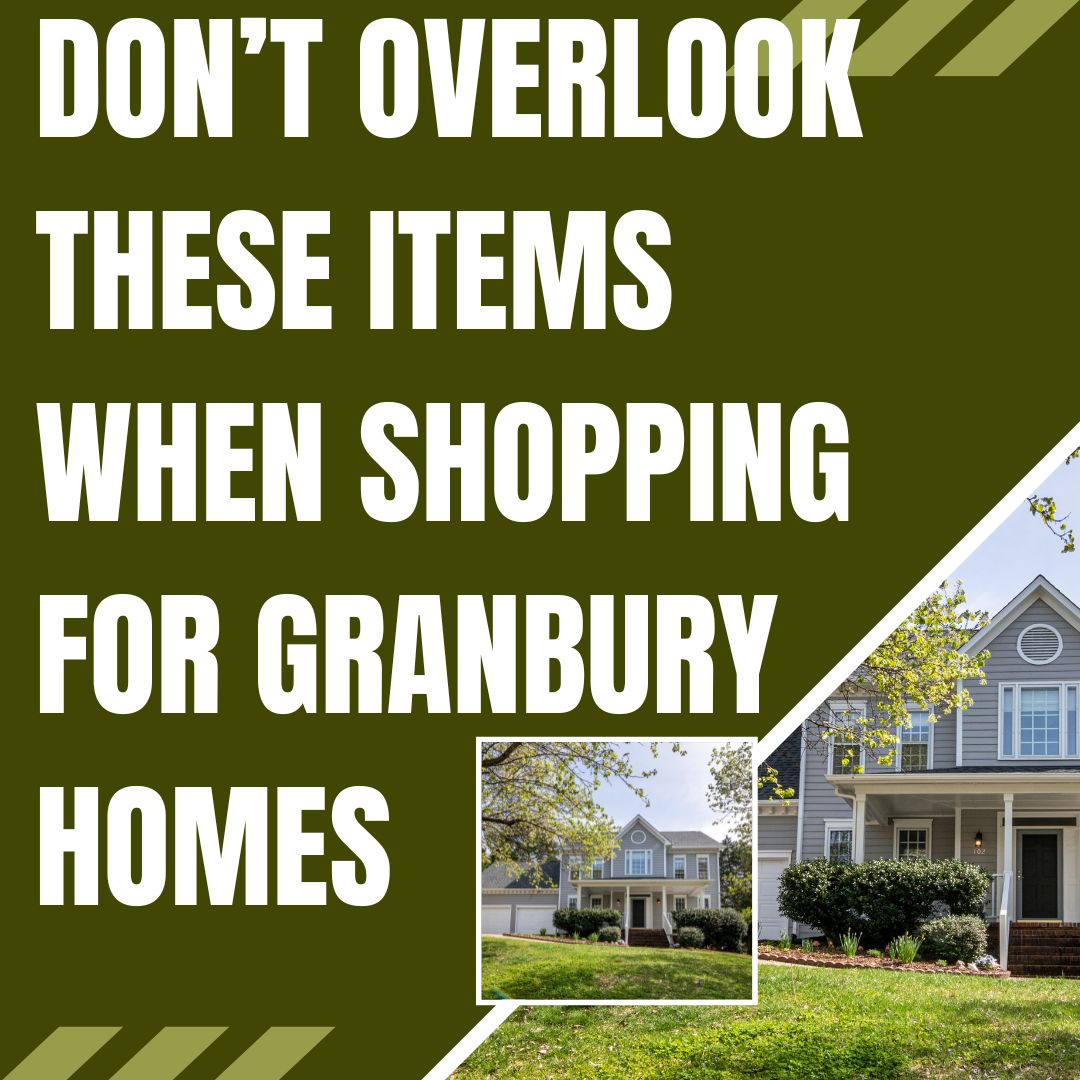 Shopping for homes in Granbury is a fun and exciting venture as it is one of the best places in Texas to live. That being said anytime you are searching for a brand new home it is always good to make sure you are aware of all of the factors of home purchases. You want to make the best-informed decision when it comes to a large purchase.
Here are some things you do not want to overlook when shopping for a home in Granbury
Not getting preapproved
The most serious of home buyers ready to make an actual purchase will have knowledge of their financial status and be ready to make an offer after already talking with lending companies. It is not the best decision to make a home offer without knowing what a lender will offer you and choosing a mortgage loan product that best fits your personal financial needs and preferences.
In addition to knowing what a lender would be willing to finance for you, it also communicates to a home seller that you are a stronger candidate to be able to secure financing and finalize your home offer.
Location, Location, Location
Granbury is one of the most amazing small towns in Texas but you want to make sure that it is a small town that will work with your lifestyle and that the specific location you choose within Granbury will be one that you love. If you plan to commute to larger urban areas for work it is a good idea to check into how long it may take you to get to work every day. We spend most of our waking hours performing our job tasks and duties. You do not want to regret your home purchase by realizing you are spending too much time in the car getting from home to work and back. The great thing about Granbury is it's not too far removed from many places that some people who live here commute to.
Having enough money saved for a reasonable down payment
The company NerdWallet which supplies several different aspects of financial advice conducted a survey asking 2200 homebuyers in the millennial age set about different aspects of their home purchase. The results of this survey found that a significant portion of survey takers wish they had put more money into the down payment of their purchase. The larger your down payment the less you will owe on your mortgage and the better your mortgage interest rate will be. When a home buyer is able to make a significant down payment it communicates that you are less of a risk to loan money to and as such many lenders will offer a lower interest rate.
Sit down and think about what you truly want in a home
When it comes to purchasing a first or next home some home buyers think about the things that they might like to have but surprisingly if you sit down and really map out what they need and want from a home. It is always good to be aware of what you truly need from your next home and what you would like or love to have in your home. According to the same NerdWallet survey mentioned above respondents regretted that they did not purchase a home that was bigger with plenty of room to perform needed daily activities.
On the other hand, you want to make sure that you are not going overboard and purchasing more house than you are able to maintain or comfortably afford. If there is anything the last few years have taught us is that we all need to make sure we have a comfortable emergency savings cushion for unexpected times.
For more information on making a solid and informed Granbury home purchase please contact us anytime. We are here to help you purchase a Granbury home that you will love and that is in your best personal interests.