Design Elements that Make a Front Porch Feel Welcoming
Posted by Vickie Davies on Tuesday, August 2, 2022 at 10:50 AM
By Vickie Davies / August 2, 2022
Comment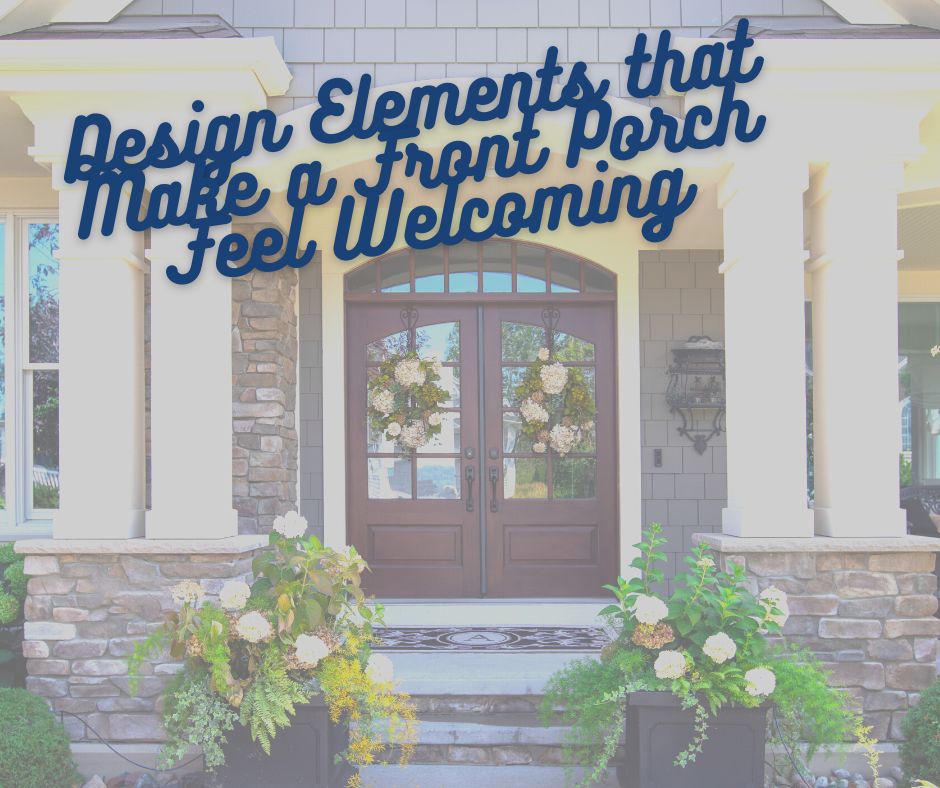 Whether you are moving into that brand new dream Granbury home, getting ready to sell a Granbury home, or just need a refresh in your home, this guide to making your front porch more inviting will be very helpful in bringing more style to your space and creating more curb appeal.
Getting started on transforming your front porch
The best way to start in giving your front porch a makeover is to have a clean slate. Make sure that your porch is completely empty and get it as clean as possible before bringing back those welcoming design elements.
If you have a concrete slab front porch it is a good idea to use this time to pressure wash. You also want to clean from top to bottom dusting off all those cobwebs from light fixtures your home's siding and where any covered areas meet with your home.
The top items that bring a welcoming warmth to your front porch
Plants
Plants are one of the easiest ways to bring life and energy to your front porch space. Not just on the porch but in the landscaping in front of your porch as well. The area leading up to your porch is also important and drying people to the space and making it feel welcoming and inviting.
In addition to landscaping that looks good around the porch potted plants are also helpful to bring style and appeal to a porch. You can use green shrubbery that will work all year long in large decorative planters. It is also good to bring in a few smaller decorative pots with some seasonal flowers that add a pop of color as well as lift the overall mood and bring the whimsy of the current season.
The front doormat
One of the easiest areas to add some instant style is with an updated format. A good trick for doormats is to use one in a color scheme that goes with the exterior of the home. You could also use one in a contrasting color.
For functional purposes, you want to make sure that you purchase a doormat in a size large enough that spans the entire width of your door. This allows for the rug to trap a large amount of dirt that would be otherwise tracked in by shoes. It is also important to make sure you are purchasing a mat that is made of the right material. An outdoor mat should be made of bristle-like material that can help to clean off the soles of shoes.
It is also a good idea to have one that works with the overall style and design aesthetic of the exterior of your home instead of a completely different one. You don't want it to stick out like a sore thumb that feels like it doesn't belong
Seating
If you have some dead space on your front porch it is always a great idea to bring in some furniture that fits the scale of your porch to stage the area as an outdoor living space. Who doesn't want to be able to sit on their front porch with a cup of coffee in the morning or a glass of something refreshing at the end of the day and watch the world go by in the neighborhood around you?
The trick is to make sure you are keeping the seating to scale so that it continues to look inviting and not overpowering or cumbersome in the space. Large pieces of furniture in a small space only help the eye and mind to focus on the fact there isn't enough room.
Lighting
Lighting that fits a space perfectly is like the diamond necklace on an amazing outfit. It makes the whole space feel warm and inviting with a bit of shine and pizzazz. It also helps you to be able to utilize this area of a newly created outdoor living space for longer hours.
Professional decorators will advise that you aim for about three sources of light to help you to create a warm glow. This can be done, for example, through a pair of sconces around the door, a light overhead the seating area, and a light in the covered area above the door as well. You could even bring in another fourth point of light by letting the inside lights shine through the windows to the outside of your home. This is a great way of staging your home for sale at night time.
No matter your plans for your home whether it is brand-new and you are making it all your own, or you are getting ready to sell it and want it to be as appealing as possible a front porch space that is welcoming and inviting is always a plus.
For more information on available real estate in Granbury Texas please contact us anytime.
More Homeowner Tips