Craziest Things That Kill a Lake Home's (or Any Home's) Value
Posted by Vickie Davies on Monday, August 16, 2021 at 11:06 AM
By Vickie Davies / August 16, 2021
Comment
Preparing your home for sale is no easy job even in a seller's market. Even if you've kept a home up relatively well you will still need to answer the question will buyers be impressed by my home so much so that they want to move in?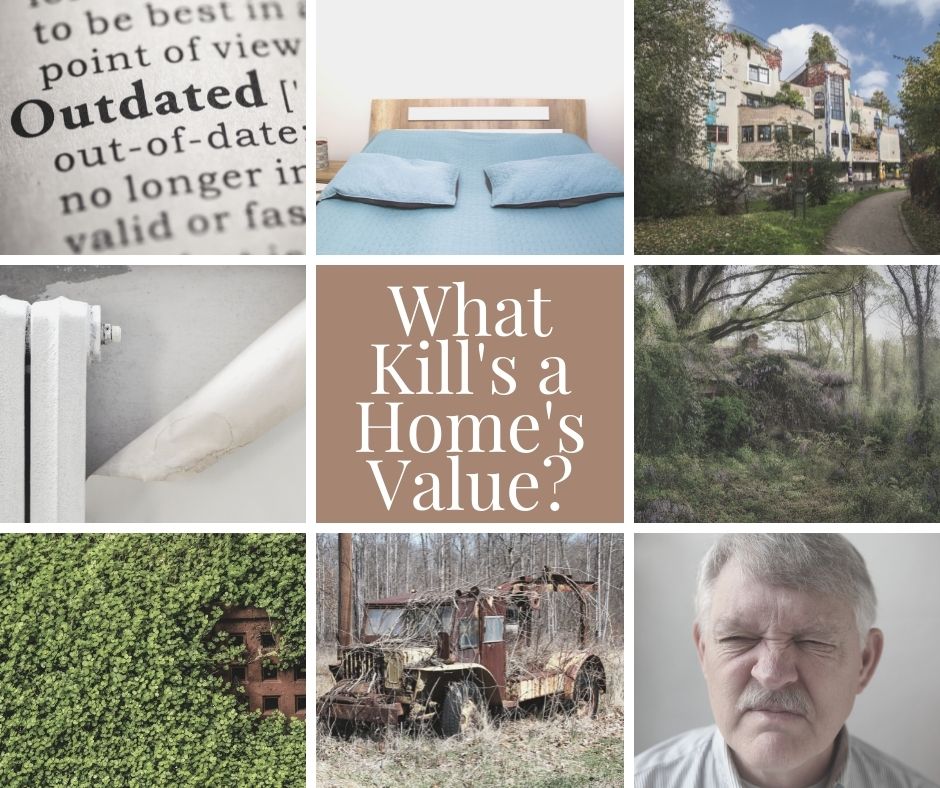 First impressions make a lasting impact on the property's likability with buyers and they play a huge role in the potential of someone making an offer on your home. How well your home shows to buyers will Impact its overall demand with buyers and as such also impact the overall value of your home. If your home is making a bad first impression it can negatively impact the home's value.
Here are some crazy things that will kill a lake home's, or any home's for that matter, property value:
Not updating
Whether you decided to forgo an upgrade to save money or just haven't had the time to update an area of your home, not keeping up with the home's around you could hurt its value. Adrian Mueller is the president of Hudson View Appraisal services and states that homes without features that are common in a certain area like a well-kept back deck at a lake home will have an overall lower value.
A neighboring zombie house
Sometimes it is not your home at all that is bringing down the overall value of your home. If there is a neighboring house (especially within eyesight of your property) that has been neglected with an overgrown yard and outside maintenance screaming to be done, this can negatively impact the value of your home and the desirability.
A lack of curb appeal
If buyers drive by your home and decide they do not want to walk through it upon seeing the outside, it makes a very huge impact on the ability to sell your home. At the very least make sure that the landscaping is trimmed and cleaned up. That walkways are swept and the front porch is clean and welcoming so that more buyers will want to come inside and take a look.
A fish pond and other fussy landscape features
Your landscaping may be ornate and beautiful and look like an oasis, but to potential buyers it can look like too much work and too much hassle. This can have many buyers looking to the next home that has a less fussy yet still clean and enjoyable outdoor space.
A funny smell
People are sensitive to smell and increasingly so when they step into a brand new place they have not been before. If buyers walk into a home and it smells musty, like cigarettes, like old food or garbage, etc. it is a quick turn-off that can have buyers turning right around before they have even made two steps inside the room. Making sure that your house is smelling fresh and clean is a simple and easy way to make your home appealing and keep the value as high as possible.
Upgrades that are not permitted
It is not uncommon for people to make upgrades in their lake homes especially since the beginning of the pandemic when a boom in home-improvement interest began as people spent long periods of time at home. However, there are many home improvements that do require permits and if work that required a permit did not have one it will not look good on the appraisal report.
Wallpaper
Remove wallpaper in a room of your home and repaint it before putting your home on the market. Just a few years ago designer and luxury wallpapers were a huge trend, but many buyers are not excited to find wallpaper and at home and it can be a big turn-off that costs you money in the form of not getting a home offer.
For more information on real estate in Granbury Texas, please contact us at any time.
More Tips