Container Gardening Tips for Lake Docks
Posted by Vickie Davies on Monday, April 19, 2021 at 9:49 AM
By Vickie Davies / April 19, 2021
Comment
After what seems like a long and chilly winter season, there is little more energizing than the joy and anticipation of sunnier and warmer days that springtime brings at the lake. Spring is the optimal season for planting things and making everything around you feel fresh, new, and brought back to life.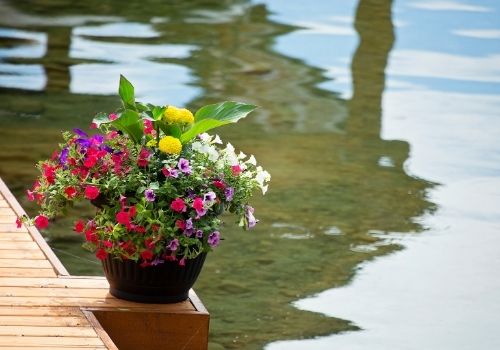 Container gardening on your dock is a great way to add some spring cheer to you property. Your dock is a very utilized part of your home so why not bring some of that spring cheer to a place where you spend ample time? Container gardens can thrive on docks as well as decks, patios, and outdoor entry areas.
Here are some great gardening tips for creating a container garden on your dock.
Blooms that are Great for Dock Planters
In a large lakefront landscape that gets soaked in sunlight it is a good idea to stick to one type of plant per flower pot. This gives plants more space to breathe and multiply, will allow for greater design flexibility, and will give more of a natural look. If you plant different items in the same pot you will want to consider their peak bloom times, height, color, and if they will play nice when planted close together.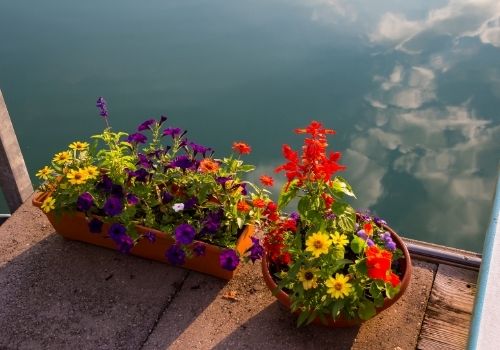 Petunias are a great flower for lakeside dock planters because they bring lots of vibrant color to the space. They smell amazing and are fairly easy to keep alive. They grow quickly and fill the pot in densely making them very pleasing to look at in a pot. They love full sunlight and grow well in well-drained soil.
Other great flower options for planters include pansies, violas, hydrangeas, calibrachoas, geraniums, marigolds, and chrysanthemums.
Creating a Garden that is Edible
Why not make your dockside container garden work on multiple levels by planting some containers with edible produce that looks good and tastes good as well? Produce plants that are ideai for planting and thriving in containers include: tomatoes, cucumbers, sweet and chili peppers, squash, and radishes. Just remember the bigger the pot the better when it comes to planting produce.
Herbs are also great plants for container gardens that do double duty to provide beauty and food. Herbs that are best in containers include: chives, basil, dill, cilantro, garlic, fennel, lemon balm, mint, marjoram, parsley, rosemary, and thyme. Herbs thrive best in lots of sun with moderate temperatures.
Plants That Love Lots of Sun
If you live in a very warm climate there are some plants that are better suited for high temperatures. Those include succulents and cacti. They are very heat tolerant and incredibly easy to keep alive. Just make sure your pots have plenty of proper drainage and are not too large as soil takes longer to dry out in big pots.
Container Gardening Maintenance
Here are some simple basics to know to keep your dock container garden looking fantastic, vibrant, and welcoming.
Consider the shape and size of a plant's root system before choosing a pot for a plant. The smaller the container, the more likely for a dry climate for the plant in the pot. Large and deep containers more easily hold moisture.
Don't forget to properly water your dock container garden (splashing from the lake will not be enough). Weekly fertilizing is also highly beneficial to container plants. If you have succulents the soil should be almost completely dry before watering again. No matter the container, it needs to drain well. If the container does not have any drainage holes water will back up and cause items to grow that will disease the plant.
If you are in doubt about how to specifically care for a plant asking the advice of someone at your local nursery is always a great idea.
For more information on lake homes in Granbury please contact us at any time.