Common Granbury Homebuying Mistakes to Avoid When Using a VA Loan
Posted by Vickie Davies on Monday, November 6, 2023 at 2:38:16 PM
By Vickie Davies / November 6, 2023
Comment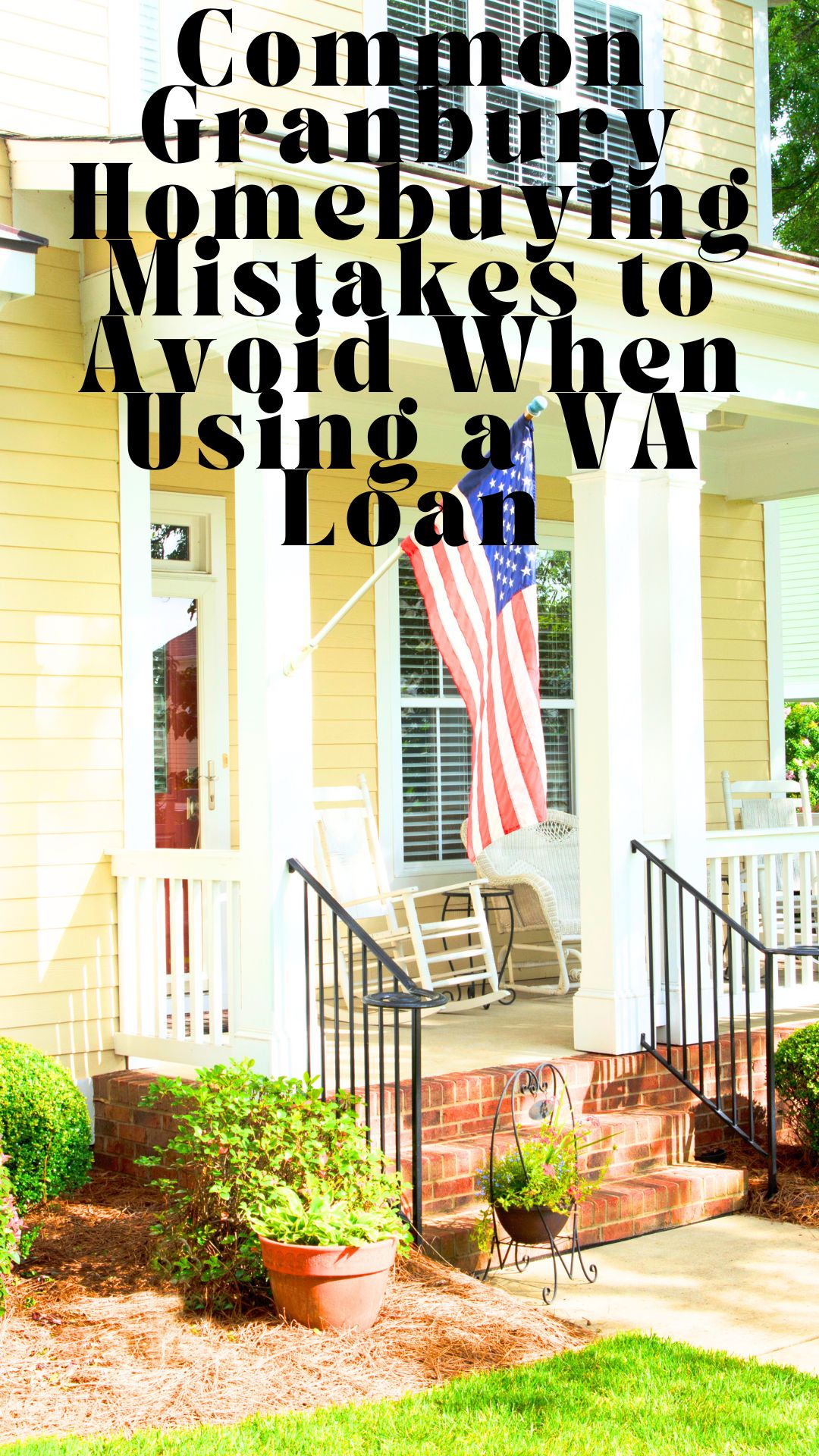 The United States Department of Veterans Affairs offers many great home-purchasing plans to help those who are currently serving or have served previously in the military achieve their dream of homeownership. The process of receiving a home loan through these programs known as a VA loan does come with some requirements and there are some common mistakes that Granbury home buyers make when utilizing a VA loan.
There's more to purchasing a home through a VA loan program than just applying and signing on the line to finalize the paperwork. Here are some of the most common mistakes to be aware of when purchasing a Granbury home with a VA loan.
Not being readily available for communication with the lender
The VA mortgage program is one of the most beneficial programs available to veterans and active military. Some may say that these programs are the most helpful and powerful mortgage options on the market. But there can be many confusing things about loan programs and other varying different programs that veterans have available to them according to information gathered from Veterans United Home Loans.
When first applying for a home loan make sure to talk about your specific service history so that you know all of the programs and extra advantages and help available to you to purchase a home. One of the largest benefits available to homebuyers who utilize a VA loan program is the ability to purchase a property with a 0% down payment. This 0% down payment has helped many first-time buyers make purchasing a Granbury home a reality. VA has loans that will also offer low-interest rate mortgages that do not require carrying private mortgage insurance like a traditional conforming home loan for anyone making less than a 20% down payment.
There are also many extra benefits to your eligibility for a VA loan including forgiving credit score requirements and waiving appraisal fees. Make sure to clearly communicate upfront that you are a veteran looking to utilize VA loan programs and ask as many questions so that you can utilize every benefit available to you. You also want to make sure that you are readily available to answer any questions from your lender as soon as possible so that you can keep the approval process running smoothly. Sometimes there are extra questions to answer and extra documents to fill out.
Forgetting about the other cash requirements of a home purchase
VA loans do offer great advantages to those who have given their life and service to our country and protecting it. It is also a good idea to be aware that there will be some out-of-pocket costs to closing on a purchase of a home as there are with any other homebuying loan. The biggest cost is the closing costs. For some home buyers, there will also be inspection and appraisal costs as well as escrow/earnest money. And depending upon the VA program loan that works best for you personally you might decide that a down payment gives you the best loan options for your Granbury home purchase. It is always good to be prepared to pay all of these costs even if you go through the process and are able to ask about having some of them waived.
Hiring an agent that is not aware of VA programs
When you work with a local real estate agent it offers the best success of finding a home within your affordable budget in the areas that you hope to settle into. Beyond just hiring any agent that can help you find a great Granbury home you want to make sure that the agent has helped veteran and active military buyers purchase a home through the VA loan program.
Granbury real estate agents that are knowledgeable of VA loan programs will be aware first of all that a VA loan will not approve the purchase of just any property in Granbury. VA property loans have requirements for qualifying properties under their loan programs. You want to make sure that your real estate agent is aware of qualifying properties under your loan program so that you do not end up making an offer on a home only to have to back out of the purchase because you could not secure financing.
Not purchasing because there's a possibility of moving
If you are active military and considering purchasing a Granbury home through a VA loan you may have brushed off the idea because there is still a chance of being reassigned to a new military base in a short amount of time. While this is an admirable thought it could be worth the consideration to still purchase a home.
Purchasing a home in a highly desirable area like Granbury may be beneficial as you can turn the home into an investment property if you need to relocate to another area for work. If you are not excited about the idea of becoming a landlord it is also good to know that VA loans are assumable loans where you can transfer ownership and payments on the property and the loan to another homeowner. Purchasing a home is definitely a sound investment and owning a rental property could be a great way to earn extra income. The entire time you own a home you are earning equity and building your wealth portfolio as well as your credit score status. Talking these things over with a financial advisor it's always in your best interest.
If you are shopping for a home in Granbury please reach out to me. I am here to help you with any Granbury real estate needs you may have including finding great VA-eligible properties or selling a home.