Buying or Selling a Home Requires the Help of a Skilled Agent
Posted by Vickie Davies on Monday, May 30, 2022 at 7:45 AM
By Vickie Davies / May 30, 2022
Comment
On average, across the country home inventory remains low. There is just 1.7 months' supply of homes which is very low as compared to a six-month supply which is considered a balanced market. With the average home receiving multiple offers because there are many more interested buyers than homes available for sale it is more important than ever to employ an agent with the proper skills to help you win out above other offers.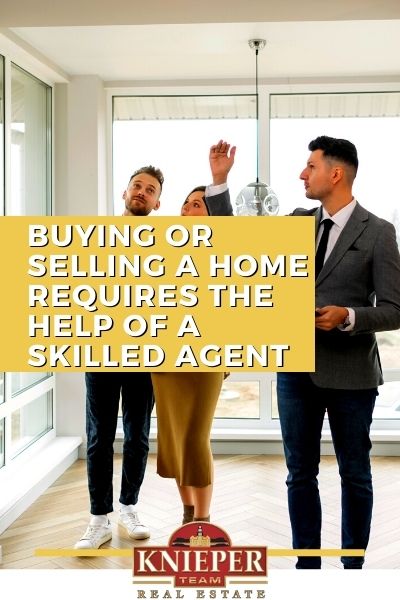 Hiring an expert agent with the proper skills is hiring someone to take on the competition of the real estate market for you. In any type of market home, buyers and home sellers have very different goals and objectives in home transactions. Having the right help on your side matters.
Sellers are always hoping to get the best price possible while minimizing the cost of the listing and eliminating as many delays as possible. Buyers are looking to purchase a home that meets their needs and hopefully their wants while paying a fair price and not being taken advantage of because of the competition.
Getting into today's real estate market and being successful in a real estate transaction requires an agent with a high skill set well versed in navigating negotiations and tactics to win out against the competition.
Regardless if you are a buyer or seller you want to hire an agent skilled in negotiating on your behalf and championing the best terms for you in a home sale. Each and every part of a real estate offer contract is negotiable. If you are on the buying end you want to make sure that your agent is skilled and well-versed in getting the best deal without demanding too many changes. This could communicate that you are difficult and a seller will move on to the large pool of buyers waiting in line for a chance to purchase.
A skilled agent is going to know all of the details and tactics to successfully navigate real estate offers in today's seemingly hectic market. What is a reasonable amount of option money? Can I buy or purchase under as-is terms waving the inspection contingency but still be allowed to hire a professional inspector to look at the property?
There is more to navigate right now when it comes to buying or selling a home. Probably more so on the purchasing end. Just a few years ago the market looked a lot different and offers accepted on homes didn't seem to be so complicated. Having a realtor well-versed in working with current market conditions means they will not be surprised by anything that may surprise you with the "new normal" of buying and selling homes currently.
Real estate is selling at a much faster pace than in the not-so-distant past and you want someone that is at the top of their game able to quickly act in your best interest and not be thrown off by what the current market conditions may throw at their client. You want someone highly skilled at the top of their game ready to champion a win on your behalf whether you are a buyer or a seller.
A skilled agent knows that the current operations of the market play a big role but so do the individual aspects of what is truly best for their client. Every transaction is different from the last because every client has their own specific set of needs. Expert agents know the market and are able to remember that their clients are human and need someone working in their best personal interest.
For more information on purchasing a home in Granbury Texas and surrounding areas please contact us anytime.