A Frequently Asked Question of Granbury Residents: Whats Happening with U.S. 377?
Posted by Vickie Davies on Tuesday, June 13, 2023 at 4:53:27 PM
By Vickie Davies / June 13, 2023
Comment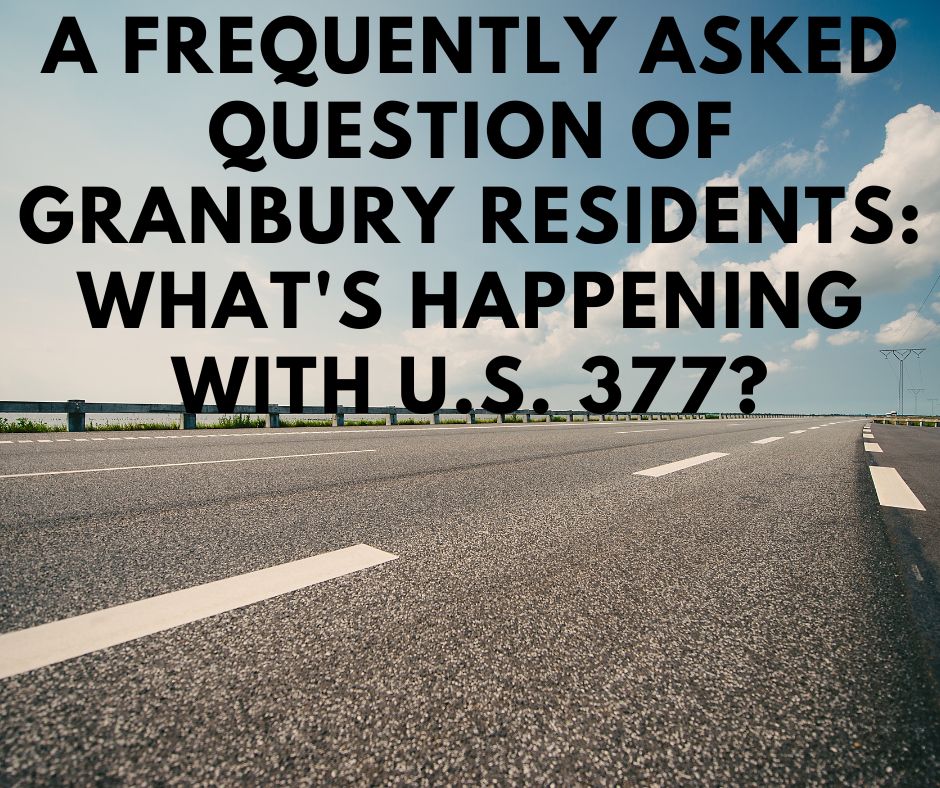 Highway 377 is a major road in Granbury that travels through many important and highly used areas of town including shopping centers and the downtown square as well as takes people from Granbury into larger areas of the Dallas-Fort Worth metropolitan area.
The highway is not a city of Granbury road it is a United States highway and as such is under the authority of the Texas Department of Transportation. This roadway has been under a widening process for a few years partly as a request from the city of Granbury to build up infrastructure to the rapidly growing city of Granbury. The city has experienced an influx of many people falling in love with Granbury and wanting to move here for many obvious reasons.
The city of Granbury requested highway revisions in 2019
On August 7, 2019, the City Council put together a press release notifying the community that they had asked the Texas Department of Transportation to include US 377 in their next 10-year plan.
The following year the Texas Department of Transportation would make plans in 2022 for the Unified Transportation Plan and Granbury sent requests to encourage the department to take action and complete the expansion of the highway within their next plans. They wanted to make sure that this stretch of highway received the necessary funding and attention as the plan began in 2016 with plans for over $20 million of funding for the road through Hood County. The construction was supposed to begin in 2017 and did not happen.
Requests for including Highway 377 in expansion plans were unanimously approved by the City Council to send to the state at their August 6 meeting in 2019. Since then it looks like those requests were heard as plans are moving forward with the highway.
Upcoming public hearings about plans for Highway 377
New virtual hearings with an in-person meeting option for the public are going to be held this month on both Tuesday, June 13, 2023, at 6 PM continuing through Wednesday, June 28, 2023, at midnight. You can also show up for in-person comment on June 13 at the Granbury Conference Center.
If you miss the in-person meeting on the 13th there's no need to worry you can click links at the granbury.org website for the city of Granbury to look at the video from a meeting and a script for the presentation of the meeting. You can also read through environmental documents and reports at this site and find all information the city has available to share about the current status of the highway project.
Finding documentation from past meetings
In addition to information for the next public information meetings and the ability to give comments or speak about the project, you can also find all of the information from past meetings on the City of Granbury website. These include all links and reports from the meeting on Thursday, November 7, and other information to help you learn as many details as possible about this project.
What is being proposed for the project?
The Fort Worth District of the Texas Department of Transportation is proposing improvements from Holmes Drive to 3000 feet north of FM 167 also known as the Fall Creek highway. This is a distance of about 9 miles through the city of Granbury. The plans are to work on the highway in phases and include improvements to US 377 between Pirate Drive and Overstreet Boulevard. This will include interchanges with FM 51 and SH 144. These interchanges will have plans to be completed in the first phase of construction.
This project would make the highway wider into a 6 Lane Highway with a raised median either made of concrete or vegetated for landscaping. There will also be improvements to cross-street intersections, ramps, and driveway connections. There are also plans to add shared used paths in both directions to make it safer for bicyclists and pedestrians and bring drainage improvements.
For more information about the project or to be directed on who you can contact with more questions or concerns about the project please visit the City of Granbury website dedicated to information about the Highway 377 project.
As local realtors, we want to make sure that Granbury residents are aware of what is going on in the town they live. Encourage more residents to get involved and take part in Granbury improvements. And to help anybody considering purchasing a new property in Granbury learn more about the area to which they plan to move to.
For more information, on available Granbury real estate please contact us anytime. We are here to help you find a Granbury home that you will love.