8 Tips for Turning a Lake Home Into a Vacation Rental
Posted by Vickie Davies on Monday, May 24, 2021 at 11:44 AM
By Vickie Davies / May 24, 2021
Comment
Converting the everyday lake home into a vacation rental property is more than just purchasing a house and opening it up for business by posting it on a VRBO site. Though vacation rentals are in high demand from vacationers around the country right now, the most successful vacation homes are the ones that know what vacationers are looking for in a rental.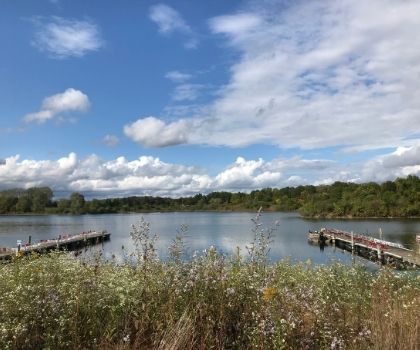 Here are some important things to consider before entering into the hospitality business with a lake home.
Make Sure Numbers Add Up
If you have a home in mind or a general idea of where you would like to purchase a vocational rental home, it is always best to first do the math. List out the expenses that you can expect to come with owning a vacation rental such as utilities, mortgage, maintenance, accidental and/or party damages, taxes, insurance, furnishings, the fees for a listing site, whether you will have a manager, etc.
Know Local Regulations
Each town will come with its own set of short-term rental regulations, it is best to check in with your local government at city hall or online about what these are. You will also want to make sure the particular home you purchase is not part of an HOA-restricted community that has another set of rules. When buying a home on the lake, you will also of course want to know the rules of lake use.
Local rules may require you to hold a rental license and/or pay specific tax fees for vacation rental property income.
Check With Your Insurance Agent
All homes should have insurance, especially vacation rental homes. Standard home insurance policies will not extend to or cover a vacation rental in the invents of damages, losses, or someone getting hurt while on the property. Find out what you will need to expect for insurance coverage costs before purchasing a home to turn into a vacation property.
Set Up a Rental Agreement Form
In addition to clearly communicating the cost of the rental, you will want to communicate the expectations for the rental use of your lake home. This should address items like the number of guests allowed to stay on the property at one time, where the garbage should go, the smoking policy, pets, any cleaning that is expected, and what may happen in the event of damages. There are many online agreements you can modify or you can get the help of a rental manager.
Deciding Whether to Manage or Hire a Manager
While you can save on the expense of hiring a manager by doing the managing yourself, it will take a lot of time, organization, and great people skills. If you are already pretty busy this can become stressful, so make sure to carefully weigh and balance the pros and cons of the costs and the amount of work to be done.
Blackout Dates
If you plan to use the lake home vocational rental for yourself at certain times during the year you will want to blackout these dates well in advance. There will be times that you can just pop down to the lake house for the weekend if it is not yet rented, but if there are dates you absolutely do not want to rent the home out they should be left off the calendar of availability far in advance to ensure you have them to yourself.
Getting the Home Ready for Renters
There are several things you will want to do to prepare a vacation lake rental for guests.
Furnish the home comfortably. When renting a home filling it with all of the old stuff you no longer want that is on its last legs will not do. The beds most of all need to be comfortable much like ones you would expect to see in a hotel and as such the linens need to be of good quality.
Make sure there is WiFi and some form of television entertainment
Have plenty of paper products, cleaning supplies, trash bags, and towels on hand.
The kitchen should have a good supply of cooking items including pots, pans, cutlery, a large set of dishes to accommodate the largest allowed number of guests, utensils, coffee maker, mugs, etc.
If you need to leave items at the lake house for your personal use find a closet with plenty of space that you can lock and designate as the owner's closet that is not to be accessed.
Arrange a system for entering the home be it from retrieving keys from a manager or lock box with changing code or with keyless entry.
Some items to help enjoy the outdoor spaces and the water like pool noodles, float toys, yard games, a barbeque grill, etc.
Make sure that the renters have a contact number should they need anything or have an issue at the home.
Leave a welcoming touch for each guest upon arrival to help them feel more at home and that you are excited to have them there and are thankful for their business. This can be anything from a fruit basket and note on the kitchen counter to complimentary toiletries with a note, or even a small free gift with their stay like a candle (again left with a welcome note).
Cleaning Service
The home of course will need to be cleaned after or before each new guest. You can choose to do this cleaning yourself or budget for cleaning help. Make sure you are aware of thorough cleaning procedures so that you can ensure safety to your next guests, especially during a time like this.
For more information on lake homes for sale in Granbury Texas please contact us any time.
More Lakefront Homeowner Tips