4 Myths on the State of the Real Estate Market
Posted by Vickie Davies on Monday, May 2, 2022 at 2:01 PM
By Vickie Davies / May 2, 2022
Comment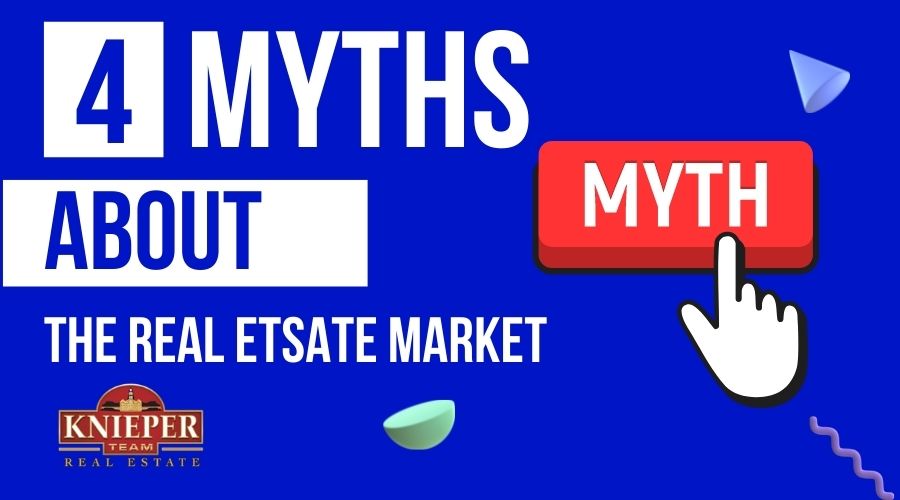 No matter what the state of the real estate market there are always going to be some believed perceptions about what a buyer or seller needs to do in order to be successful in the sale or purchase of a home. Being that the last few years have been quite the roller coaster there are many misnomers about what must be done to be successful in real estate ventures right now.
Here are four of the top current myths believed about the real estate market
Buyers need to wait to buy until home price appreciation is more realistic and mortgage rates fall
The reality about this is that prices are going to continue to appreciate and are expected to be this way for the next five years. It is also expected that mortgage rates will continue to rise in the near future. This means it will only end up costing buyers more to wait longer.
Sellers can set the list price for their home at whatever they want because it is a hot sellers' market.
Though sellers have a little more leverage in the market right now because there are quite a few buyers competing to purchase the same home this does not mean that a seller can pick whatever price they would like someone to pay for their home. No matter the state of the market it is always in your best interest to set your list price at fair market value.
Coming to the appropriate list price for your home is best done with the help of an expert local real estate agent who knows all of the details about the current state of the local real estate market. They know what homes are selling for that are similar to yours. Buyers are much savvier right now about home prices even if some of them are super excited to get into a home and willing to pay above list price.
Even the most excited buyers would rather it be their choice to offer more money than the list price than to have a seller expect more money for their home compared to what homes around the area are being sold for.
The only way I can make my purchase offer competitive as a buyer is to waive the home inspection contingency.
More and more buyers are waiving inspection contingencies as a way of showing the seller that they are serious about buying the home no matter what state it is in and that they can close on the sale of the home more quickly than someone asking for an inspection.
This is most often not the best plan for home buyers to not have an inspection conducted on a home. The inspection is professional advice on the current condition of the home and it will help to give you a clear insight into what you can expect for additional care costs. These costs will be above and beyond what you will be paying out for your mortgage. You want to make sure you're making the right purchase for yourself.
Many sellers believe they need to renovate and completely update their home before listing it.
While you should make sure that your home is clean and in good condition it is best to partner with your real estate agent to get advice on projects you should tackle before you go live with your home listing.
Some small jobs may be well worth the investment while others would be better left to the next homeowner so that they are able to make the home something they truly love. While a coat of paint is always a great idea for tired walls; completely overhauling the kitchen might be better left undone.
For the best advice on how you can navigate the current real estate market in the area, you hope to buy it is always best to sit down with an experienced agent in the area. They can give you real-time information and facts about how the current market is working and what you can expect and how to best buy or sell your home.
For more information on real estate in Granbury Texas and surrounding areas please contact us anytime.