4 Areas to Consider When Remodeling Your Kitchen
Posted by Vickie Davies on Monday, February 1, 2021 at 11:19 AM
By Vickie Davies / February 1, 2021
1 Comment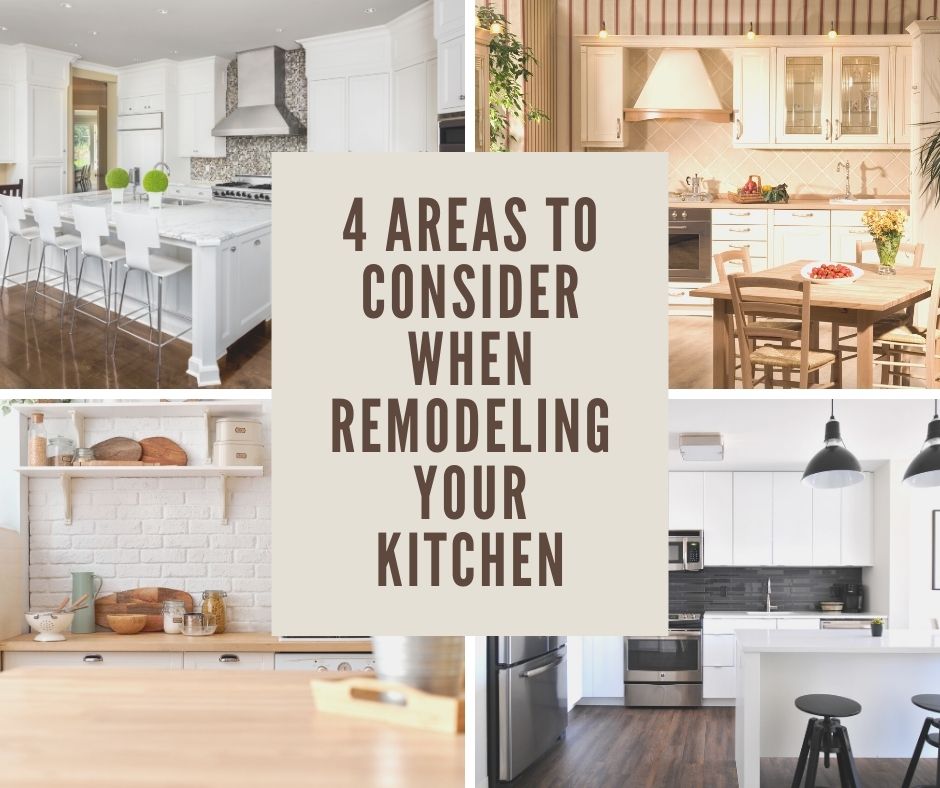 Have you ever looked at your kitchen and asked yourself, "What can I do to make this the kitchen of my dreams?" Perhaps you and your family have been saving back money for some time to eventually upgrade the kitchen to what you all have always wanted.
Remodeling a kitchen is about more than just simply having the latest and greatest appliances to make your favorite dishes. It's about giving you the best experience and the best access to arguably the most utilized area of the home. It's about breathing new life into new memories that will be made for years down the road.
So where do you begin? Before laying out specific plans, it's important to ask the most important question: what can you afford? The fact of the matter is that some areas of the kitchen are more expensive to update than others, particularly if you're intending to do a complete overhaul.
Once a specific budget is in place, here are four areas of the kitchen to consider when remodeling:
Cabinets
One of the key areas many people consider remodeling is the cabinets. It's also one of the most expensive areas to tackle. Depending on how far you want to go with it, cabinets can set you back anywhere from $5,000-$10,000. For some, it may be worth putting cabinets on hold for the time being and using that money on other aspects like flooring and lighting. However, if you can afford to move forward with it, there are different types of cabinets to consider.
If money is tight but the desire for new cabinets is strong, stock cabinets may be the way to go. They're the least expensive because they are the least customizable. You simply search online for what you want and buy the cabinets as designed by the store.
These cabinets tend to be the most popular choice for homeowners. Semi-custom means you get to choose more options like color and size yet still have a friendly enough environment for the budget.
If you really want to go all out, then custom cabinets are for you. As the name suggest, you get to have the most input on size, scale, color, and the like. They are tailored specifically to what you want for your kitchen.
Related: How to Clean up Dust after a Remodel
Flooring
Another area to think about is flooring. Have you been wanting to upgrade to hardwood flooring, or do you prefer a tile option? Do you have an appropriate foundation underneath your current flooring to provide for the new style, or should there be updates made there as well? It's important to get these things figured out so you can have the most beautiful-looking floor you can imagine.
Countertops
Countertops are arguably one of the most eye-catching items in the kitchen. Not only that, but it's also where many meals are made, and much time is spent with family and friends engaging in quality time and discussions. Therefore, it needs extra attention. Have you been eyeing marble countertops? Maybe quartz? There are many different avenues you can take!
Lighting
Finally, an especially crucial aspect of a kitchen makeover is the lighting. Not only is lighting important for baking and cooking, it's also important for highlighting specific features of the kitchen. As stated above, many conversations happen around the kitchen; therefore, you want it to be as appealing as possible. Consider options like ambient lighting, task lighting, and accent lighting to highlight not only the center of the room but certain areas you find particularly important. A skilled kitchen designer knows to combine all three forms of lighting to bring about an overall exquisite display!